There are some 30,000 Vietnamese chefs working at two-star or higher hotels around the country, which is internationally known for its diverse culinary art.
But Vietnam's tourism sector does next to nothing to promote cuisine as a separate tourism product, according to Vu The Binh, permanent vice chairman of the Vietnam Tourism Association.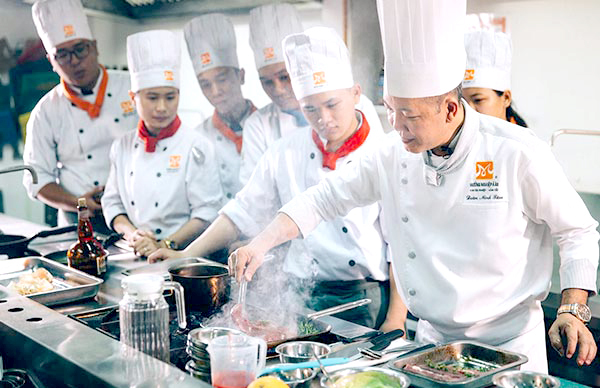 A master chef trains junior chefs at a course held in Hanoi
Figures from the Vietnam Hotel Association show that food accounts for some 30 per cent of spending at hotels and resorts in the country.
"Cooking as a career, however, is not taken seriously [enough in Vietnam]," Bình said. "The teams of chefs at hotels don't work to a professional level."
"Luxury hotels have had to compete against one another for excellent chefs, but the good ones can sometimes quit suddenly, which is a real problem for the hotel."
Nguyen Xuan Minh, general chef at the Hanoi Daewoo Hotel, said the number of trained and untrained kitchen staff consistently fell short of ever-increasing demand in the tourism sector.
"And at major hotels, most head chefs are foreigners, who don't really understand how to cook Vietnamese dishes well," Minh said. "This is why Vietnamese cuisine has yet to develop properly and become an independent tourism product."
A survey by the HCM City Tourism Association revealed that 70 per cent of cooks learned the trade by themselves or from colleagues while on the job. Only 30 per cent were trained at vocational school.
Of the hundreds of vocational centres in Hanoi and HCM City, none offer proper training in cooking.
Meanwhile, of the 40,000 workers the tourism sector desperately needs, 8 per cent, or 3,200, are kitchen staff.
Bình said the 30,000 chefs at two-star hotels or higher had all learned the trade, as had the thousands of others working at ordinary restaurants.
But he added that there were no criteria available on which to precisely judge their skills.
"This is why the Vietnam Tourism Association and the Vietnam Chefs Association are working on establishing criteria to assess cooking skills, to guarantee that chefs are professional," he said.
"This is necessary to develop Vietnamese cuisine in the best way possible."
According to Le Mai Khanh, deputy chairperson of the Vietnam Hotel Association, many chefs have been ranked at level 7, the highest tier of cook job, for many years.
They hope to prove their capabilities at an even higher level so they are in a better position the next time their contract comes up for renegotiation.
The Vietnam National Administration of Tourism (VNAT) announced a set of criteria for cooking professionals prior to 2000, with three levels. They hosted qualifications examinations for dozens of chefs in Hanoi who had ranked level 7 in processing food for more than 10 years.
"Due to many factors, however, the examinations did not continue," Khanh said. "The seven-level criteria system for food processing professionals and the three levels for professional cooks are now outdated."
Cao Thi Ngoc Lan, deputy chairperson of the Vietnam Tourism Association, said that, in early 2019, the association established a scientific advisory council of 21 members to draft the criteria.
The draft for chefs had five levels and clear requirements for each level, in three respects: mission, job understanding, and professional skills and qualifications.
Tasks resemble those in previous standard techniques for processing food, which include the qualifications needed at each level.
For example, a level 1 chef need only support the head chef and follow directions. He or she must know how to categorise and arrange utensils and kitchen equipment and be familiar with operating some of the equipment.
To reach level 5, a chef must know the principles of introducing a scientific-based menu for a large party. He or she should know how to make a range of Vietnamese dishes as well as European, Chinese, Indian, and Japanese fare.
Under the criteria, the association will introduce a bank of testing questions for each qualification level, including both theory and practice tests.
"Restaurant owners and hotels should encourage their chefs to take the examinations," Bình said. "They should also have a priority policy on recruiting and paying only chefs that have passed the exams."
Khanh said that if the criteria system is approved and published, the qualifications and skills of Vietnamese chefs will rise as they attempt to perfect their skills.
"In order to reach the levels regulated in the system, chefs will have to register for courses at proper training institutions and have the necessary experience to meet requirements in both theory and practice."
The draft is now open to public remarks before being officially published.
From the perspective of a travel agency, Phung Quang Thang, director of Hanoitourist, said visitors tend to eat to taste, not to satiate their hunger.
"Travel agencies should select restaurants for package tours that satisfy requirements not only in terms of price but also in quality and the traditional identity of the local cuisine," he said.
"Standardising the work of chefs at restaurants is a necessary part of making culinary activities increasingly professional around the country."
VNS



All restaurants, cafes and public gatherings with fewer than 30 people are allowed from 1am of Friday in Da Nang as the central city decided to loosen social distancing orders, local authorities announced in a statement on Thursday.