The sensation of biting into deep-fried noodles drenched in a thick sauce is not easy to describe, but the texture is what makes these crispy noodles such a beloved dish in HCM City.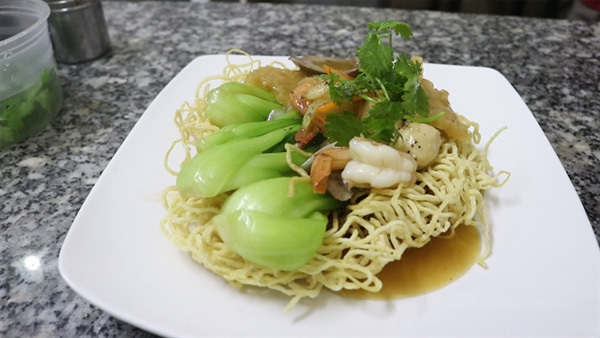 Stir-fried crispy noodles is a beloved meal is HCM City. The crispy noodles pair very well with the savoury sauce.
The dish is a very common one in the city, and has been around for decades. Many locals have eaten it at some point in their lives.
The key ingredient is raw, fresh Chinese noodles made from wheat flour and eggs. Various kinds of meat toppings such as shrimp, squid, beef or char siu pork are included.
The noodles are first deep-fried in piping hot oil for less than half a minute. This creates limp, soft noodle strands that expand and harden into the crispy, brittle delight that makes the dish so appealing.
Meat toppings and vegetables are then stir-fried with oyster sauce and other seasonings, with a pinch of tapioca powder to make the sauce thicker and more concentrated.
The hot, stir-fried ingredients are slowly poured into the crispy noodles, where the sauce slowly seeps inside every strand. The sight and the aroma of stir-fried meat and vegetables are mouthwatering.
It should be eaten as soon as possible because that is when the dish tastes the best.
After being drenched in the sauce, the noodles are still crispy but there is also a soft, savoury texture that makes them taste rich but not too fatty. After every bite, one can feel the tasty sauce ooze out.
The noodles become less crispy as time passes until they become completely soft and wet. That does not necessarily make the dish worse, as some diners may intentionally mix their plate thoroughly and let it sit for a few minutes before eating.
Lovers of crispy noodles can also ask for a separate bowl of sauce or simply less sauce.
The dish is usually served with seafood and beef, or pork, which are tasty in their own way. It is highly recommended for interested diners to try both.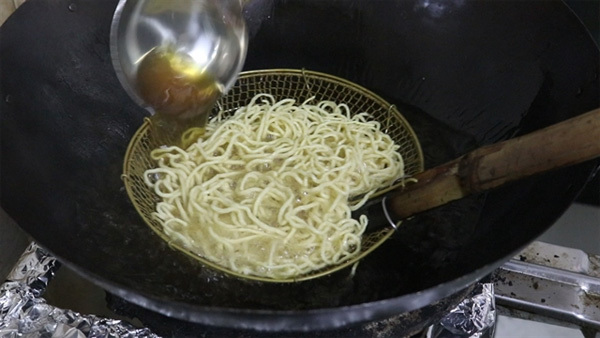 The noodles are made from wheat flour and eggs, and are deep-fried in piping hot oil. – VNS Photos Viet Dung
Popular Chinese dish
Originating in China, the dish was altered in Vietnam, and many Chinese-Vietnamese now sell it for a living.
Tran Tuan Sieng, head chef of a Chinese-Vietnamese restaurant in District 5, told Việt Nam News that the owner is of Chinese origin.
"She wanted to open a restaurant that sells Chinese noodle dishes to pass down the experience and flavours that her family gave her."
The cooks made changes to the dish to suit local tastes while retaining the crucial Chinese flavours, he added.
In fact, District 5 is where many Chinese-Vietnamese live, often making a living selling Chinese dishes.
Tran Minh Vu, a cook at a restaurant in Go Vap District, said that his restaurant has been selling this dish for more than 10 years.
He said the stir-fried crispy noodle dish is typically eaten in the afternoon and evening. Indeed, many restaurants that sell the dish are open in the afternoon until night.
For a mouthwatering combination of crispiness and savoury sauce, make sure to stop by a local shop and give stir-fried crispy noodles a try.  
VNS

Stir-fried crispy noodles is a very popular Chinese dish in HCM City. The way the rich, savoury sauce soaks into the crispy fried noodles makes the meal simply irresistible!

Hanoi street foods have become a nostalgia for travelers who have once enjoyed them.