The number of Chinese tourists to Vietnam in the first four months of this year decreased by 3.8% on-year.
HCM City should take precaution against zero-dollar tours
Zero-VND tours damaging Vietnam's tourism environment
Tourism sector poised to earn big money from Chinese travelers
Vietnam welcomed over 5.96 million international tourists in the first four months of 2019, a year-on-year rise of 7.6%, according to the Vietnam National Administration of Tourism (VNAT).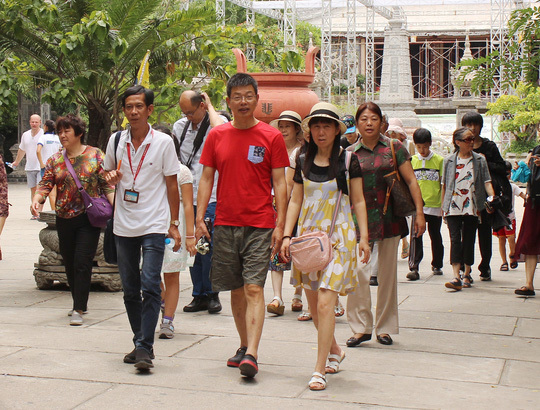 Chinese visitors in Vietnam
Growth was reported in most markets, including Thailand (up 46.5%), Indonesia (up 29.1%), Taiwan (up 25%), the Philippines (up 24.4%), South Korea (up 23.2%), Malaysia (up 15.7%), Denmark and Switzerland (up 12.1%), Norway (up 11%), and Italy (up 10.5%).
Of the sum, Chinese travellers accounted for 1.7 million, down 3.8% on-year.
Ngo Hoai Chung, deputy head of VNAT, attributed the decline in Chinese travellers partially to Vietnam's efforts to tackle "zero-dong" tours in which visitors spend nothing in the local economy.
During the period, the country served 31.5 million domestic tourists.
The tourism sector's revenues were estimated at VND227.7 trillion (USD9.8 billion), up 8.91% on-year.
Vietnam has set a target to serve about 18 million foreign visitors and 85 million domestic tourists this year.
Nguoi Lao Dong/Dtinews