Tourists presenting symptoms of coronavirus are required to undergo a 14-day quarantine, but local authorities in Hanoi wanted to know which agency would cover the additional hotel fees when their stays exceed their initial bookings.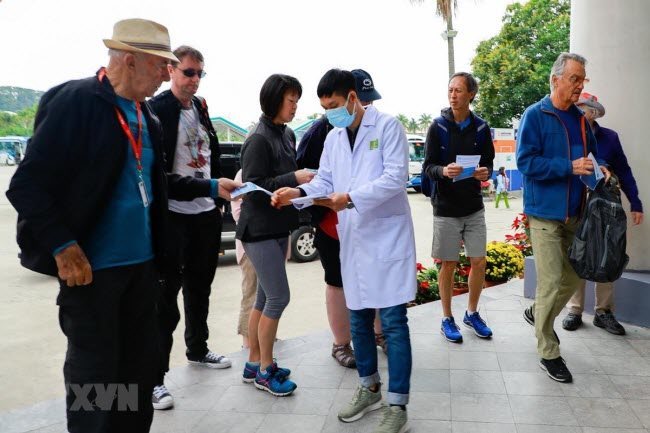 An employee of Quang Ninh Province's Center for Disease Control delivers leaflets on information about the new coronavirus to tourists on tours to Ha Long Bay. Tourists presenting symptoms of coronavirus are required to undergo a 14-day quarantine
An official of Hoan Kiem District noted that the district was facing this problem already. Some tourists had booked hotel rooms for a few days, but the quarantine lasts two weeks, reported Tuoi Tre newspaper.
In response, the municipal vice chairman, Ngo Van Quy, stated that people quarantined in the city would get VND57,000 per day, the same as soldiers.
However, Quy asked the Hanoi Department of Finance to discuss whether a quarantined tourist would be sent to the city's quarantine area when his or her hotel stay is over. If these tourists remain at the hotel during the mandatory quarantine period and the daily booking rate is US$200, the extra hotel charges would need to be addressed, Quy pointed out.
There are no regulations related to tapping the city's budget to cover additional hotel charges for tourists kept in quarantine. If a tourist does not move to the city's quarantine area, he or she must cover the extra hotel fees, a Finance Department representative remarked.
The vice chairman suggested the district government of Hoan Kiem work with the hotels to offer discounted or free hotel rooms to affected tourists during the quarantine period. Further, it should work out measures to transport tourists to the city's quarantine area.
Also, districts across the city need to provide visa support to these foreign tourists but should strictly handle those who refuse to follow the quaratine requirements, said Nguyen Khac Hien, director of the Hanoi Health Department.
A report from the health department showed that no new cases of coronavirus were recorded in the capital city as of 3 p.m. on February 10; and 49 out of 53 cases under medical observation in local hospitals and in the community had tested negative for the virus, while the test results of four others are pending.
Besides this, 1,471 cases of Vietnamese returning from disease-hit areas have been isolated, along with 861 others in the city. SGT

The hospitality sector in Vietnam this year will face losses due to the novel coronavirus (nCoV) outbreak, researcher Savills has said.

Despite the Hoan Kiem District People's Committee announcing plans to temporarily suspend activities on the walking streets surrounding Hoan Kiem Lake throughout February, the streets remain popular with a large number of visitors.