Visitors to the beaches in Tuy Hoa City, Phu Yen Province, are worried about safety as local authorities have reduced the number of lifeguards.
Black stone mystery in Phu Yen Province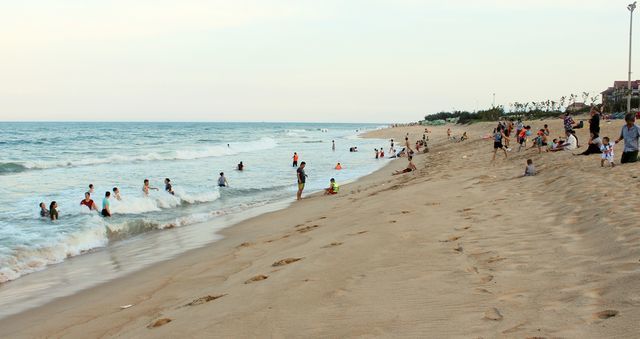 Visitors swim at a beach in Tuy Hoa City
Thousands of visitors go to the beaches along Tran Phu, Nguyen Van Cu and Nguyen Hue streets for a swim in the early morning and the afternoon. The city used to have a lifeguard team that has 16 members. However, since March 15, the team has been dismissed after the city started reducing the workforce.
Le Thi Kim Phung, a resident in Tuy Hoa City, said fewer people went swimming now since the lifeguard team was dismissed. Most of them decided to stay on the beach and worried about possible accidents since the beaches will have more tourists during the summer.
Dang Hong Cuong, a tourist from HCM City, said he had visited Tuy Hoa twice. "The lifeguards are necessary and must be maintained," he said.
Le Vy Dong, deputy head of Tuy Hoa City Sea Park Management Board, said the authorities have used the buoys to mark the safe area for tourists at two beaches on Nguyen Hue and Tran Phu streets. Each beach is about 150 metres long. Many people still tried to swim out of the marked areas.
"Because more and more tourists have come to Tuy Hoa City, especially during the summer and holidays, we have proposed to the city authorities and related agencies to set up the lifeguard team," he said.
Vo Ngoc Kha, chairman of Tuy Hoa City, confirmed that the city authorities are seeking opinions from higher agencies to hire lifeguards again. "We have asked provincial authorities to set up a public services centre and lifeguard team," he said.
Dtinews