You've heard of Mount Fansipan, the highest point of Vietnam at 3,147m above sea level, but Vietnam has a few other peaks worth checking out, including Putaleng Mountain.
Conquering the northwest's Pu Ta Leng Peak
A dream destination for daring trekkers
Stunning terraced fields on Pu Ta Leng mountain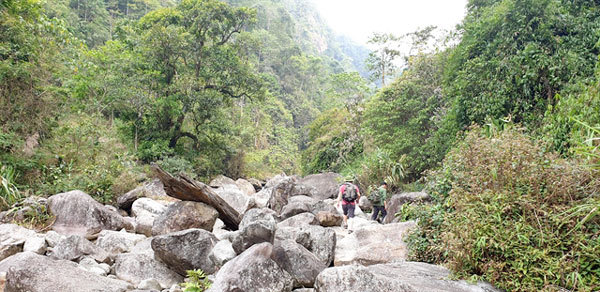 Trekkers have to pass many strealines with big stones to the peak.

At 3,049m above sea level, the peak in Ta Leng Commune, Tam Duong District, the northern province of Lai Chau is the country's second highest point.
I decided to climb the peak with five friends as a challenge, and a challenge it proved to be, thanks to Putaleng's steep route.
A two day and one night itinerary departing from Pho Village, Ho Thau Commune, Tam Duong District and return by Ta Leng allows you to see the whole beauty of local forest and mountain as well as experience different climbing routes.
Early in the morning, we followed A Pao, our Dao ethnic minority guide. After walking a few hundred metres, we all felt hot, which should have been no surprise as it's best to avoid climbing here between the end of May and September because it is hot and sudden floods are a risk.
In A Pao's experience, in the first half an hour of climbing, people feel the most tired before getting used to the movements.
"When climbing, you should not stop to rest for too long to avoid your muscles getting stiff," A Pao said. "When taking a short rest, you should dry sweat and put a coat on if it's cold to avoid catching a cold."
After around an hour, we approached a rare primitive forest. Crossing some small streams, we reached Thau Stream and travelled along it. There are many small lakes along the stream created by many big stones. The water here is cool and fresh. Every 30 minutes, we took a short break and cleaned our faces with cool water. By noon, we stopped for lunch by the stream where locals store and dry thảo quả (black cardamoms).
The three vertical and steep peaks without any smooth areas are the most challenging feature of Putaleng, making it more difficult to conquer than Fansipan.
In many places, we had to use vegetation to scramble up, or ascend on all fours.
In this difficult area, we divided into three teams and communicated by walkie-talkie and rested for five minutes every 30 minutes.
We trekked with great care as a single wrong step could have resulted in broken bones.
We finally reached the night resting place after 7.5 hours trekking 10km in the forest.
Resting place for trekkers.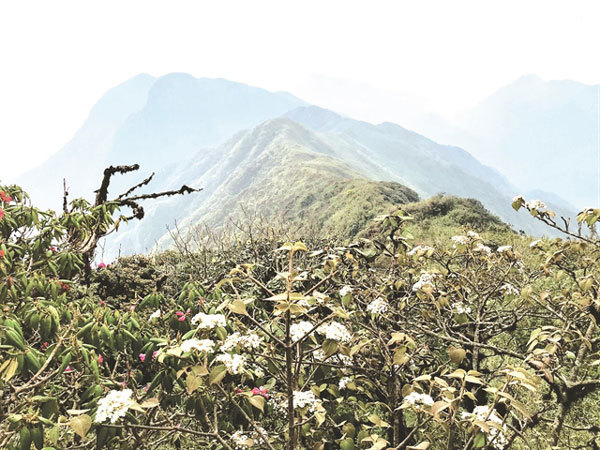 Primitive forest on the way to the peak.
The cottage which is located in a valley with less wind and by a big stream, can host 80 people. It was built two years ago by A Pao and other locals. Before, trekkers had to set their own tents, which may be dangerous as rain and flash floods are a risk on Putaleng.
While waiting for the porters to prepare our dinner, we went to the stream to clean our faces and change clothes. The water was so cold and no one dared bathe. We settled in for the long, cold night soon after, as the temperature falls to about 12 degrees Celsius at night.
We then quickly went to sleep to prepare for the next day's 25km trek.
The next morning, we got up at 5am, ready for the 25km trek to the highest peak.
The way to the peak we mostly trekked in bamboo forest and immense area of wild rhododendron flowers. The path was not too steep so we did not lose too much energy. Near the peak, we admired the wonderful landscape of mountains and forest, with red, yellow, pink and purple rhododendrons.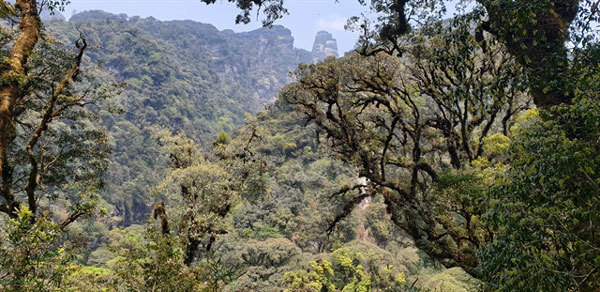 An overview of the area from Putaleng Peak.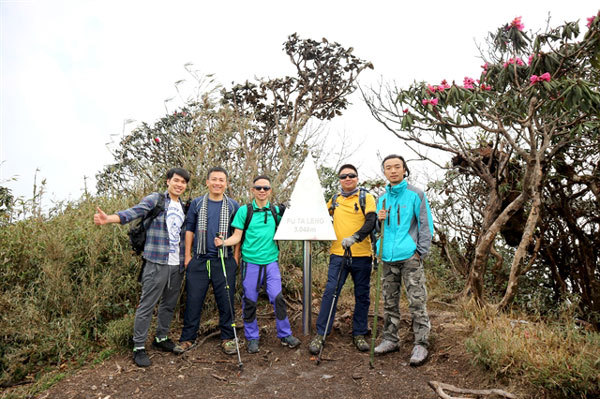 A group of trekkers conquer Putaleng Peak, which is 3,049m high. — VNS Photos Duc Hung
We reached the peak at 8.30am. It was dry and cool with a temperature of 18-20 degrees.
Then we returned to the cottage to have lunch before descending the mountain. The way back was as beautiful as described in legends. Big trees were covered with thick moss on magnificent high mountains.
Deep in our memory was the green and clean atmosphere of immense nature, just a part of which we can show through videos and photos.
Duc Hung
VNS