For urban diners looking for a country escape, try the tasty southern cuisine offered at the new Bếp Nhà Lục Tỉnh Restaurant in HCM City. 
Riverside spot offers great food and a view
A taste of southern cuisine: keo fish hotpot
Must-try cuisines in Saigon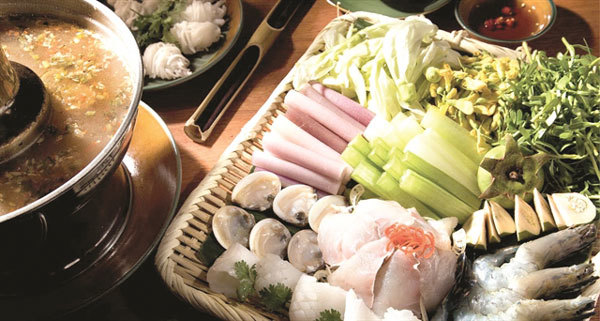 Sour-sweet hotpot with seafood, tropical herbs and forest greens with water lily roots, limnocharis flava and sesbania sesban is the favourite hotpot at Bếp Nhà Lục Tỉnh. VNS Photos Minh Phi
It was almost 8:30pm and a light rain was falling when my family and I arrived at Bếp Nhà Lục Tỉnh recently. Though it was not a weekend or public holiday, the restaurant was busy and a bit noisy.
The name Bếp Nhà Lục Tỉnh translates to "home kitchen of six southern Mekong Delta provinces", a clear message about what will be on offer.
Although several restaurants in the city offer a long list of traditional Vietnamese dishes from different parts of the country, Bếp Nhà Lục Tỉnh is different. Opened in downtown HCM City only a few months ago, the restaurant recalls memories of the countryside.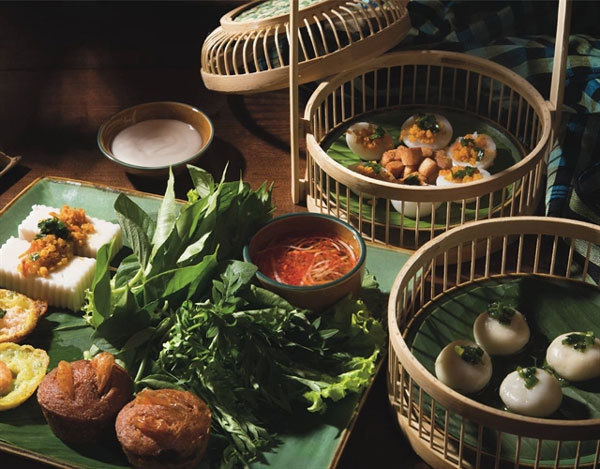 Typical southern rice cakes served with fish sauce and wild greens are a must try at Bếp Nhà Lục Tỉnh.

"I wanted diners to remember their hometowns and sweet experiences. I wanted to do something simple but also satisfy gourmet taste buds and tickle people's imaginations," said owner Doan Thu Thuy.
The restaurant interior evokes a typical southern house. The main feature was a collection of big ceramic jars, bowls and plates, coal stoves and other kitchen equipment and furniture made of environmentally friendly materials like bamboo or wood. These were all inspired by the typical southern country house.
At the reception, a young woman dressed in a southern country style with a modern twist warmly greeted us. When we sat down at our table, we felt as if we were at a home rather than at a restaurant.
Born in the Mekong Delta, Thuy was inspired by the recipes of her family, which she has reinterpreted with creativity and upgraded it to a higher level.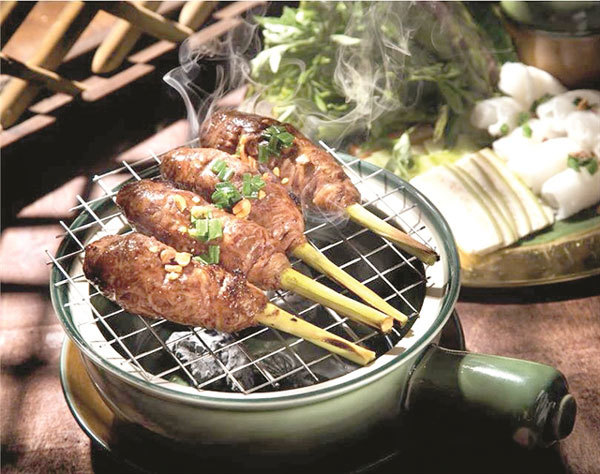 Pork paste grilled on lemongrass cane served with angel hair vermicelli, forest vegetables and homemade fish sauce is a specialty of the restaurant.

Bếp Nhà Lục Tỉnh offers more than 60 items, from starters, soups and vegetables to main courses, hotpots and desserts for lunch and dinner. They are all traditionally made and finely arranged and presented.
The dishes are served in clay pots, bamboo baskets, bowls and plates, and on raw bamboo sticks, used only in the countryside kitchen.
A selection of my favourite, southern rice cake specialties, is offered either steamed and fried.
For our starter, we asked for bánh bèo Nam Bộ or steamed rice cakes with shrimp paste, (VND70,000) and bánh khọt or miniature crispy rice pancakes served with wild greens and sour-sweet fish sauce (VND110,000).
Though the place was busy, our orders were ready within minutes.
The steamed bánh bèo was smaller and thicker in size compared to Huế-style cakes, and impressively arranged on the plate. The spicy homemade sauce was a great accompaniment.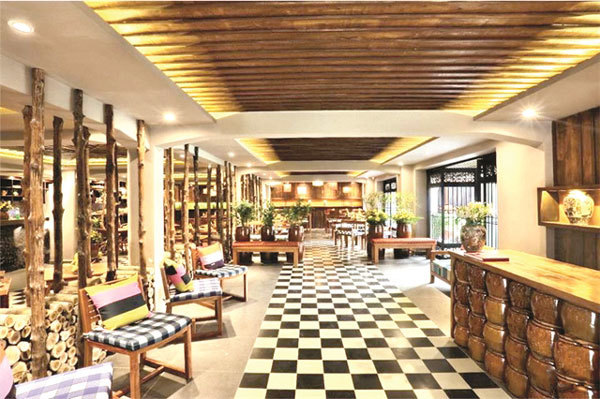 Bếp Nhà Lục Tỉnh impresses visitors with its interior decorated with ceramic bowls and plates and coal stoves typical of a southern country home.

Our next try was bánh khọt, crispy pancakes with wild greens and a special fish sauce. My twins loved the dish without the sauce.
"It's fantastic. The pancakes were so crispy and they melted in my mouth," my son said.
The restaurant offers six kinds of hotpot. We chose Thủy Liễu, a sour-sweet soup that is always a favourite of my family. It contains seafood, fresh rice vermicelli, water wild vegetables and tropical herbs (VND450,000).
The dish, which has special broth made of mangrove apples, is the pride of Bếp Nhà Lục Tỉnh.
"The hotpot is named after thủy liễu fruit (also known as trái bần) or mangrove apple, easily found in the delta. The apple has a sour taste unlike tamarind," explained a young waitress.
When we put all of the seafood and vegetables in the boiling broth, the hotpot looked like a colourful flower pot, with the red colour of the cooked prawns, the yellow of the sebania sesban flower, and the green of limnocharis flava and prostrate knotweed.
My children chose to enjoy the soup with rice vermicelli, prawns, squids and clams. My daughter liked it so much she begged for more.

For those who love Mekong Delta hotpots prepared from cua đồng (paddy field crabs) or mắm (tiny river fish paste), the lẩu mắm or fish paste hotpot (VND480,000) and paddy field crab porridge (VND490,000) are two signature dishes of Bếp Nhà Lục Tỉnh.
A mouthwatering array of southern sweet delights, served hot or with ice, starting from VND45,000, were available for dessert.
My twins chose bánh lọt nước cốt dừa đường thốt nốt, pandan cendol with fresh coconut milk and palm sugar syrup (VND45,000), an affordable street food popular in the Delta.
"The iced soup has a distinct flavour. I love it though it's a little sweet for me," my son said.
We all agreed that the family-like dining environment of Bếp Nhà Lục Tỉnh is a perfect way to spend a night out, despite the slightly pricey dishes.
By My Duyen
VNS