The central city of Danang has seen an oversupply of rooms, particularly hotels of from one to three stars.
In the first half of this year, an additional 1,000 hotels were built with a total 6,000 rooms.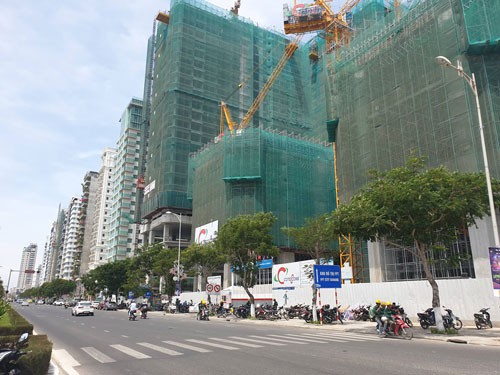 Da Nang sees hotel oversupply
Over the past three years, more hotels of from one to three stars have been built along coastal roads in Son Tra and Ngu Hanh Son districts. On some road sections of just 500 metres long, there are up to roughly 50-70 hotels.
According to the Danang Department of Tourism, by early June this year, the city had 820 guesthouses and hotels with a total 37,432 rooms, up 5,901 higher than the end of 2018, three times higher than 2011. The city sees a rise of 6,000 rooms per year on average.
Of the figure, 650 hotels are ranked between one and three stars. Meanwhile, 80 are four and five-star hotels.
Because of this, the municipal hotel occupancy rate during the Jan-June period was estimated at just 50% on average. The rate for four and five-star hotels were 60%.
The city's Department of Construction warned that the boom of coastal property has pressured the local traffic, infrastructure and environment.
Huynh Tan Vinh, general director of Furama Resort, said that Danang faces oversupply of hotels with from one to three stars, but lacks those of from four to five stars as well as villas.
He suggested that the city needs to forecast tourist numbers and give this information to investors.

Nguoi Lao Dong/Dtinews

The hotel room redundancy is deepening in various parts of the country, especially Nha Trang City in Khanh Hoa Province, despite, paradoxically, a steep rise in international visitor arrivals in the past few years.

More luxury hotels have arisen in anticipation of a tourism boom, and their owners are spending big money to hire foreign managers.

Authorities of the southern-central province of Khanh Hoa have announced a list of 21 hotels guilty of violations.