Tour operators, tourism associations and local tourists have voiced stiff opposition to the departure tax proposal for Vietnamese citizens who leave the country as the tax is inappropriate despite its trivial amount of US$3-US$5.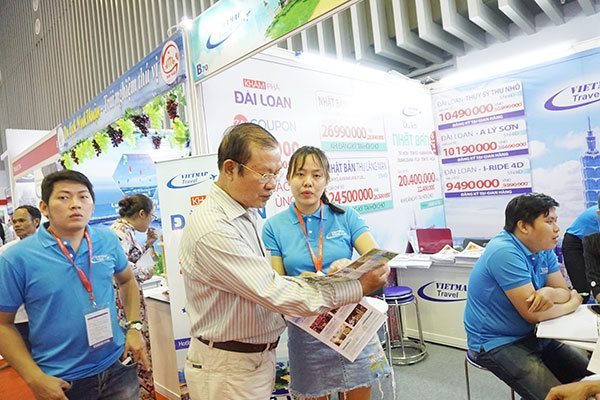 A customer studies tours at a booth introducing tourism at a fair in HCMC. Many people have voiced stiff opposition to the proposed departure tax for Vietnamese citizens who leave the country
The HCMC Tourism Association told the media on June 14 that the proposal will not benefit travel firms and tourists, including foreign visitors, stating that many people consider the proposal illogical.
"It is unreasonable to charge citizens for leaving the country," Nguyen Nhat Hanh, a female accountant in Binh Duong Province, said.
Hanh pointed out that the collection of the departure tax is aimed at investing in the upgrade of equipment and infrastructure facilities that serve the exit and entry of tourists, so it is unfair that only Vietnamese citizens will have to pay the fee.
Many people said that though the fee is small, it will become significant for those who frequently go abroad on business trips.
"I take over 10 business trips abroad each year, so if the departure tax is put in place, I will have to pay some hundreds of dollars without any benefit," Luu Thi Minh Cham, an employee at a brick manufacturing company, said, adding that it is an irrational proposal.
Many tour operators and representatives of the association have not supported the proposal.
Nguyen Thi Khanh, vice chairman of the HCMC Tourism Association, suggested that since Vietnamese citizens going abroad have benefited the tourism sector, it is necessary to support them rather than asking them to pay a farewell fee.
Khanh explained that when residents go abroad, travel firms can sell tours, airlines can sell air tickets and the Government can collect taxes.
Cao Tri Dung, director of Vietnam Travelmart and chairman of Danang Travel Association, said that local tourists visit foreign destinations, so the places most in need of upgraded equipment and infrastructure facilities to improve the quality of services are these foreign destinations.
Supporting and protecting citizens abroad when they are in trouble is the responsibility of the Government, so it is unreasonable to force them to contribute to the fund, he said. SGT
Dao Loan