When you read about Tet, you see things about seasonal changes and traditional customs. You will also find images of pink and pale peach blossoms and golden ochna trees, as well as the legendary glutinous rice square cakes,
 but few may have heard about the main soup for the Lunar New Year festival: canh măng.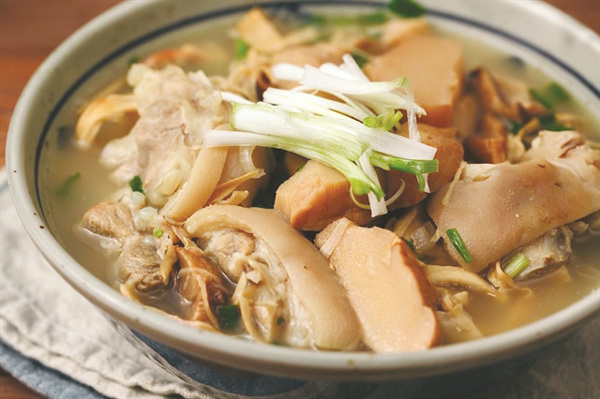 The most popular bamboo shoots for Tet are cooked with pig's knuckles.

Vietnam is a land of bamboo. There are literally hundreds of species of bamboo, whose shoots are edible. There are three main types of bamboo used for culinary purposes: fresh bamboo, pickled bamboo and dried bamboo shoots.
For the Tet soup, dried bamboo shoots, which are harvested in late spring and dried throughout the long hot summer, and now are ready for the most important and much anticipated holiday of the year.

Bamboo grows all over Vietnam. But the most diverse and rich foliage is scattered in the tall northwestern mountains tucked under white clouds and grown on crystal clear spring water.
Dien Bien and Son La provinces provide the best dried bamboo shoots for the soup that every family prepares to offer to their ancestors as the last meal of the outgoing year.
Ethnic groups such as the Thai, Tay, Mong and Dao have used bamboo shoots in their diets for centuries, but the Kinh, who live mostly in lowland areas, use dried bamboo shoots as a specialty on their holiday menus.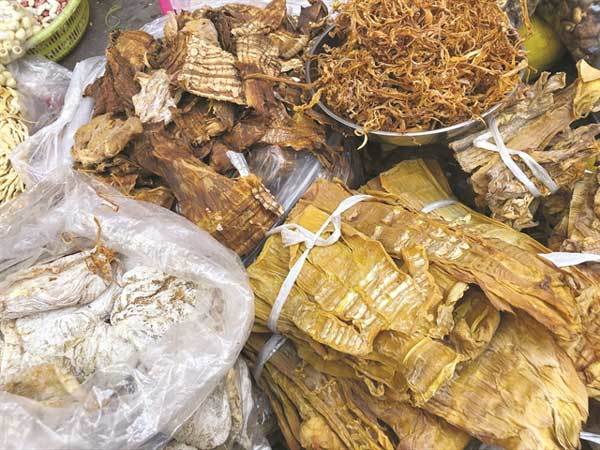 From north to south, each region has its own variety of dried bamboo soup for Tet. — VNS Photo My Ha
After the last full moon of the year, housewives soak the dried bamboo shoots in rice water overnight. They have to do it three times so the bamboo soaks in the water and releases a strong fragrance.
You can actually use any kind of bamboo for this soup, but the most expensive, traditional and best variety of bamboo shoots for the Tet soup are called: măng lưỡi lợn, or pig tongue-shaped bamboo shoots.
The shoots are picked only from big bamboo bushes, when they are at their most tender and have not developed too many leaves. Only the thick trunks of the shoots, which take longer to dry and are harder to prepare, are used.
Younger housewives of my generation prefer to cook with măng vầu, which is thinner and has many more leaves that soak in the soup and become really soft and tender, and take much less time to prepare.
But for my mother's generation, the true Tet soup must be cooked with pig tongue bamboo shoots and pig's knuckles. The dish must be slow cooked over a low flame so the bamboo shoots soak up the well-seasoned broth.
There is something quite significant about the way people chop pork knuckles for the soup. In Hanoi and elsewhere in the north, butchers chop the feet in two along the feet, but from Hue further to the south, they chop them into rounds. As a result, you can tell if the hostess is from the north or south of the country.

During the hard times of war and post-war economic depression, a piece of bamboo shoot during Tet actually tasted like meat.
Today, people still love bamboo shoot, because it's rich in vitamins B1, B2, B4, manganese, phosphorus and in fibre. Those who go on a protein or carb diet today also like bamboo shoots because the fibre helps the digestive system.
This year, due to the recent shortage of pork on the local market and price hikes for pork produces, many people are opting to cook bamboo shoots with poultry for a clear broth and less fatty dish.
This is a simple dish, yet it's almost impossible to order it in a restaurant. It's not sold at any sidewalk cơm bình dân stalls nor in the morning by mobile soup on bamboo shoot vendors found on street corners.
With e-commerce mushrooming, some online kitchens offer ready-cooked bamboo soup for Tet to help ease the burden for working mothers, who have less than a week to prepare for the holiday.
I ordered the soup online once. It helped remove one item from my to-do list, but our home somehow felt less festive. Because of Tet, you're busy anyway. Keeping yourself busy at a manageable pace is an art not everyone can master. But if your family helps out, it becomes a fun experience. If everyone dumps the work on the women, it becomes stressful and you hear so many women complaining they are frightened of Tet.
Health concerns are growing about food, but many Tet dishes can be cooked with vegetables and other vegetarian ingredients. You can do the same; cook a delicious bamboo shoot soup with tofu, and it will also taste as good.

Because it takes a long time to prepare the bamboo, it is advisable to make three different portions of cooked bamboo soup for New Year's Eve and the days to follow, when families have to cook the last big meal to say thanks and see our ancestors off to their world.
Until then, everyone will have to work hard to get their thirteenth month's salary to shop for Tet! VNS
Nguyen My Ha

Tet (Lunar New Year) is fast approaching, and people in Boe Dau village in the northern province of Thai Nguyen's Co Lung commune are busy preparing banh chung (square glutinous rice cakes).

An event was arranged on January 12 for the diplomatic corps in Hanoi to explore Vietnam's traditional New Year (Tet) festival.

Phan Thi Tu, a textile factory worker in Binh Tan District, HCM City, has welcomed Tet (Lunar New Year) far from home for three years, and 2020 will be no different.