The 19th Meeting of the East Asia Inter-Regional Tourism Forum (EATOF) Standing Committee took place in the northeastern province of Quang Ninh on August 27.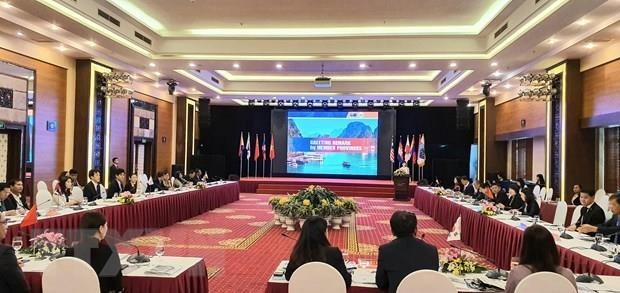 At the meeting
The event gathered representatives from eight EATOF member provinces, including Sarawak of Malaysia, Luang Prabang of Laos, Siem Reap of Cambodia, Tottori of Japan, Yogyakarta of Indonesia, Jilin of China, Gangwon of the Republic of Korea and Quang Ninh of Vietnam.
With the theme related to green tourism, EATOF Secretary-General IlSub Jeong affirmed the importance of developing green tourism and providing principles for sustainable tourism development.
Director of the Quang Ninh provincial Tourism Department Pham Ngoc Thuy said the effectiveness of EATOF activities contributes to cultural, artistic and economic development of each locality and country in the forum.
Namjo Kim from the RoK's Hanyang University said sustainable tourism development needs to rely on the community. Accordingly, sustainable tourism will be environmentally friendly and upholds socio-cultural and historical values in the local community.
Ike Janita Dewi from the Sanata Dharma University of Indonesia, said tourism development strategies need to link economic development with the preservation of culture and natural resources, and there should be State regulations and policies to bring sustainable tourism development principles into tourism development strategies.
The meeting aimed to discuss ways to develop green tourism in a sustainable manner and clarify the responsibilities of members in the future, towards the 17th EATOF General Assembly slated for 2020 in Quang Ninh.
In the seven months of this year, Quang Ninh welcomed nearly 10 million visitors, over 3.2 million of them were foreigners.
The province is home to UNESCO World Heritage Site Ha Long Bay and over 600 historical and cultural relics of more than 22 ethnic groups.-VNA