I treasure the time spent having meals with family and friends, a chance to talk to each other after stressful times.
It's not only the food; I believe that delicacies can be a good bridge to connect people. We sit around the table and chat about everything on earth. The needs to talk and listen are as important as the need to enjoy delicious food.
Rio Carnival at Melia Hanoi Hotel
Plastic products gradually being removed from hotels, resorts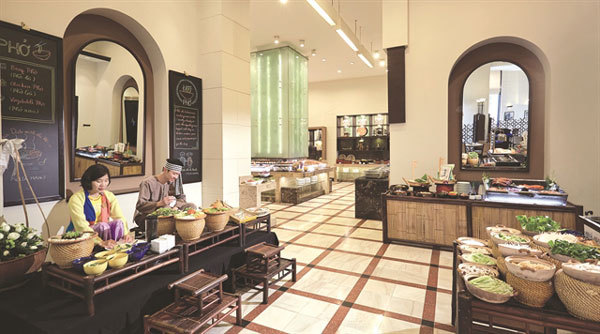 FEAST OF FLAVOURS: A view of spacious El Patio Restaurant where a buffet and set menu are served.

With an exquisite menu, romantic candle light and fascinating music, El Patio Restaurant is a wonderful place to indulge with loved ones. Located in the heart of the city, it's convenient and luxurious for important dates.
When we entered the patio of Melia Hotel Hanoi, a singer and her band were performing Can't Help Falling in Love. It seemed to be the right place because my partner and I haven't hung out for a long time. Live music is available at the restaurant every night.
DELICIOUS: Amazing starter with asparagus and crab meat soup. VNS Photos Minh Thu
We started with asparagus and crab meat soup which is not only incredibly flavourful but also nutritious.
I love both asparagus and crab, so I owe whoever invented this dish. I have tried this soup many times. People have many ways to cook it on the basis of two main ingredients – some add sweetcorn, some drop in egg yolk, some top it with spring onions and fennel.
Here, the chef honours the asparagus and crab meat in every spoonful. Some threads of carrot are added to make the soup an exceptional blend of flavours. It's eye-catching with green asparagus, light pink crab meat and orange carrot. The taste of asparagus and crab is highlighted and not overpowered by other ingredients. Each spoonful is full of crab meat – only the best part of a crab is used for this dish.
With an endless love for crab, I ordered crispy fried soft shell crab with tamarind sauce. The chef uses crabs that have recently molted their old exoskeleton. We can eat the whole crab including its soft shell, obviously. It's coated with crispy powder so I enjoyed the dish with both my mouth and ears. The sour sauce really enhanced the dish.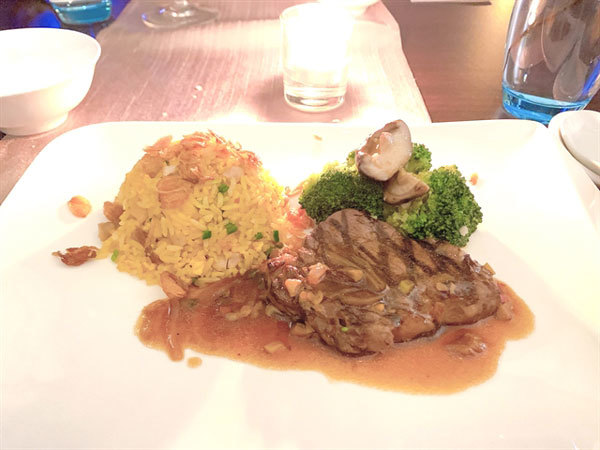 TOP PRESENTATION: Fried rice with chicken and pineapple is presented with Australian beef tenderloin in black pepper sauce.
Pan fried beef tenderloin with black pepper sauce may be popular at any western-style restaurant but I still wanted to try here to check if the sauce at a high-class restaurant is different from others.
My mouth was watering at the first cut into the steak – it was cooked rare, just how I like it. The tender cut from the loin was burned a little bit on the surface but still light pink inside. Its sweetness mixed in with the sauce of black pepper and garlic.
This main course was served with sautéed broccoli with mushrooms and stir-fried rice with chicken and pineapple. The pineapple chunks gave the fried rice a tropical twist. Like Hawaiian pizza, the scattered pineapple in this dish makes it very tasty and amazing with the sudden sourness.
The El Patio Restaurant serves a vast international buffet breakfast, lunch and dinner as well as all day a la carte. Next time, I will come back to try a wide range of food decorated at the buffet area.
I was informed that a Spanish cuisine programme was running. The events happen usually with different themes. The courteous waiter asked if I want to try tapas (bite-sized appetisers of Spanish gastronomy) but I refused because I will return for this dish one day.
The wonderful ambiance and food of El Patio Restaurant make the culinary experience worth the money. The price is higher than other European restaurants downtown but it's still good value due to the high-ranking quality in all aspects.
VNS