Tourists are being lured to enjoy the golden fields by the mountains of Hoa Lu District at the start of the Ninh Binh Tourism Week 2019 which kicked off on Saturday.
Tam Coc-Bich Dong blanketed with green rice fields
Stunning beauty of ripening rice fields in Tam Coc
Tam Coc in the rice season is a must-see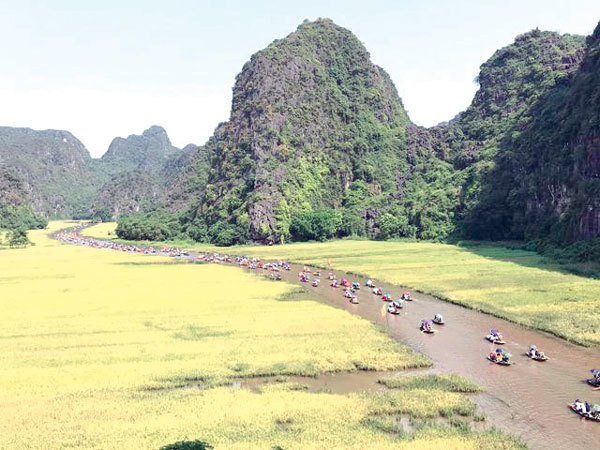 Tourists are lured to the golden fields in Hoa Lu District, the northern province of Ninh Binh. — VNS Photo Thai Ba
The event will run until May 25 at the well-known tourist site of Tam Coc in the northern province of Ninh Binh.
With the theme "The Golden Tam Cốc – Tràng An", the festival features tourism potential, cultural heritage and the beauty of the site during the rice season.
Tong Quang Thin, vice chairman of the provincial People's Committee, said the week aimed to introduce and promote the unique culture and significant values of the local tourism sector, namely Trang An Complex, a UNESCO World Cultural and Natural Heritage Site recognised in 2014.
"With remarkable landscapes, culture, history and hospitality, the tourism week promises to attract more tourists to the site," he said.
"Tam Coc is surrounded by golden rice fields like golden silk embracing limestone mountains. It's the opportunity to enjoy one of the most spectacular sights of the year."
Tourists also have a chance to take boat tours along the Ngo Dong River to enjoy beautiful views of the fields and discover the caves. They can also experience folk singing performed by local artists on the river banks.
A wide range of cultural activities to be held during the week include a photography tour to Tam Coc, a photo exhibition featuring Tam Coc and other tourist sites, traditional festivals, an exhibition of traditional handicrafts, and demonstrations of how they are made, such as embroidery from Van Lam Village and pottery from Bo Bat Village.
There is also a pedestrian zone at Tam Coc Wharf open from 7am to 10pm daily, where local cuisine and souvenirs are on offer. Traditional music and water puppetry will be performed here.
Seminars on promoting sustainable tourism in Tam Coc and the province will also be held.
Located 90km south of Hanoi, Ninh Binh is known for Tam Coc tourist site with limestone mountains rising out of rice fields, Trang An Complex with spectacular cave systems, and historical and cultural sites including palaces and temples dedicated to Dinh and Le kings.
Trang An Complex was also used as a location for the movie "Kong: Skull Island" in 2017.
Ninh Binh Province welcomed over 3.4 million visitors in the first quarter of this year, including 225,000 foreigners, increasing 2.3 per cent and 2.6 per cent, respectively, in comparison with the same period last year.
VNS