The Ninh Thuan Grape and Wine Festival 2019 opened in Phan Rang-Thap Cham city, the south central province of Ninh Thuan on April 27.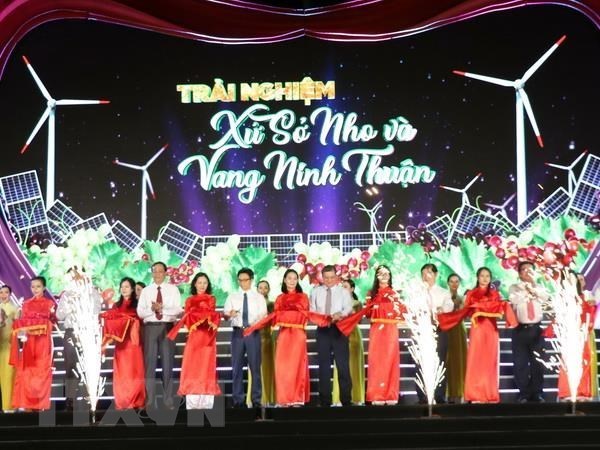 At the opening ceremony of the Ninh Thuan Grape and Wine Festival 2019
According to Chairman of the provincial People's Committee Luu Xuan Vinh, the festival is designed to introduce Ninh Thuan's grape products to both domestic and foreign consumers, while providing a chance to honour grape growers and businesses who have unceasingly worked to bring the local specialty to international friends.
Ninh Thuan province has ideal soil and weather conditions for grape cultivation. The province is now home to more than 1,200 hectares under the fruit, and 57 grape wine production establishments.
The province plans to expand the safe grape planting area to 2,500 hectares, and zone off some 100 hectares for high-quality grape cutivation.
The local authority will issue favourable mechanisms and policies to support and attract investment in grape plantation to benefit more from this valuable tree, Vinh said.
At the opening ceremony of the festival, the local People's Committee presented certificates of merit to excellent grape growers, and producers of well known grape products.
The festival will last until May 2 with various activities, including field-trips to grape and apple farms and processing facilities; an industry-trade fair; a contest for ethnic minority groups in the province; a performance of Raglai's "Bo ma" (farewell to the dead) ceremony; a street festival; and a beach sport festival.-VNA