Many tourists and tour agencies are complaining about the regulations that ban tourists from bathing at small beaches in Ha Long Bay.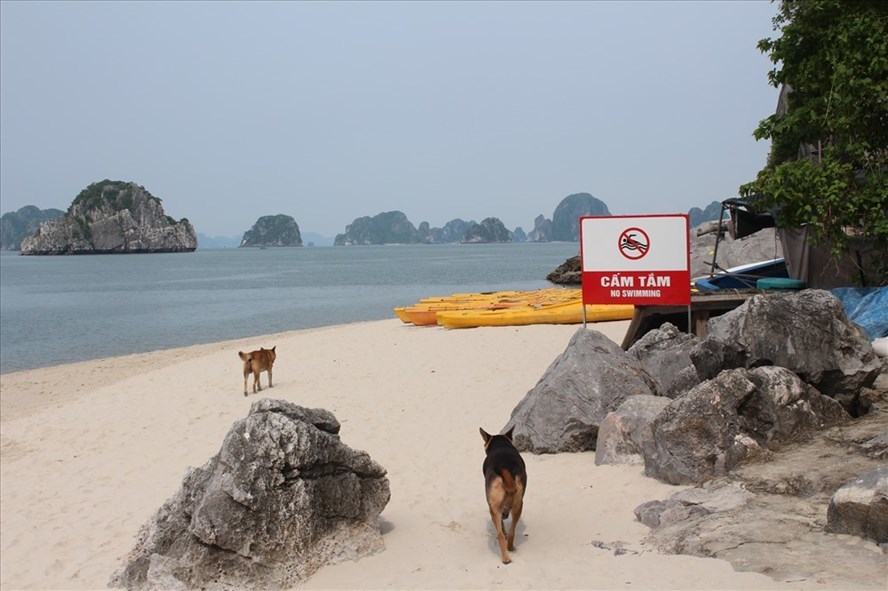 Swimming is banned on many small beaches in Ha Long Bay
When going on a three-day and four-night tour in Ha Long Bay, tourists come across various beaches that are suitable for small groups.
However, all requests to get down to the beaches were denied since those beaches haven't met the requirements and not recognised by the Quang Ninh Province authorities.
"Why won't the Quang Ninh authorities try a long tour and go to a beach to see what they think of the experience?" said Nguyen Dinh Quan from Hanoi.
Pham Dinh Huynh, deputy head of Ha Long Bay Management Board said only visitors can only bathe at Soi Sim and Ti Top beaches.
Despite having many international visitors, the beaches on the other tour routes are not allowed to receive anyone.
The beaches must meet several requirements in order to open to tourists such as having at least two bathhouses to wash off the sand and change clothes, public toilets and waste collection and treatment system.
However, representatives of many tour agencies and boat services said that such requirements are only suitable for large beaches with many visitors. It's unsuitable to install such constructions on small beaches.
Moreover, in order to build such constructions in Ha Long Bay, they will have to face with complicated procedures.
Doan Van Dung, director of Dong Duong Boat Company, said he had asked for permission to open Thien Canh Son Beach to visitors but faced too many procedures.
"Those beaches will mostly receive big-spending tourists on overnight tours. The boats have toilets and will dock near the beaches," he said.
Lao Dong/Dtinews

Disposable plastic products will be replaced by products made of environmentally-friendly materials by business facilities in Ha Long Bay in the northern province of Quang Ninh from September 1.

The northern province of Quang Ninh will set up a team to compete at the Clipper 2019-2020 World Yacht Race, aiming to promote the local tourism, particularly the World Heritage Site of Ha Long Bay.