Hanoi has been named among best cities to visit if you love architecture, according to a list released by Conde Nast Traveler, a UK travel magazine.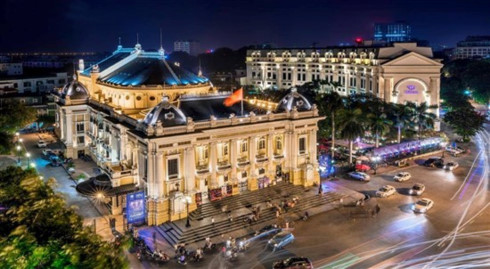 The Hanoi Opera House
"The French colonization of 19th-century Vietnam left a lasting style of architecture in the country. In Hanoi alone, examples are found in the St. Joseph's Cathedral, the Presidential Palace and the Hanoi Opera House," Condo Nast Traveler wrote.
Familiarly called by the locals as "The Big Church" and located near Hoan Kiem lake, the St. Joseph's Cathedral was built in 1886 with the architectural style described as resembling Notre Dame de Paris. The cathedral is the representative evidence of the French colonial architecture.
The Presidential Palace Hanoi, constructed in 1900 by French architect Auguste Henri Vildieu, was intended to be Ho Chi Minh's official residence but the Vietnamese leader had opted for a traditional Vietnamese stilt-house instead.
The three-storey, mustard yellow building features 30 rooms built in colonial French architectural style, an orchard, carp pond, and a 91-meter long boulevard surrounded by lush gardens.

Meanwhile, the Hanoi Opera House was erected by the French colonial administration between 1901 and 1911.
An essential part of Hanoi's thousand-year-old history, it is without doubt one of the most famous cultural and architectural monuments of Hanoi.
The Hanoi Opera house is the unique combination of traditional Greek architecture and Opera de Paris to become one of the most attracted site for incredible cultural activities.
Athens in Greece tops the list, followed by Hanoi in Vietnam, Miami in Florida, Barcelona in Spain, Chandigarh in India, Florence in Italy, Istanbul in Turkey.
Hanoi is expected to welcome more than 14.3 million visitors in the first half of 2019, a 9.5% increase from the same period last year, according to the municipal Department of Tourism. Hanoitimes

There are a number of French architecture buildings dating back hundreds of years in Ho Chi Minh City. Take a glance at some of them.  

Established in 2012 with a people-focused design philosophy, MPN + Partners has earned international awards including third prize for the Seine Restaurant (France), Third National War Museum (India), and runner-up for DomestiCity (Altanta, US).

Laborers in Vietnam will have five days off (from April 27 to May 1) on the occasion of the National Reunification Day and May Day.