Hanoi will be developed into a smart travel destination this year, offering a better experience to tourists and boosting the city's economy, according to Tran Duc Hai, director of the city's Tourism Department.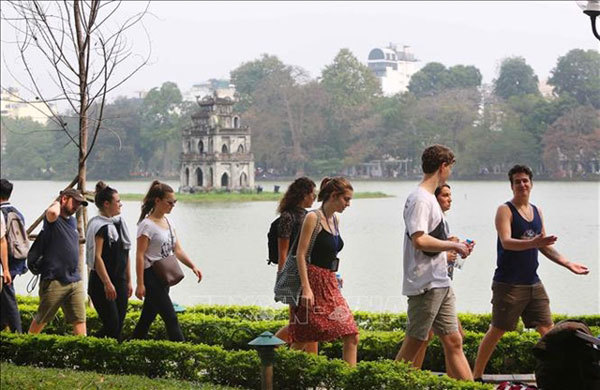 Since the pedestrian zone is opened, the Sword Lake area draws many more foreign tourists who come to enjoy the sights.
"Hanoi hopes to raise the number of tourist arrivals by over 10 per cent from last year to 32 million in 2020," Hai said at a conference held on Wednesday (Jan. 15th) reviewing the tourism industry in 2019.
"In particular, we aim to attract more than 8.2 million foreigners and nearly 23.8 million domestic visitors this year, representing year-on-year increases of 17 per cent and 8 per cent, respectively.
"To meet the target, we are determined to implement many campaigns, including developing smart tourism," said Hai.
Accordingly, the city's tourism database will be made digital. An app named Visit Hanoi will be developed on the iOS App Store and Google Play. The official website – tourism.hanoi.gov.vn – which is available in Vietnamese, French and English, will be improved and updated with more information.
In 2019, Hanoi was praised by international news outlets, including CNN, AFP, BBC and CNBC, according to Hai.
"When they interviewed me, I tell them our target is to turn Hanoi into a destination synonymous with safety, quality and friendliness," he said.
Emmanuel Cerise from the Paris Region Expertise Vietnam, said during co-operation with Hanoi's People's Committee since 2014, he and French experts have helped build tourism products in craft villages and promoting these destinations.
"We analysed highlights of the villages to recommend suitable tours and products, we also publish a four-page leaflet providing necessary information for the tourists. It's easy to read and include in their trips," he said.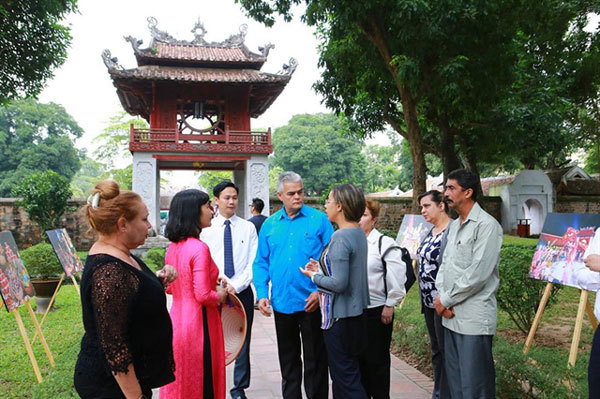 The Temple of Literature is one of the most popular destinations for foreign tourists. VNA/VNS Photos Thanh Dat

Cerise suggested connecting destinations in Hanoi to develop local tourism and attract more travellers.
"When you connect destinations, you can tell a more interesting story than one about a single stop. Story-telling is necessary for non-Asian tourists who have little knowledge about Vietnamese culture.
"Hanoi has many amazing themes to exploit, such as the relationship between craft villages and trade streets, important religious places and street food," said Cerise.
Attending the conference, Ngo Hoai Chung, from the Vietnam National Administration of Tourism, said he's optimistic about the development of tourism because 2020 will see big anniversaries and international events, including the Formula One Grand Prix and the 1,010th anniversary of the founding of Hanoi.
"Hanoi is now home to many international luxury hotel brands, international-standard golf courses and large-scale trade centres," said Chung.
Chung recommended the Tourism Department develop more products, as well as connecting neighbouring destinations.
"Better tourism products and services that meet international standards have made the capital's tourism sector more professional and impressed tourists," said Chung.
"The capital city has been emerging as a top destination for both domestic and foreign travellers in recent years, and it is still working to establish itself as a true tourist hub," he said. VNS

Smart tourism is being applied in a number of tourist attractions in Hanoi such as Bat Trang ceramic village, Thang Long imperial citadel, Van Mieu-Quoc Tu Giam (Temple of Literature - National University) and Hanoi Old Quarter.

Besides Van Phuc silk village, Bat Trang pottery village in Gia Lam, Hanoi has been designated to become one of signature destinations of the capital city's trade village tourism development plan.