Hanoi is interested in nighttime economy development and has allowed restaurants and bars located at some prime streets to remain open until 2 am.
Hanoi will study allowing nighttime businesses in some areas which meet conditions in order to respond to visitors' food and entertainment demand while ensuring a tranquil environment for residents.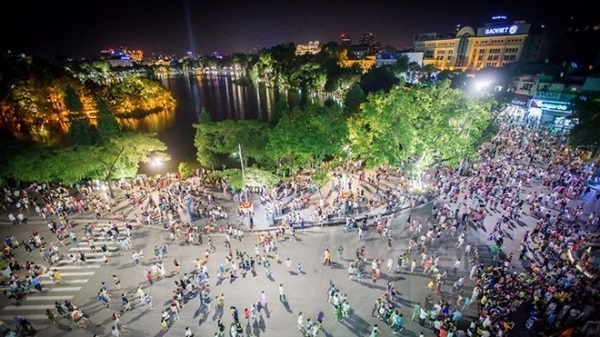 The heart of Hanoi. Photo: Vietnaminsider.
Deputy Chairman of Hanoi People's Committee Nguyen The Hung stressed the idea at a press conference on October 2 when asked about the nighttime economy and complaints of the curfew in Hanoi. 
 
Accordingly, Hung said that back in 2009 and 2010, night time businesses resulted in some security and safety issues including illegal motor racing, noise and disorder, among others which disrupted the quiet living environment of many quarters of the city.
 
Hanoi police have been fighting disturbances at night to ensure people's quiet enjoyment at home. Under the city's regulation, businesses are not allowed to remain open beyond midnight, especially restaurants, bars and nightclubs.    
 
On the other hand, Hung stressed that Hanoi is still interested in nighttime economy development and has allowed restaurants and bars located at some prime streets to remain open until 2 am. 
 
Nighttime economy is all business activities that take place from 5.pm to 6.am the following morning including food, art, music, entertainment, festivals, events, and tourist attractions.
 
Over the past three years, the night-time economy has drawn the attention of lawmakers in several nations, which has resulted in the enactment of a series of promotion policies.
 
In August, Prime Minister Nguyen Xuan Phuc instructed Vietnam's major cities, Hanoi included, to find measures to spur the night-time economy, which has proven to be enormously beneficial for the economic, cultural and social development in some countries including China, South Korea among others. Hanoitimes
Ha An