Tourism operators have been bullish about their business's bouncing back after being battered by COVID-19 as the summer holidays near and the disease is largely brought under control.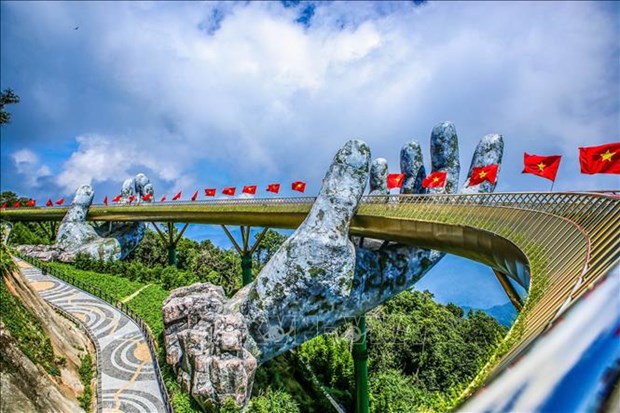 Iconic Golden Bridge in Da Nang city tops the list of new wonders of the world by the UK's Daily Mail newspaper.
Visitors elated to travel
According to a survey conducted by the Vietnam Tourism Advisory Board and VnExpress.net in March, of 3,500 respondents, 53.4 percent had plans to travel between May and September while 30.2 percent said they were ready to go on holidays in March and April.
The top 10 getaways are Da Nang, Kien Giang, Lam Dong, Lao Cai, Khanh Hoa, Quang Ninh, Binh Dinh, Binh Thuan, Ha Giang, and Quang Nam, the survey revealed.
More than 58 percent of respondents said they would spend their holidays in destinations that are safe from disease.
Meanwhile, travel firms said that up to 60 percent of tours have been booked for the four-day national Reunification Day (April 30) and International Labour Day (May 1) holiday. Tourists are booking mostly short-distance trips and brief stays in Sa Pa, Ha Long, Phu Quoc, Da Nang, Da Lat, and Con Dao Island.
Vietravel said that around 60 percent of its vacation packages, which include flights, car rentals, and hotels, have been bought.
In Sa Pa town, 80 percent of rooms at local lodging facilities will be filled during the four-day holiday, while many hotels are fully booked.
Earlier, the Ministry of Culture, Sports and Tourism announced the "Vietnamese people travel to Vietnamese destinations" campaign, encouraging Vietnamese citizens to travel domestically to support local businesses after social distancing measures were eased.
The campaign was introduced as the domestic market is now regarded as the primary driver for the recovery of Vietnam's tourism industry from the crushing impact of the pandemic.
According to Deputy Director General of the Vietnam National Administration of Tourism (VNAT), Ha Van Sieu, local visitors had an enthusiastic response to the ministry's stimulus campaign as they were well informed of new tourism products and that the tourism sector was ready to welcome visitors once again.
Vietnam will continue to capitalise on domestic tourism during 2021-2023 and new tourism products will be developed in preparation for the return of international tourism in the "new normal".
A boat tour through caves in Ninh Binh brings unforgetable experience to visitors. 
Domestic tourism should be classified
Sieu said it is necessary to have a good understanding of the post-pandemic market and to sketch out suitable strategies.
Regarding well-developed tourism destinations, they should receive support in policies and technologies to recover, while others need assistance to create new development opportunities and become "new stars" in the industry in the near future, he said.
Tourism development strategies should sharpen the focus on classifying the domestic tourism market to better serve the demands of visitors, Sieu said, explaining that this would help increase domestic tourism revenue.
This year, the Visit Vietnam Year 2021 will be held under the theme "Hoa Lu - the thousand-year Ancient Capital" in Ninh Binh province. It is expected to help expand post-pandemic tourism and open up new plans for tourism development, he added./. VNA

When the Covid-19 pandemic broke out, Vietnam did not have international visitors, its major tourism source.