The ancient city of Hoi An was recognised by UNESCO as a World Heritage Site in 1999, and still preserves its cultural values as a busy trading port dating back 400 years.
Scenes around the ancient town of Hoi An at night
Hoi An ancient town – a global cultural heritage
The city has been challenged by the tests of time to preserve both its tangible and intangible culture and heritage. 
Nguyen Tuong Quy and his family are the twelfth generation of the Tuong clan located down a narrow alley on Nguyen Thi Minh Khai Street in Hoi An.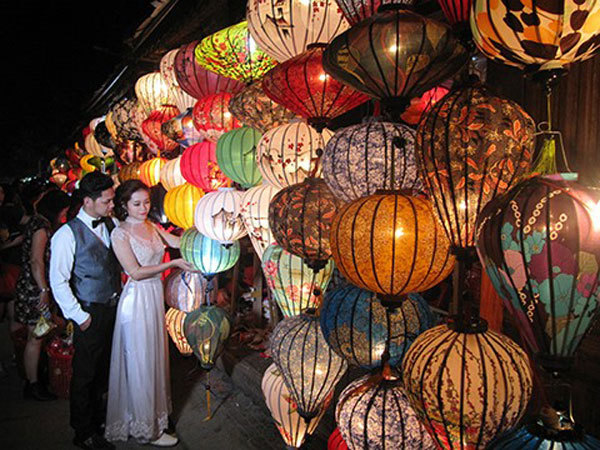 A couple pose for a wedding photo at the night market in Hoi An. Lanterns are used to light up the city at night to attract tourists. VNS Photos Cong Thanh
Their house, which was built in 1806, sheltered former leaders of the Royal Army, and is one of more than 1,000 houses built between 100 and 200 years ago that are being preserved and protected by the city.
"Most of the architecture and structure of the house has remained for over two centuries along with the furniture, the interior decor and the antiquities," Quy said.
Many community cultural activities have also been revived since the city was recognised by the UN cultural agency UNESCO.
"The community celebrates Nguyên Tiêu (full moon of the first lunar month of the year) and lights lanterns and candles on the 14th and 15th days of each lunar month," said vice chairman of Hoi An's People's Committee, Nguyen Van Son.
"Traditional craft villages such as Thanh Ha (pottery), Kim Bong (carpentry), Hoi An (lantern making, silk), Tra Que (vegetables) have continued to ply their trades to make unique tourism product as their ancestors did in the past," Son said.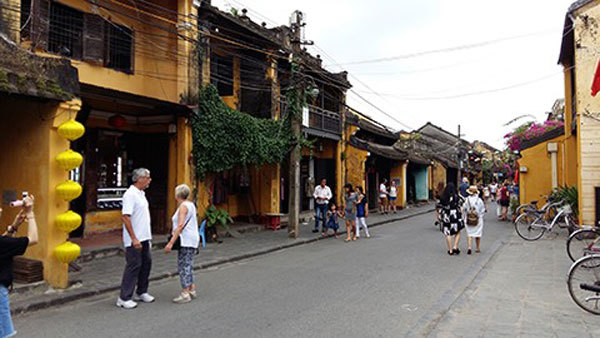 Tran Phu Street in Hoi An is lined with beautiful old houses. The ancient city, an UNESCO-recognised World Heritage Site in central Vietnam, still preserves its cultural value as a busy trading port from 400 years ago.
The Director of Hoi An's Culture and Sports Centre, Vo Phung, said old cultural performances such as tuồng (classic drama) and bài chòi (a cross between a game and a performance with a deck of cards – bài – and bamboo huts – chòi) had been held to revive 'Hội An's Legendary Night' since 1999.
Phung said local residents, restaurants and hotels owners voluntary lit up their properties with lanterns on the 14th and 15th days of each lunar month (known as full-moon day) as a unique attraction for tourists.
Cross-culture
Nguyen Chi Trung, director of Hoi An's Centre for Cultural Heritage Management and Preservation, said Hoi An was a natural convergence of sea, river, rural, urban, eco-tourism, traditional customs and lifestyle.
"Hoi An was a rendezvous for different cultures from Japan, China and Europe that followed merchants on cargo ships," Trung explained.
"The cross-culture has been preserved for generations and created a unique vibe for Hoi An compared to other heritage sites around the world," he said.
He said local residents preserved and respected the ancient tombs of Japanese expats, the Chinese Fujian and Jiao Zhou, and French architecture that had peacefully existed alongside each other for 400 years ago.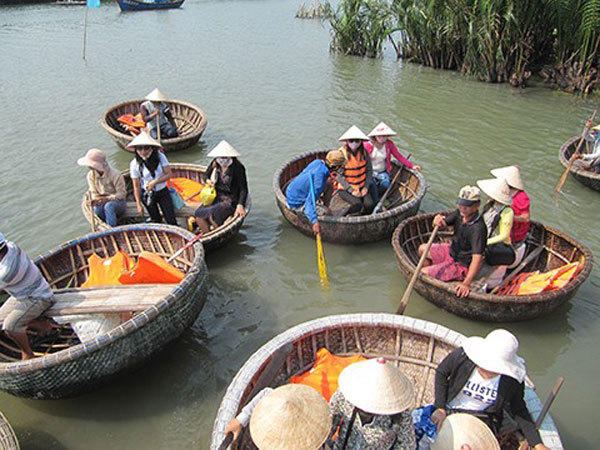 Tourists take a coracle trip in the nipa palm forest of Cam Thanh, a suburban area of Hoi An. The site is a favourite eco-tour destination among domestic and foreign tourists.
The Japanese Bridge, which was built and named by Lord Nguyen Phuc Chu from the Nguyen Dynasty in 1719, is a typical symbol of Hoi An with its deep imprint of the Japanese community.
Trung said the 5km Old Quarter connected the beaches (An Bang and Cua Dai), rural eco-sites (Cam Thanh and Cam Nam), Thanh Ha, Kim Bong the Cham Islands (a world biosphere reserve) and the Thu Bon River.
Jacques Burlaud, a French tourist, said he was impressed by the old houses that have been preserved for years despite time and weather.
"Many buildings have great designs and architecture with wooden sculptures on the rafters and beams, and these buildings have been inherited by generations. It's such a precious treasure for the community and the city."
Hirukawa Yuki, a Japanese expat in Hoi An, said she enjoyed sharing the exciting atmosphere and festivities in the ancient town.
"Lanterns light up every corner and I also decorate my house with them," Yuki said.
"Myself and a group of at least 20 Japanese expats have settled here in the town for a cross-cultural meet between the Japanese community and the locals," she added.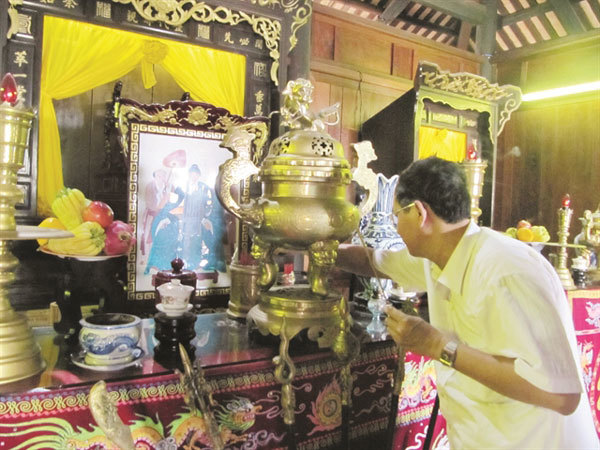 A local man presents offerings on his ancestral alter. The house was built in 1806 and sheltered 14 generations of former headmasters of the Royal Army, Nguyen Tuong Van's (1774-1822) family, under the Nguyen Dynasty.
Heritage management
Former secretary of the city's Party Commitee Nguyen Su, who is head of a community-based heritage management plan, said the Hoi An was well preserved due to a consensus reached by the community living in the Old Quarter.
He said the community owned its heritage and were beneficiaries of heritage-promoted tourism and services.
"It's the community preserving traditional culture. The community and old time customs and lifestyles have helped the heritage survive," Su said.
The city started selling package tours in 1995, using most of the revenue from ticket sales to preserve old houses and support night-time cultural performances.
"Each old house owner can earn from VND48 million (US$2,100) to VND70 million ($3,000) each month from shopping and tourism services. They receive 4 per cent from ticket sales for every tourist," Son said, adding nearly 5 million tourists visited the city in 2018.
He said the city had successfully pedestrianised some old streets in 2002.
Walking zones have been expanded to create more safe destinations with fresh air, while a 400ha farm in the suburbs has been reserved as a 'green' space for eco-tourism.
However, mass tourism has threatened the tranquility of Hoi An.
The tourism hub is burdened by coaches carrying crowds of tourists on the city's limited traffic infrastructure, and traffic congestion is a common sight in the evening.
Architect Shinichi Mochizuki from Japan said the town hosts at least 10,000 vehicles each day, and congestion often occurs in the afternoon when coaches carrying tourists arrive.
"The city's traffic can't allow more cars to travel," Mochizuki said.
Hoi An had set a target of becoming the first eco-city in Vietnam by promoting the use of 100,000 bicycles and battery-powered vehicles among residents and tourists, the vice chairman of the city said.
VNS