Hotels across the nation, including in HCM City and Hanoi, are cutting back staff, or facing closure or bankruptcy as revenue and bookings have plummeted.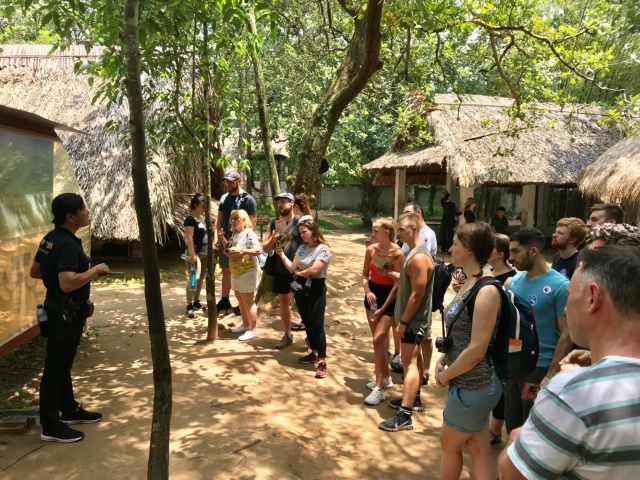 Foreign tourists visit Củ Chi Tunnel, a popular tourist hotspot in the HCM City outskirts.
The number of booking cancellations is also on the rise. If the situation persists, many hotels are considering closing, according to a hotel manager in HCM City.
Nguyễn Thị Kim Trang, deputy director of the three-star Viễn Đông hotel in HCM City, said: "The occupancy rate has been 20 per cent, and we expect to face a tougher time ahead."
The 100-room hotel, located in the budget backpacker area in downtown District 1, has been hit hard by the epidemic. The hotel was fully booked at this time last year, she said. Since the outbreak in Việt Nam, the occupancy rate has been only 55 per cent.
The five-star Grand Hotel Saigon with 251 rooms located on Đồng Khởi Street in District 1 was always overbooked in previous years, but now only 40 per cent of rooms are booked, mostly visitors from Europe, the US and Australia.
Nguyễn Thị Thu Hiền, deputy director of the hotel, said the number of new customers was modest.
With hotel revenues plummeting, many five-star hotels in HCM City have no choice but to cut back staff to reduce costs.
According to the HCM City Department of Tourism, total revenue in March and April this year of three- to five-star hotels in the city was expected to fall by 62.5 per cent.
Nguyễn Thị Ánh Hoa, deputy director of the city's Department of Tourism, said the number of international visitors to the city was estimated at 346,650 in February, down 52 per cent compared to the same period last year.
Total tourism revenue in February dropped by nearly 30 per cent compared to the same period last year and fell by 37 per cent compared to January, she said.
A representative of MaxBooking.com said that in March about 30 per cent of guests have booked through OTAs (online travel agency) managed by MaxBooking.com. Many guests have cancelled rooms in hotels and resorts, mostly in Đà Nẵng, Phan Thiết, and Phú Quốc.
The five-star Nha Trang Horizon hotel with 375 rooms is also facing a harsh time. The hotel's occupancy rate reached 80 - 90 per cent in January but the figure dropped to only 10-15 per cent in February. It is expected to be about 5-10 per cent this month.
According to the hotel manager, to reduce business risks, the hotel is focusing on guests of various nationalities instead of on any particular nationality. Yet the epidemic has caused a significant drop in the number of visitors of all nationalities.
Lê Văn Sơn, chairman of the Khánh Hòa Provincial Hotel Association, said all hotels, travel agencies, restaurants and businesses in Nha Trang had been hit hard by the outbreak. Hotels catering to Chinese visitors in particular have suffered the most, with an occupancy rate of 10 - 20 per cent.
"Even some five-star hotels have had to cut back staff," he added.
According to a report from Hà Nội Department of Tourism, as of March 2, nearly 20,000 international tourists and more than 19,000 local tourists had cancelled tours to the capital because of concern about the epidemic.
Hotels and hotel chains have been offering discounts, including free services, in an attempt to maintain operation, but the situation does not seem to be optimistic.
Some hotels in the Old Quarter, which used to be busy, have been struggling and are reducing room rates by 50-60 per cent.
Recently, a branch of the three-star hotel chain Hanoi Emerald Waters Hotel had to cut back half of its staff, according to Phạm Thị Hằng, director of the hotel chain. Hằng owns eight hotels in Hà Nội's Old Quarter, but four have stopped operating since the outbreak.
According to a manager of a hotel on Lò Sũ Street, before COVID-19, the hotel had a room occupancy rate of up to 70 per cent and was always overbooked during the weekends. But now only 40 per cent of the rooms are filled.
According to a director of a three-star hotel in Hà Nội, to cover the cost of operation, the hotel room capacity must reach 80 per cent with the rest considered as profit. Otherwise, hotels must cover the losses for expenses such as electricity, water, and personnel. Closing will be inevitable if the situation continues for a long time, he said.
Tourist arrivals in Hà Nội in the first two months fell 25 per cent year-on-year to 3.56 million, with revenues falling 32 per cent, according to the city's Department of Tourism. — VNS
The local tourism sector is under immense pressure as two major cruise lines, Princess Cruises and Viking, have stopped operating their cruise ships globally. Cruise ships have become coronavirus hotspots throughout the world.

The central coastal province of Phu Yen has become the latest locality to suspend sightseeing activities at local relic sites and landscapes, starting from March 13, a move driven by the complex developments of the COVID-19 outbreak.