Vietnam, with its rapid economic growth and large number of consumers, is being targeted for Indonesian tourism.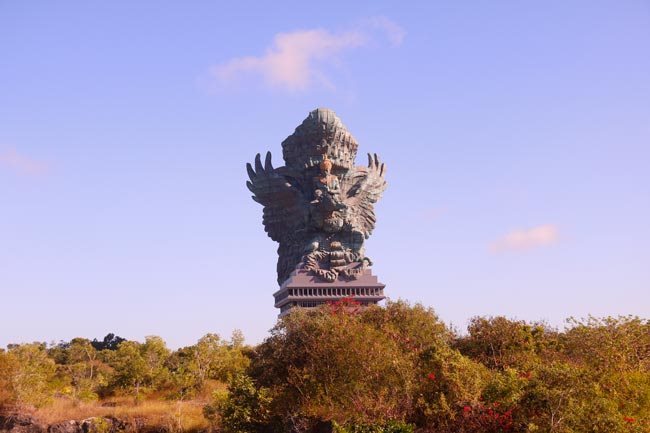 Garuda Wisnu Kencana Cultural Park highlights Indonesia's cultural heritage
The Consulate General of Indonesia in HCMC recently organized a fam trip for a dozen tour operators and media personnel to visit Bali and broadcast the island country's destinations to Vietnamese tourists.
"With robust economic growth of more than 7% last year and a burgeoning middle-income class, Vietnam is becoming a potential market for Indonesia," said Surahmat, head of the Vietnam market division of Indonesia's Ministry of Tourism.
The Indonesian government has stressed that tourism is the driver of the island nation's economy, which must be supported by all other relevant authorities. The world's largest archipelago has set a target to attract 20 million international tourists in 2019, up 26.58% compared with last year.
"Vietnam will playing an important role in Indonesian tourism," Surahmat said, predicting the total number of tourists from Vietnam would reach 100,000 this year, rising by more than 33% compared with last year.
Lonely Planet, a BBC Worldwide-owned travel guide, last year published its Best in Travel 2019 book with destination lists including the top vacation spots to visit next year. Indonesia, the only Southeast Asian country on the list, made it to seventh place and is described as rich in diversity across the nation.
"More than 17,000 islands make up the medley of cultures, cuisines and religions across the archipelago, offering a kaleidoscope of experience," noted Lonely Planet.
Although earthquakes have recently struck some parts of Indonesia, which is located on the volcano-lined Pacific Ring of Fire, much of this sprawling country remains safe for visitors. "Thanks to substantial investment in new air, land and sea connections, plus the recent introduction of visa-free access for nationals of 169 countries, it has never been easier to explore this tropical country." added the travel guide.
Vietnam, which is geographically close to Indonesia and has a high number of travelers, has not been a dominant tourism market for Indonesia, accounting for less than 0.5% of the total number of international tourists who visited the country last year.
Thus, the sprawling island's government is taking multiple steps to advertise its destinations to the Vietnamese market. Apart from fam trips, an Indonesian festival, including a business-to-business event, is being held for the first time in HCMC this June as part of Indonesia's promotional campaign this year.
Besides the government's efforts, local enterprises have found their own ways of tapping the Vietnamese market. "We are planning a number of digital advertising strategies to attract Vietnamese tourists," said Hasnaa Bourouis, a manager at Finns Beach Club.
Finns Beach Club, one of the most famous clubs in Indonesia, can accommodate up to 3,000 people for corporate events, weddings and birthday parties.
"Our strategy is to collaborate with Vietnamese tour operators and make use of digital advertisements, such as through local influencers, the media and bloggers," Bourouis said while discussing the club's plan to tap into the luxury segment of the tourism sector for visitors from Vietnam to Bali in the coming period.
Garuda Wisnu Kencana Cultural Park (GWK), owned by a private company called PT Garuda Adhimatra Indonesia, is also targeting Vietnamese tourists, especially the corporate segment.
"Vietnam made up less than 2% of the total foreign visitors coming to our park last year," said I Wayan Sugiantara, head of sales for the park, which took 25 years to construct.
He added that the company is working with more than 600 tour operators across the island nation targeting the Vietnamese market, mainly for gala dinners, teambuilding activities and weddings.
GWK, which was put into operation only one year ago, attracts a large number of tourists who want to experience Indonesia's cultural heritage.
However, the main barriers for Vietnamese tourists coming to Bali, according to Vietnamese tour operators participating in the fam trip, are the travel time and cost.
The most popular tours from Vietnam to Bali take five days, of which two days are spent on flying, and the total cost of the tour is VND13-16 million, equivalent to the cost of package tours to Korea and other northern Asian countries.
Besides this, tour guides who speak Vietnamese and have in-depth knowledge of Indonesian culture are rare in Bali and in Indonesia in general.
"The flight cost, which accounts for half the package tour cost, will drop significantly when local carrier Vietjet opens direct flights from HCMC to Bali," said Lukdy, sales manager for the Phi Loan tour operator, who is considering opening an outbound tour from Vietnam to Bali.
"We hope to work closely with our local partners to find the best way to attract Vietnamese tourists to Bali," said Ni Nyoman Sri Pramini, sales and marketing manager for Santa Bali Tours. SGT
Vu Dung