Khanh Hoa Province still took the lead among localities in the country in terms of attracting tourists from China, welcoming some two million Chinese tourists between January and September.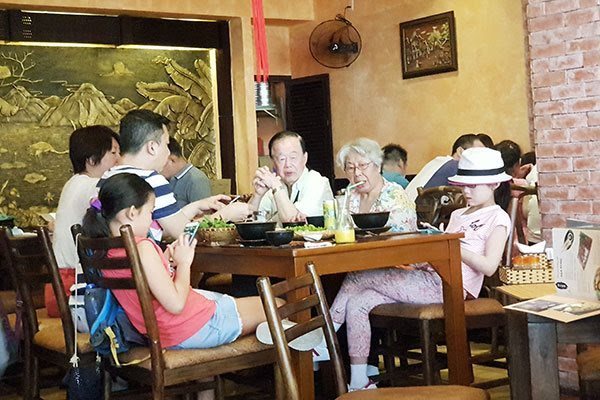 Chinese tourists in Nha Trang City, Khanh Hoa Province, which takes the lead among localities in the country in terms of attracting tourists from China
Data from the Khanh Hoa Department of Tourism indicate that the number of Chinese travelers to the province accounted for three-quarters of its total international tourist arrivals over the nine-month period, soaring 41.7% year-on-year.
The Chinese tourist arrivals to Khanh Hoa made up half of the country's total holidaymakers from China.
Statistics from the Vietnam National Administration of Tourism show that over 3.97 million Chinese tourists visited Vietnam from January to September this year.
The provincial Department of Tourism's report on the performance of the tourism sector in October showed that while tourist numbers from China, Khanh Hoa Province's largest source market, are continuing their upward trend, the growth in the number of holidaymakers from Russia, the province's second largest source market, is slowing.
Over the nine-month period, some 340,870 Russian tourists traveled to Khanh Hoa, up 2.2% year-on-year.
Meanwhile, some other source markets showed positive signs as well. Over 170,000 South Korean visitors came to the province between January and September, skyrocketing by 221% against the year-ago period, whereas over the same period, Khanh Hoa Province welcomed more than 16,000 Thai travelers, a year-on-year upsurge of 487%.
In October, some 280,000 international visitors traveled to Khanh Hoa Province, taking the province's total international tourist arrivals in the January-October period to 3.05 million, up 31% year-on-year, according to the data of the provincial department.
However, the increase in tourist arrivals failed to make hotels in the province reach full capacity. During the year up to October, room occupancy averaged 64% at three- to five-star hotels and 36% at lower-quality hotels.
Many representatives noted that Khanh Hoa Province is facing an oversupply of hotel rooms. To fill up rooms, many hotels are racing to lower room charges.
"For the past few years, it had been difficult to book rooms in Khanh Hoa Province, mainly for tourists in groups, but there are many options for rooms at reasonable prices now, especially with low prices available for large groups of tourists," said a representative of a travel firm. SGT
Dao Loan

After several months in decline, tourist numbers from China, Vietnam's largest source market, have soared this month by a whopping 48.6% year-on-year to 604,900, according to the General Statistics Office.  

China has been the biggest inbound tourism market for Vietnam for many years. However, the No 1 position has been shaken with the strong rise of the South Korean market.