Khuoi Ky rock village in Trung Khanh district, Cao Bang province has enchanted many visitors with its architecture of stilt houses built from rocks and the local Tay ethnic people's culture and lifestyle. 
The 1 ha village consists of 14 rock houses on stilts leaning against the mountain and facing Khuoi Ky stream. Each house has double roofs covered in yin-yang tiles.
Going through rock gates decorated with flowers and stepping up rock stairs into the house, visitors will be impressed by the design with wooden pillars arranged in a straight line, through the ceiling and floor, all made of timber.
Khuoi Ky villagers have been taking advantage of their unique houses to offer community-based tourism, with a focus on homestay services.
Trieu Ich Xi, a Khuoi Ky villager leading in homestay economic development, says the model is based on the available rock stilt houses together with the households' efforts to improve facilities and services.
"From when I was born, there have been rock stilt houses. Elder villagers say the rock houses are warm in the winter and cool in the summer. To turn the 5-room stilt house into a homestay, we re-arrange the tiles, re-scrub the floor, tidy up the house, and buy new mattresses and bedding," Xi explained.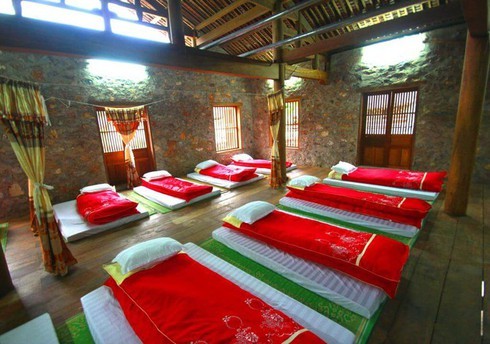 A community bedroom at a homestay in Khuoi Ky village. (Photo: homestay.com.vn)
He said the village's ancient beauty and their hospitality have attracted an increasing number of tourists.
"We still plant maize and rice. Community-based tourism has brought my family a better life. In the past, we only earned enough to live from maize and rice plantation. To afford our children's school fees, we had to sell rice. Now we have been able to buy household appliances and motorbikes," said Xi.
Ten households in Khuoi Ky ancient village are offering quality, well-equipped homestay services, with private restrooms, electric heaters, and standard bedding. The model has attracted a remarkable number of tourists, with domestic visitors accounting for 60%. The remainder are foreigners.
Xi said each month his family receives one or two groups of foreign tourists, adding, "Visitors have different needs in cuisine and accommodation. They can eat at restaurants or have meals with local families. Ethnic people have many specialties like sausage, meat smoked over a cooking fire, and local vegetables. Each person is charged 4.3 USD per bedding."
There is a stream in front of the village, where visitors can swim in the summer.
Tourists can join Khuoi Ky Tay villagers in their daily activities. They can pick bamboo shoots, work in the fields, catch fish, and prepare the special dishes of the Tay ethnic people.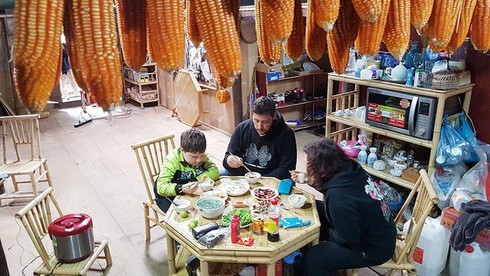 A foreign family enjoy typical Tay dishes at a homestay in Khuoi Ky. (tuoitre.com.vn)
The Tay ethnic minority group in Khuoi Ky village still preserve their native customs, clothing, and lifestyle, said Dam Van Vu, Deputy Chairman of Trung Khanh district People's Committee.
"Apart from 10 households in Khuoi Ky offering homestay services, a number of other villages in Trung Khanh district and a youth cooperative have also invested in community-based tourism development. In addition to the support from the district People's Committee, several non-governmental organizations have provided rural development projects," Vu noted.
In 2008, Khuoi Ky was recognized as a traditional ethnic minority cultural village by the Ministry of Culture, Sports and Tourism. VOV5

Non-profit educational group Friend of Vietnam Heritage will on November 2 organize an excursion to Thach Xa craft village, which is famous for its colored balancing bamboo dragonflies.

The CNN team described snake spring rolls, filled with ground reptile meat are "tasty and fresh with herbs found in all Vietnamese cuisine".

Binh An Village in Binh Lang commune, Tan Tru district, Long An province is renowned for its hundreds-of-year-old drum making craft, which is still upheld by locals.