Hue has long been known as a land of poetry as the central city is not only the cradle for the art form in Vietnam, but has also been home to many renowned poets throughout its history.
Tourism workers and writers believe the city has great potential for tours themed around literature.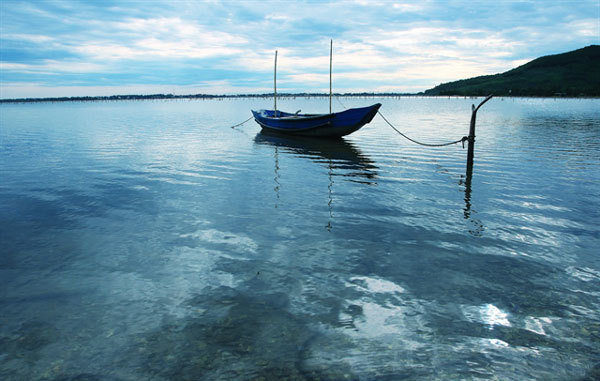 Lap An Lagoon with poetic tranquil beauty in Hue City. VNS Photo Truong Vi

Indeed, some travel agencies have started offering tours themed around poems by noted poets who used to live in Hue.
"Our company has designed a five-day tour visiting mausoleums, palaces, pagodas, traditional houses with gardens, lagoons and a meeting with translator Buu Y, who has translated many famous literature works," said Tran Quang Hao, director of travel agency Huetourist.
Hao said his most successful tour guides are those able to recite interesting verses on Hue to tourists.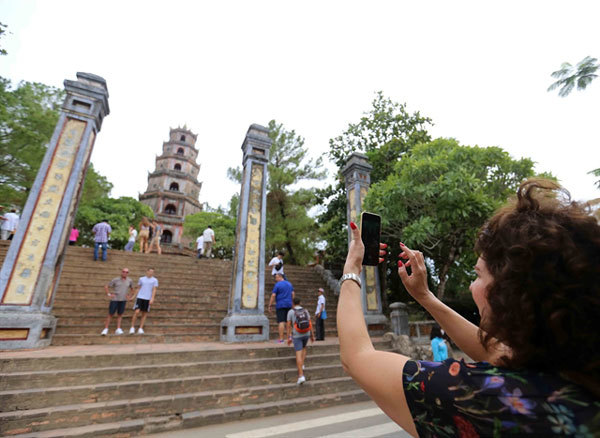 A visitor takes photos of Thien Mụ Pagoda, which has mentioned in many poems by Vietnamese poets. VNA/VNS Photo Nhat Anh

"Our tourists like the verses carved on stones at Huyền Không Sơn Thượng Pagoda," he said.
"So I think using literature works on Hue to design tours is a good idea," he said. "We can create unique tourism products."
The region was home to great writers Nguyen Du (1766-1820), Cao Ba Quat (1809 – 1855) and Phan Boi Chau (1867 – 1940) at various points.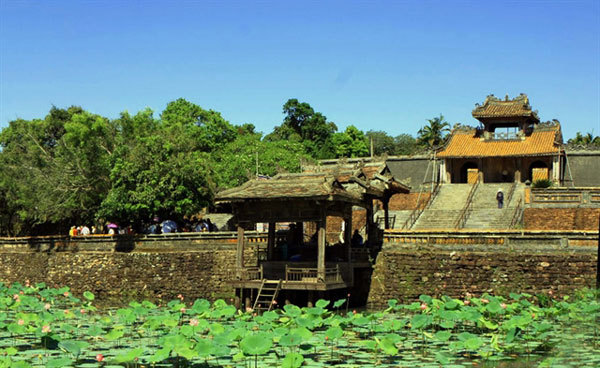 King Tu Duc Mausoleum in Hue City. The king specially liked literature and composed a lot of poems. VNA/VNS Photo Nhat Anh

The book titled Thi Nhân Việt Nam (Vietnamese Poets) by Hoai Thanh and Hoai Chau praises 44 poets, 14 of whom studied and expressed their talents in Hue and then became distinguished names of Vietnamese poetry like Xuan Dieu (1916-1985), Huy Can (1919 – 2005), Han Mac Tu (1912-1940), Luu Trong Lu (1911-1991), Bich Khe (1916-1946) and Te Hanh (1921-2009).
Various kings in the former imperial citadel were not only rulers but also talented writers like Minh Mang (1791-1841), Thieu Tri (1807-1847) and Tu Duc (1829-1883).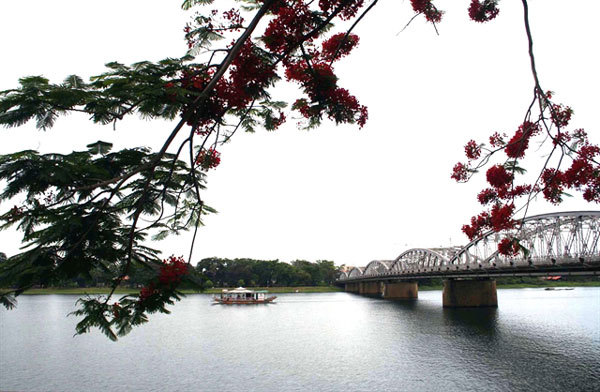 Huong River runs through Hue City. VNA/VNS Photo Quoc Viet

Various destinations in Hue can be introduced in the tours like museums for painter Le Ba Dang (1921-2015) and sculptor Diem Phung Thi (1920-2002), Hue Culture Museum, tombs of noted intellectuals, and the houses of late painter Ton That Dao (1910-1979), composer Trinh Cong Son (1939-2001), painter Vinh Phoi (1937-2017), and painter Buu Chi (1948 - 2002) .
"If we can organise good literature-themed tours, we can exchange well with tourists, spreading memories on culture and history," said writer Ho Dang Thanh Ngoc.
Writer Le Vu Truong Giang said the notion of literature tourism is fairly popular globally, but is only attractive to certain people.
"Such literature-themed tours will gather only tourists with interest in literature, of the same cultural background," Giang said. "Running such tours may not be easy at all."
Other writers suggested building a new Nguyen Du culture space in Bau Da and Huong Long areas, where he lived, or installing a stone carved with the poem Đây Thôn Vỹ Dạ (Here's Vy Da Village) by poet Han Mac Tu at the entrance of today's Vy Da Ward and building a new Literature and Arts Museum.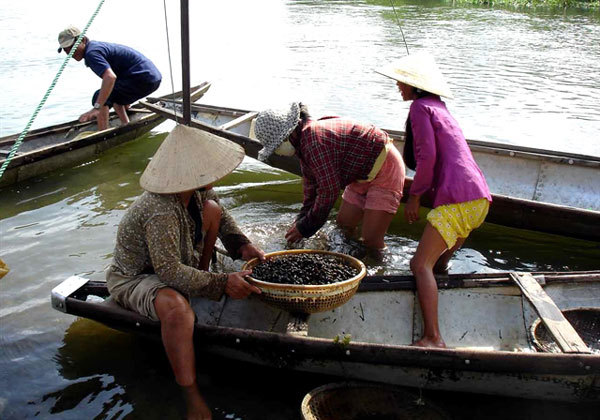 Locals in today's Vy Da Ward take small mussels from Huong River's bed to process as a delicacy. Vy Dạ Village has been mentioned in a famous poem by poet Han Mac Tu. VNA/VNS Photo Quoc Viet

According to researcher Tran Nguyen Khanh Phong, some schools in the province have held tours for students to visit local museums of culture figures including a memorial site to Uncle Ho in Duong No Village, Phu Vang District as well as museums on poet Phan Boi Chau, photographer Dang Huy Tru in Hue City and To Huu in Quang Dien District.
"We have plenty of destinations dedicated to poets and great names," he said. "The problem now is how to advertise the relics to lure more tourists from other locations and overseas."
Poet Tan Hoai Da Vu proposed the Hue Literature and Arts Association choose a hill in the southern outskirts of the city, which has a tranquil view of big green trees and stream, as a 'Hill of Poets'.
He suggested installing statues of noted poets arranged in themes and chronological time.
The hill would host an exhibition hall displaying works and poetry documents of Hue and Vietnam, he said.
The place would be a destination for poets and the public to meet, for installation arts, poetry performances and activities for students, he added.
"The mark made poet Nguyen Du only during his 10-years in Hue before passing away in Hue are enough for his fans to flock to visit the city," said poet Mai Van Hoan, chairman of the Tale of Kiều (an epic poetic work by Nguyen Du) Studies Association in Hue.
Tour guides can take the visitors around the city and read a few verses of Nguyen Du praising the beautiful landscape of Huong River and Hue.
"That's enough to lure tourists," he said.
The proposal was welcomed by leaders of the local tourism department.
"This is a feasible idea," said Le Huu Minh, acting director of the department. "I will discuss with investors to implement the project."
Writer Ho Dang Thanh Ngoc, chairman of Thua Thien Hue Union of Literature and Arts Associations, said the union will relay the suggestions of writers to local authorities and investors. VNS
Tran Hoang Nam

Thien Mu pagoda, which is also known as Linh Mu, lies on a hill overlooking the picturesque Huong (Perfume) river in Hue city in central Vietnam.
Hue Imperial Citadel, Tam Giang lagoon, and Thien Mu pagoda are among the must-visit destinations in the central province of Thua Thien Hue for tourists.
Thua Thien Hue which owns 5 cultural heritage sites recognized by UNESCO is a key locality of the central region in terms of tourism development.