Often referred to as the rice bowl of Vietnam for its emerald-green rice paddies, the Mekong Delta is an alluring region rich in unspoiled countryside and peaceful rural settlements that attract nature and culture lovers.
Exploring popular Nga Nam floating market
Mekong Delta develops new tourism products
Agri-tourism attracts more visitors to Mekong Delta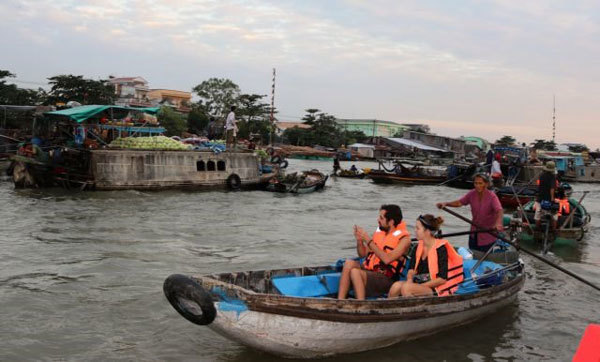 Tourists at Cai Rang floating market in Can Tho City. VNS Photo Ngoc Diep
Blessed with fertile land, the southern delta is criss-crossed by thousands of kilometres of rivers and canals and is home to many picturesque pagodas and ethnic communities.
The region's offerings are abundant, from countryside tours where you can experience the life of ethnic communities to tours of rice fields, orchards, vegetable gardens, fish farms and floating markets.
Visitors can also take part in spiritual tours to Ba Chua Xu Temple and the Bay Nui (seven mountains) mountain range in An Giang Province, nature and wildlife tours at the Tram Chim National Park in Dong Thap Province, and leisure tours at the white sandy beaches and islands of Kien Giang Province.
Car holiday
In early September, Tran Son Ha from HCM City set out on a trip to the Mekong Delta with his family in a rented car for a two-day holiday. They first visited Ba Chua Xu Temple in An Giang's Chau Doc Town where dozens of other pagodas and temples can be found at the foot of Sam Mountain, a sacred place for Buddhists.
After stopping at the temple, they headed to Cam (Forbidden) Mountain of the Seven Mountains range, and the highest peak in the delta, close to the Cambodian border.
In An Giang, they toured Tra Su cajuput forest, about 30km from Chau Doc Town, and home to hundreds of species of plants and birds.
The next morning, Ha and his family headed for the Cai Rang floating market, where boats on the river sell a variety of goods starting at 4am every day.
Only 10 minutes from the city centre, Con Son (Son Islet) is another well-known site with tranquil gardens, fish farms, and boat rides along narrow canals.
Ha's family walked along a rural road to experience the daily life of locals and sample traditional southern cakes and dishes.
"It's worth a visit to get a true taste of rural villages and local life along rivers and canals," he said. "With its rice fields, orchards, boat-riding along small canals, and even buffaloes, it's so different from the city! It's a real escape from the hustle and bustle."
Tourists eat fresh from the trees when they pay a visit to a local orchard in Con Son (Son Islet) in Can Tho City. VNS Photo Thu Hang

Among the area's popular dishes are bánh xèo (rice crepes) with wild vegetables, ốc nướng tiêu (grilled snails with pepper), cá lốc nướng trui (grilled snakehead fish) and lẩu mắm (salted fish hotpot).
"A two-day visit is not enough time to experience everything about the delta. I'll return to see other beautiful places," Ha said.
During the summer, Ha's family also visited Phu Quoc Island by air, which is part of Kien Giang, to relax for three days on white sandy beaches and enjoy fresh seafood.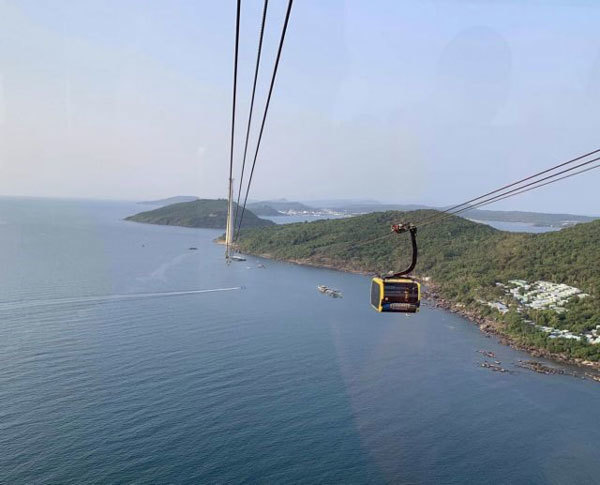 Cable cars to Hon Thom (Pineapple Island) in Kien Giang Province. VNS Photo Thu Hang

Community-based tourism
Ten minutes from the centre of the delta's main city of Can Tho, the 70-ha Son Islet on the Hau River is home to fish ponds and fruit gardens of various types such as rambutan, mango, pomelo, jackfruit, guava and star apple.
Over the past five years, community-based tourism has been developed on the islet, with nearly 30 households offering services.
Phan Thi Kim Loi, who is part of the community-based tourism, said locals have opened their fruit gardens for tourists who can help cook special dishes and traditional cakes.
Tourists pay to visit sightseeing spots or take part in activities, including fruit gardens, fish catching, cake-making and boat riding at a cost of VND15,000-20,000 (60 - 80 US cents) each. In addition, fruits are also sold at reasonable prices for visitors to bring home as gifts.
Dong Thap has experienced strong growth in community-based tourism. In recent years, many households have been offering homestays and welcoming visitors to their fruit and flower gardens as well as lotus lakes.
As many as 78 community-based tourism sites operate in the province, according to the provincial Department of Culture, Sports and Tourism.
In May, the Con Chim community-based tourism site in Tra Vinh Province's Chau Thanh District began to receive tourists on tour packages.
Nguyen Trung Hoang, deputy chairman of the provincial People's Committee, said households had been provided financial support to develop homestays, eateries and transport facilities to serve tourists.
Boat rides on canals at the Gao Giong ecotourism site in Dong Thap Province are popular. VNS Photo Ngoc Diep

Developing a local identity
Despite rich tourism resources, the delta's tourism sector has developed at the slowest pace of other regions in the country, according to the Ministry of Culture, Sports and Tourism.
Kien Giang Province and Can Tho City rank only 12th and 15th, respectively, among localities with a high number of foreign tourists.
Similar tourism products, ineffective marketing and promotions, and lack of trained human resources remain the major challenges for sustainable tourism development in the delta, tourism minister Nguyen Ngoc Thien said.
The number of foreign tourists to the region is just one-third of those in 14 central provinces.
Nguyen Huu Tho, chairman of the Viet Nam Tourism Association, blamed poor transport infrastructure on the slow pace of tourism development. Transport via road, river, railway and air should be improved, he said.
Most localities in the delta offer tours of rivers, orchard gardens, fish farms and floating markets, said Nguyen Quoc Ky, director of Vietravel.
Though all of these activities are popular, "each locality should create its own specific identity", Ky said.
Le Viet Hung, deputy director of Travel Indochina, said that tourists often visited only two or three places, though there are multiple places to see and explore.
Foreign tourists on tour packages typically visit Vietnam for 10-12 days and spend one night in HCM City, and then take a day trip to Tien Giang Province or Ben Tre Province.
They return to HCM City for an overnight stay and then move onward to Hoi An before flying to Hanoi or northern provinces.
Some visitors travelling by land often add Cambodia to their trip. They first visit Can Tho City for a day before crossing the border to Cambodia the next day.
Nguyen Viet Phuong, director of Can Tho City's Department of Culture, Sports and Tourism, said the city was diversifying its offerings to appeal to more visitors and has also supported community-based tourism sites.
Phuong said that each locality in the delta is striving to identify its specialties to create an identity that can be distinguished from others in the region.
River cruises
"Although prices of river cruises are much more expensive than land tours, they are the favourite choice of foreign tourists," Hung, deputy director of Travel Indochina, said.
Many cruise lines that operate between HCM City and Phnom Penh in Cambodia offer shore excursions to explore rural villages along rivers.
Some cruise vessels embark on trips in Tien Giang and cruise along the Mekong River and sail into Cambodia, he said.
Pham The Trieu, deputy director of An Giang Province's People's Committee, said most of the cruises were foreign-owned and operated.
Waterway tourism has huge potential, but localities in the delta have yet to tap it, he said, adding that most river cruises are operated by large cruise lines.
Despite the area's shortcomings, the delta has an abundance to offer and highlighting the differences among its localities will be important for tourism to thrive in a sustainable way.
The variety is stunning: festivals and spiritual tourism in An Giang; islands with sandy beaches, national parks and mangrove ecology in Kien Giang; floating markets in Can Tho and Tien Giang; coconut and fruit orchards in Ben Tre; and views at the southernmost point of Vietnam in Ca Mau Province are only some of the riches on offer. VNS
Thu Hang