After seeing his colleague lose the fight for life and die of cancer at the age of just 63, Micha Richard realised that life was indeed very short.
So the 24-year-old architect from Switzerland decided the time had come to hit the road.
Richard gave up his job and came up with the plan to go for a bike ride, and never stop.
After a year on the road passing through 23 countries and clocking up 18,000km, Richard arrived in Vietnam in March last year.
His original plan to travel the country by bicycle and then head back to Switzerland had to be adjusted when the borders closed due to the COVID-19 pandemic.
So almost a year later Micha is still in Vietnam, and he is more than happy to be here.
A young man from Switzerland has cycled through 23 countries in almost two years. Photo courtesy of Micha Richard
"From Switzerland at the beginning and now I am here in Vietnam, I have cycled through 23 countries and more than 18,000 kilometres," Richard said.
"At the beginning, I was really scared when I decided to leave everything back home, quit my job and sell everything I have.
"In Switzerland, people always say that you only live your life after 60 which means after retiring.
"But when witnessing my manager die at the age of 63 because of brain cancer, I thought that we couldn't know what will happen tomorrow, so why don't we live for ourselves now and enjoy every moment of life as soon as we can."
Although pedal power was the most difficult way to travel, Richard thought it would be the best way to travel to really discover the sights and sounds of the countries he was riding through.
That said, it wasn't an easy ride. 
"I remember a day when I was in south China. The temperature there was minus 10 degrees Celsius," he said.
"There were no hotels or houses in that mountainous area. So I had to sleep in the tent whole night.
"That was a memorable day. I had to cover myself by many clothes but I still felt freezing at that moment.
"I'm not only going through the coldest day but also the hottest day when the temperature raised up to 52.5 degrees Celsius in Pakistan."
Sometimes when the going got tough, Richard contemplated quitting his journey and just heading home to Switzerland.
He added: "Sometimes I also wanted to stop my trip and go back home. When I was in Italy, there was a storm and it rained very heavy at night.
"I was in my tent alone at night and I knew that when I slept in a tent my friends were having a party at home.
"Suddenly I thought that 'What am I doing here?', but it was just a quick thought."
Living in Vietnam for almost a year was not part of the plan, but living here has brought Richard many other experiences.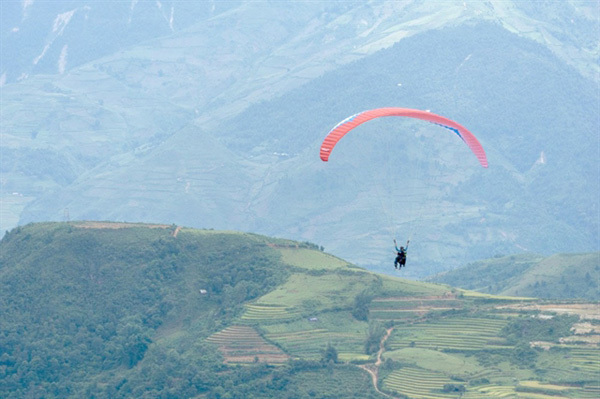 Settling in Vietnam for almost a year brings Micha many experiences. Photo courtesy of Micha Richard
"I arrived here in March of this year then the border was closed because of the COVID-19 pandemic.
"I could have chosen to go back home, but after a year on the road, it would be more comfortable for me staying in Vietnam and continue my adventure."
Richard chose to keep going on his journey by discovering different provinces across Vietnam.
"I am surprised that there are still many craft villages here," he added.
"I can find many meticulous handmade products when cycling to the north mountainous provinces of Vietnam. I am really impressed by that."
For this young man, life is full of unexpected events but his journey is still ahead. He will keep cycling and enjoy every moment to its fullest.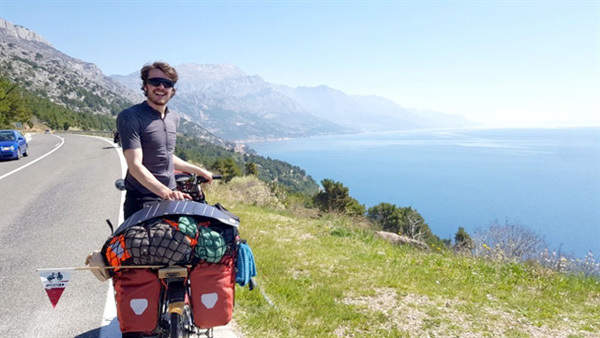 To this young man, life is full of unexpected events so it's time to enjoy every moment to its fullest. Photo courtesy of Micha Richard
"To the ones always on the road like me, I don't know what will happen to me the next day," he said.
"But after two years cycling, I somehow understand who I am and learn to cherish the nature.
"I will continue to cycle through other countries when the border opens again.
"Many might see it as a nightmare but being with my bike and immersing in the nature is a wonderful experience to me." VNS
Minh Phuong

A year on the road, 18 countries visited and 16,000 kilometres covered. As cycle rides go, you'd be hard pressed to find one tougher.

He has cycled across the country four times, covering thousands of kilometres, and has conquered four of the most daunting passes in Vietnam's northwestern region by bicycle.