Several air routes from Southeast Asian countries to Danang City have been rolled out by various airlines this year.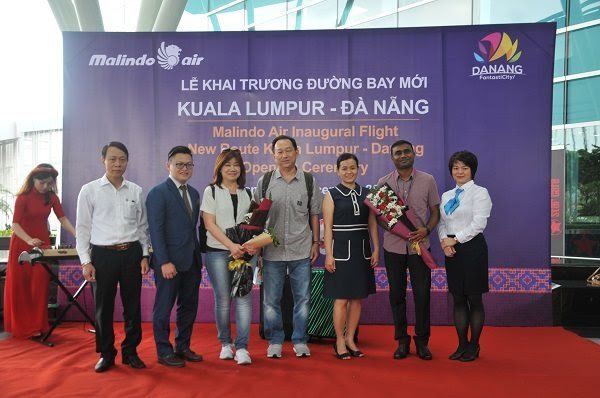 The first passengers on the maiden flight from Kuala Lumpur to Danang, operated by Malindo Air – 
Malindo Air from Malaysia launched a direct air route from Kuala Lumpur and Danang last weekend following its launch of two air services to Hanoi and HCMC.
During the first week, the carrier offered three weekly flights on the Kuala Lumpur-Danang route. The frequency will be raised to six flights per week in the next few weeks, before the airline operates daily flights on the route from January 20 next year.
In early 2019, low-cost airline Air Asia opened the Kuala Lumpur-Danang air route, with a frequency of 14 flights per week.
Besides this, Singaporean air carrier Silk Air uses A320 aircraft to carry passengers to Danang City each day, while Singapore-based Jetstar Asia uses Boeing B737-800 jetliners to transport passengers from the neighboring country to the central coastal city on Tuesdays, Thursdays, Fridays and Sundays.
Thailand's Air Asia and Vietjet Air are operating the Bangkok-Danang air route, with a frequency of 21 flights per week.
Apart from this, in late October, Cambodia's carrier Cambodia Angkor Air rolled out an air service between Phnom Penh and Danang City and has been offering flights on the Siem Riep-Danang route since early 2019.
The Chiang Mai (Thailand)-Danang air service operated by Air Asia and the Danang-Jakarta (Indonesia) route launched by Sriwijaya Air are also among the air routes rolled out this year.
Mushafiz Bin Mustafa Bakri, Malindo Air managing director, noted that the launch of an air route to Danang City was expected to help the carrier's passengers visit not only Danang but also various tourist destinations in the central region, such as Hue and Quang Nam.
Aside from this, the airline also aims to attract more tourists from Central Vietnam to Kuala Lumpur.
Nguyen Thi Hoai An, deputy director of the Danang Center for Tourism Promotion, remarked that Southeast Asia is one of five major source markets for which the city will boost promotion activities in 2020. SGT 
Nhan Tam

Da Nang plans to diversify its international tourism source markets next year but will still pay close attention to the Chinese and South Korean markets, sources said.

Vietnam Airlines on November 27 launched the first flight connecting Chengdu city of China and the central Da Nang city.