Ha Tien Beach in the southern province of Kien Giang is well known as a beautiful beach, but it also offers unique delicacies.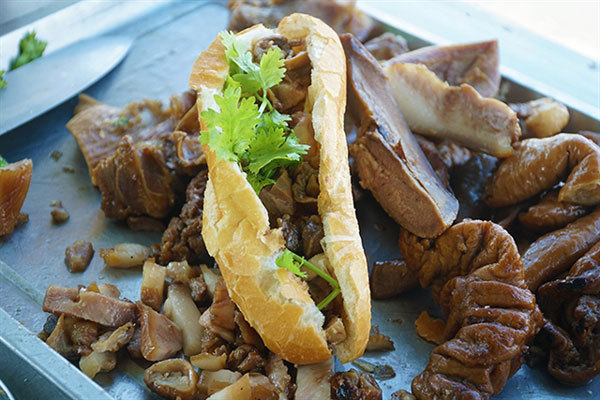 Each vendor who sells Ha Tien's's Bánh Mì Phá Lấu, which is filled with cow offal, has a unique way of cooking the innards. 
Seafood lovers should not miss the mantis shrimp dish when visiting Ha Tien. Since this creature usually breeds around the third and fourth lunar months, the best time to try it is six months before when it contains a lot of ripe roe. The eggs are considered a delicacy.
Mantis shrimp caught during this season will also have more fat and meat.
Ca Do or redtail fusilier, with pickled papaya, is also a popular afternoon snack in Ha Tien. The fish is coated with spices and grilled on a charcoal until it gives off a nice smell. It is usually served with pickled papaya and chili.
For visitors who love banh mi, Ha Tien offers its special Bánh Mì Phá Lấu (Bánh Mì filled with cow offal). It is an exotic street food thanks to the unique way of cooking with coconut milk to give the dish a sweetish taste. — VNS

Occupying a prime feng shui spot with a sublime combination of land, water, and wind in southwestern Vietnam, Ha Tien City is one of the most attractive places in the Mekong Delta region.

With its 22 km coastline borders the Gulf of Thailand, Ha Tien city in Kien Giang province boasts magnificent landscapes, which attracts lots of tourists.