Not only famous for its natural landscape, Quang Ninh is also a land of diverse and impressive cuisine.
Cha muc (squid cake)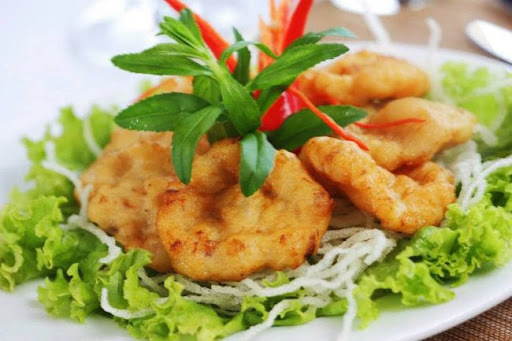 Quang Ninh is known as one of the largest seafood regions in Vietnam and a cuisine that one can't forget is squid cake.
Ha Long's cha muc has many unique characteristics compared to cha muc from other places. The reason lies in the most important ingredient to make cha muc, which is big cuttlefish with an average weight from 1.5 to 2kg. If people use other types of squid, they do not achieve the necessary stickiness after pounding squids. The smell and the taste of cha muc made from other types of squid will not be the same either.
After preparing cuttlefish, workers have to dry them so the cha muc will have the stickiness in the pounding stage. Depending on the demand, the squid will be ground quickly then pounded. Workers will mix the squid mass after pounding with necessary ingredients like pork fat, onion, garlic, pepper.
When the pounding stage is finished, the squid mass will be frozen for at least 2 hours. This step ensures that the squid mass will hold together and not fall apart. After this step, it will be divided into small pieces, then shaped into round cakes. The cakes will be fried right after the shaping step until they are golden on the outside.
Cha muc has been recognized as one of the best food in Vietnam by the Vietnam Record Association and is also included in the list of the world's Top 50 best foods.
Sa Sung (sea worm)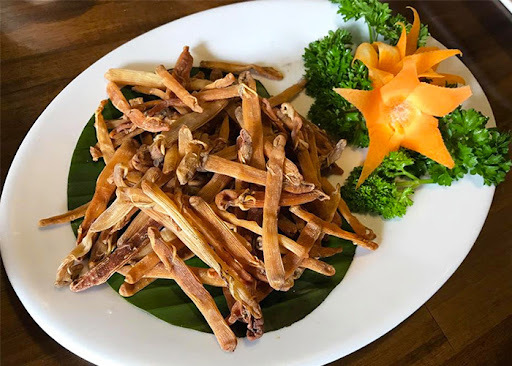 Sa Sung is a rare seafood species, often found in the waters of Quan Lan of Quang Ninh. Sa Sung can be processed into many dishes with different flavors, and also has the use of curing a number of diseases and nourishing the body.
Sa Sung lives on the seashore where the tide goes up and down every day. When it ebbs, people have to look for Sa Sung really quickly, often by digging the sand.
Sa sung can be fried with fresh garlic to create a tasty and buttery dish. This fried food is also regarded as Moi Xao, a distinctive and popular food of Ha Long.
Another way to serve Sa Sung is to dry them before roasting. When the dish is done, it has a tempting yellow color and great flavor of sea salt. Sa sung can be served with chili sauce. Not everyone has the chance to taste this special food, but anyone who has agrees that the combination of fried Sa Sung, fresh lettuces and beer is something beyond their imagination.
Sa sung is a very pricey product. Th price for 1kg of dried sa sung is from VND4 to VND4.5 million (over $200).
Gat gu cake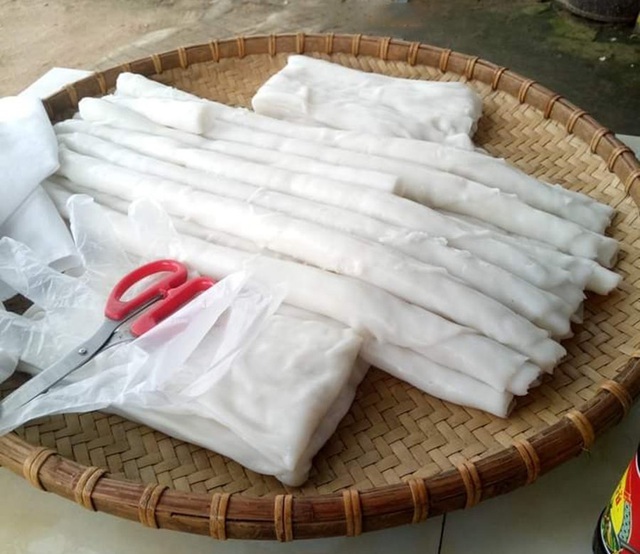 The name of the cake in Vietnamese means satisfaction. The cake is shaped into a long roll and made from rice powder, and served with fish sauce.
Gat gu cake is a specialty of Tien Yen District, Quang Ninh Province.
To create it you have to soak the rice with water overnight and grind it into liquid. Then mix the liquid with cooked rice to have the sticky and soft cake. Next you pour the liquid onto a mold and cover with a lid. After that you use a bamboo stick to roll the cake into long shapes.
A secret to the perfection of this dish is a mixture made from fish sauce steamed with chicken fat, onion and chili with a cheesy, delicious smell.

Nowadays, people in Tien Yen district still enjoy the cake at major events like weddings or guests' visits and they usually add mincemeat or steamed meat into the sauce.
Those who have a chance to visit Quang Ninh should pass by Tien Yen to savor the unique "gat gu" cake.
Because it is made from popular ingredients, gat gu cake is quite cheap, only from VND50,000 (over $2) per kilo.
Ruoc lo (baby octopus)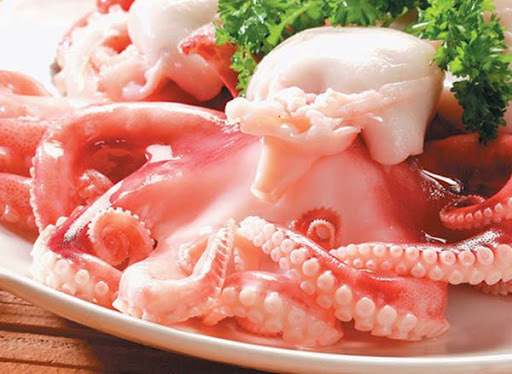 Octopus Dollfusi (baby octopus) is a species of octopus family but they are only as small as the big toe of the child.
There are many ways to cook baby octopus and boiled ones are the most traditional dish. The chef always chooses live baby octopus for cooking and then they use salt and water to clean those baby octopus. Baby octopus can be boiled with guava leaves, sorrel leaves and dotted with shrimp sauce, served with lentils nails, leaves apricots and unripe banana. The dish is great to enjoy with beer or wine.
The time for baby octopus is from July to October according to lunar calendar.
The price for baby octupus is from VND300,000 to VND400,000 ($13-$18) per kilo.
Tien Yen hill chicken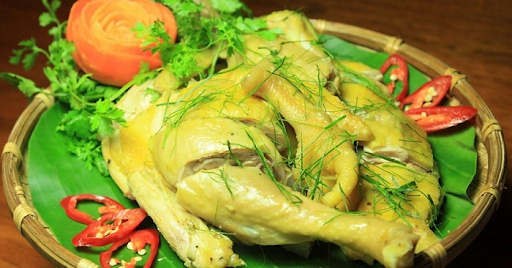 This is a famous specialty in Tien Yen district of Quang Ninh province.
The hill chickens got their name from the fact that local people always raise the chickens without any cages. As a result, every day the chickens are free to roam and wander on the slopes of the hills. At night, the chickens come back and sleep on the tree's branches. No one quite knows how they can do that, but that must be one of the fundamental reasons why the meat of the Tien Yen hill chickens is unconventionally delicious, firm rather than tough, buttery rather than greasy.
Tien Yen's hill chickens can be used to cook many dishes but the most remarkable one is the simplest dish: boiled chicken. Gazing at a plate of boiled hill chicken, you can hardly believe your eyes. Even though the chicken is boiled in a normal way, its skin has an incredibly tempting yellow color as if there were saffron and oil on it. The skin is also thick so it seems to be greasy. However, after just one bite, you will soon experience the firmness and sweetness of the chicken.
Tien Yen hill chicken is priced VND200,000 - VND300,000 per kilo.
Bun be be (seafood noodle)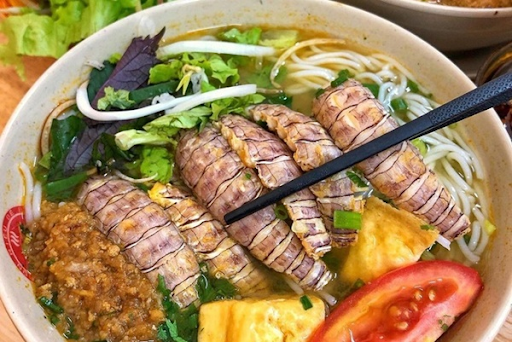 This is a popular dish in Quang Ninh.
A bowl of seafood noodles has many kinds of seafood such as fried fish, shrimp, squid, crab meat, parsley, and combines harmoniously with the sweetness of bone's broth.
The price of a bowl of seafood noodle is about VND40,000 ($2).
Dishes processed from Ngan (clam)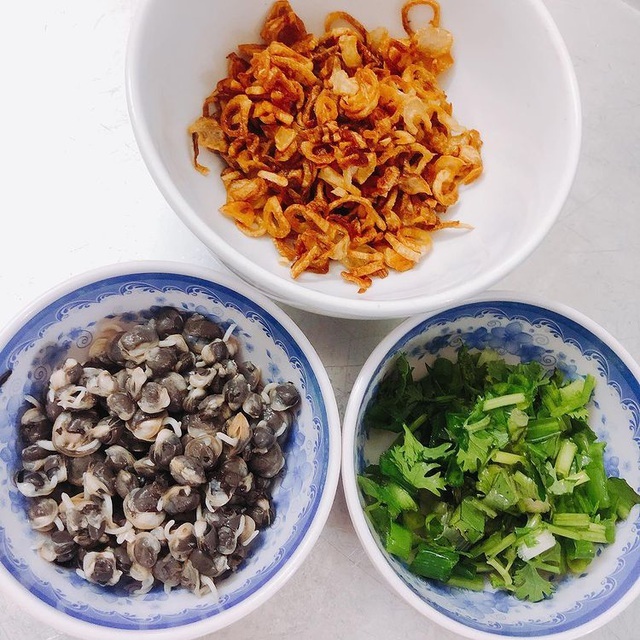 "Ngan" is a class of marine bivalve mollusks which live in saltwater and freshwater habitats throughout the country. However, the large edible mussels are only found at the Bach Dang gateway area adjacent to Quang Ninh province and Haiphong city. The most popular way to cook them is to grill or boil and served with chilli sauce, pepper, salt, fresh lemon and herbs. Ngan porridge is also enjoyed with onion, herbs, pepper and dried fried onions. Alternatively, ngan can be fried with noodles and borecole to make a very tasty dish.
Ngan is quite expensive, priced about VND400,000 ($20) per kilo.
Compiled by Thu Cung

Dubbed 'miniature Da Lat', Phuong Hoang (Phoenix) Hill with grassy slopes as far as the eye can see has become a new tourist site in Quang Ninh province, the home to Ha Long Bay – a world natural heritage site.

About 40km from Ha Long city (Quang Ninh province) to the west, Dong Son nature reserve in Ky Thuong commune is known as the lung of Ha Long city with diverse flora and fauna and green coverage of immense forests.