As far as the journey from farm to table goes, there are few dishes in Hanoi that clock up as many miles as those on offer at Quán Lươn Xứ Nghệ restaurant.
Mien Luon (Eel noodles)
Eel dishes
Catching eels in the field
The 'must try' delicacies in Hanoi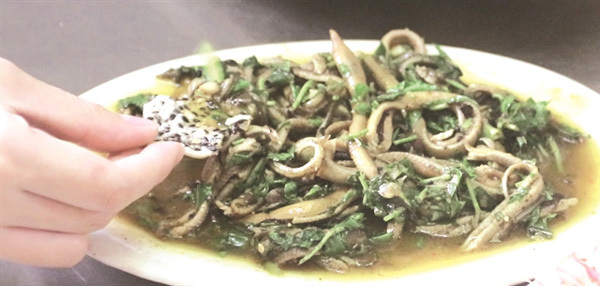 Fried eels with Vietnamse coriander, often eaten with rice or rice crackers, is one of the eel dishes served at Quán Lươn Xứ Nghệ restaurant in Hanoi. — VNS Photo Hoang Ho

Here chef Tran Sy Phuc serves up a plethora of meals made from eels so fresh, you can almost feel sorry for them, knowing it wasn't that long ago they were alive and well.
But emotions like that soon pass when you taste the delights he cooks up.
To say this restaurant owner is proud of the area he was born and grew up in is somewhat of an understatement.
"My passion for eel dishes prompted me to bring my hometown's comfort food here to everyone," he said.
Phuc insists all the eels he cooks come from Nghe An, and so too the rest of the ingredients that go with his creations.
"Eels are everywhere in the country, but Nghe An has the most of them," said Phuc.
"When I was little, I often followed my father to work in paddy fields, and he always wore a small basket on his side to pick up eels, and after only one morning our family would have plenty of eels to eat.
"We didn't even have to find them, just picking them up as we went. That's why farmers in Nghe An know how to cook eels better than people in other parts of the country."
Each day, the 300 or so kilometre journey from farm to table begins.
Eels are caught in paddy fields in Nghe An early in the morning, using the same methods Phuc and his father did when he was a young boy.
They are then loaded onto motorbikes and couriered to the capital city, a journey that can take up to five hours.
The eels arrive at his restaurant on Hoang Ngoc Phach Street in the early evening, hundreds of them, still as fresh and alive as they were that morning swimming in the paddy fields.
During the evening Phuc will prepare the eels using a concoction of marinades, herbs and spices to make sure they are ready to cook from early the next day.
"We have our own ways of cooking eels, but the most important thing is you have to put your heart in what you do," he added. "Talent comes second.
"Eels are more difficult to cook than other ingredients and it requires a much more elaborate process.
"The spices used to cook the eels are distinctive of the central region, so we have to get all of them from our hometown, from onions, chilies to turmeric to get the flavour right."
And judging by the smiles on the faces of the many satisfied customers packed into his restaurant, he really does seem to be getting those flavours right.
"Eels are very nutritious," Phuc added.
"Anyone can eat them whether they are young, old, even those that are sick. They provide an excellent source of energy for farmers after tiring work sessions in the fields."
Bao Hoa & Hoang Ho
VNS