The Online Tourism Day is set to take place on June 26 in Hanoi gathering the participation of 600 Vietnamese and foreign delegates from the tourism industry.
Online Tourism Day set for June 26 in Hanoi
Tourist schools receive big training orders as travel firms lack workers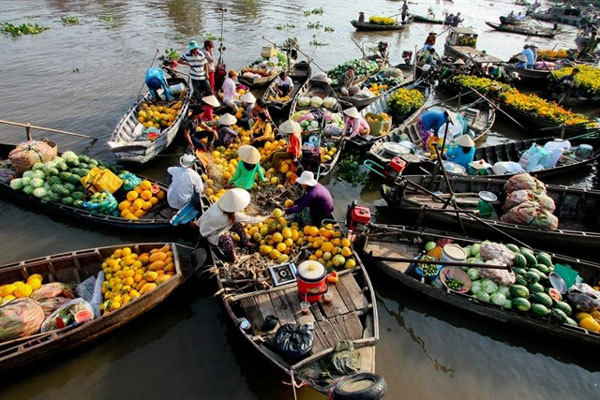 Floating market in Can Tho is one among attractions for tourists. The Viet Nam International Tourism Mart will take place in Can Tho at the end of November to boost regional tourism. — VNA/VNS Photo Duy Tue
They will include State management agencies, associations, local and foreign tourism enterprises, and businesses in the technology sector.
Timothy Hughes, vice president of marketing for Agoda, will present Agoda's experiences and vision for the use of technology in tourism.
With the theme of "The inevitable trend of online tourism", the event is being co-organised by the Viet Nam Tourism Association (VITA) and Viet Nam E-Commerce Association.
Various content will be discussed during the Online Tourism Day, including the boom of online tourism, online tourist behaviour, services to support online tourism, and the application of modern technology and human resources to serve online tourism.
During the event, the Viet Nam E-Commerce Association and VITA will sign an agreement to co-operate on training human resources for online tourism.
In addition, the VITA will also sign an MoU with the global video community website TikTok.
Vu The Binh, vice chairman of the VITA, said online tourism was an obvious trend in tourism development.
"When people plan a trip, they can book various steps online such as buying flights, booking rooms, pre-ordering food and buying travel insurance," said Binh.
"Many Vietnamese enterprises are already involved in developing online tourism. Recently, the Viet Nam Administration of Tourism (VNAT) organised a contest for start-ups in developing online tourism to support and encourage young enterprises."
Binh announced Online Tourism Day during a press briefing held on Friday in Hanoi. He also revealed that the Viet Nam International Tourism Mart would take place in Can Tho at the end of November.
With the theme "Mekong Delta Tourism Going with the Whole Country", the VITM Can Tho will aim to boost regional tourism.
The VITM was held for the first time in 2013. It has become the most prestigious and biggest travel mart held annually in Hanoi.
This is the first time it will be brought to Cần Thơ, the centre of the Mekong Delta region.
"VITM Can Tho will promote the image of tourism in the Mekong Delta and introduce tourist attractions to the Mekong Delta region," said Binh.
Various activities will take place such as introducing tourism products, signing co-operation deals between domestic and foreign enterprises, a food festival, a Mekong Delta Tourism Development forum, and trips for media and travel agents to learn about local tourism.
Visitors will have opportunities to enjoy local food and art performances, and explore and buy packages with promotions.
The VITM Can Tho is expected to attract about 300 international and Vietnamese enterprises.
The VITA and VNAT would be promoting VITM Can Tho at international events in Japan, South Korea and Indonesia to attract more foreign enterprises, said Binh.
VNS