When the temperature starts to drop to 20 degrees Celsius, little sidewalk furnaces are fired up to cook winter snacks: pancakes with banana, sweet potatoes, and in recent years, sweet corn.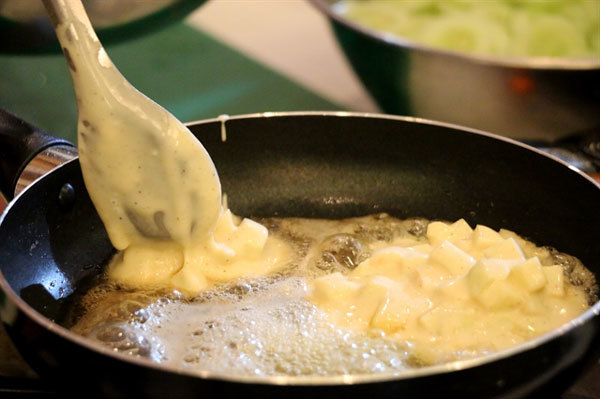 Frying pan: One of many ways to make apple pancakes. VNS Photos Doan Tung
The recipe for pancakes could not be simpler with cheap ingredients used to create crispy, comforting and affordable snacks for the city's school children, struggling students and even successful adults longing for their more modest student past.
We had a chance to attend a cooking demonstration with Poland's Masterchef 2018 Ola Nguyen recently at the most iconic cooking venue one can think of in the capital: Hà Nội Legend Metropole Hotel.
She was teaching how to cook apple crêpe, Polish style. "This is very easy and the food we have is very warm, comforting and delicious," she said as she selected green apples and started to peel them.
Poland is among the top ten apple exporters in the world, with the majority of the fruit heading to the Middle East. I had a chance to visit an apple farm a few years back near Warsaw and was amazed at how local orchards plant their apple trees and join co-operatives to store their produce for sale all year round.
Picking up some wheat flour to make the batter, Ola said, in Vietnamese: "When cooking Polish dishes, which I'm going to demonstrate, you don't have to worry too much about the weights. Go by your feeling. Polish dishes are very heart-warming and comforting, I don't know why they have not become more popular around the world!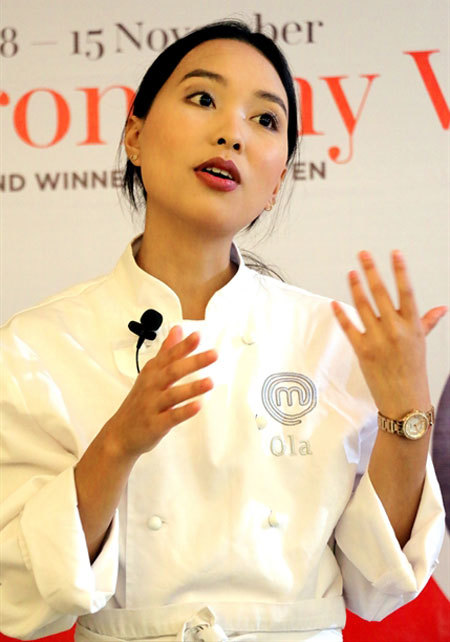 Food Ambassador: Poland Masterchef 2018 Ola Nguyen shows how to make apple pancakes at a Gastronomy Week in Hanoi.
"In Poland, there are many types of apples. The best you can use are the small red apples, which are crispy and very flavourful," she said.
"Outside of Poland, you can use Granny Smiths instead," Polish chef Mateusz Bujak added.
The recipes for making the batter are almost identical: a cup of wheat flour, a couple of eggs, two tablespoons of sugar, a pinch of salt and a cup of water or milk.
There're some differences between the Polish and Vietnamese methods of making the batter: If you want to make the mix smoother, add 20g of melted butter and half a teaspoon of baking soda. The baking soda releases bubbles in the mix and makes it fluffy and soft.
"I don't know if you have vanilla sugar in Vietnam," Ola said. "But it is very popular in Poland. Especially when you heat it up, the vanilla smells so good."
In the Vietnamese version, it's rare to use butter or baking soda. The batter is thin, just barely enough to cover the sliced pieces of sweet potato, banana or sweetcorn.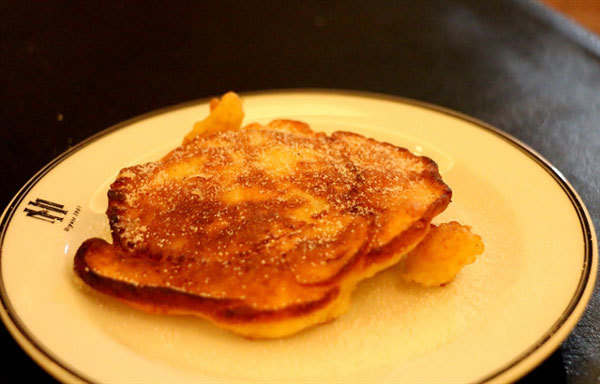 Apple pancake, Polish style.

The Vietnamese pancakes should be golden crispy while the banana and potato should be soft.
So what makes the perfect apple pancake? A little crispy round the edges, of course, but the cooked dough should also be soft. The use of sour apples balances with the sweet batter.
You can serve the pancakes hot with powdered sugar, strawberry jam or vanilla ice cream, and it's perfect for dessert.
The Vietnamese sisters of apple pancakes are mostly sold on the street as snacks.
But the same batter can be used for a Hanoian delicacy, which is still the signature dish of the city's West Lake area: bánh tôm Hồ Tây, or Hồ Tây shrimp cakes.
Originally served at lake restaurants famous for this delicacy, shops in the Old Quarter also offer the dish now, but a true treat of shrimp cakes should be enjoyed contemplating the lake on an autumn afternoon.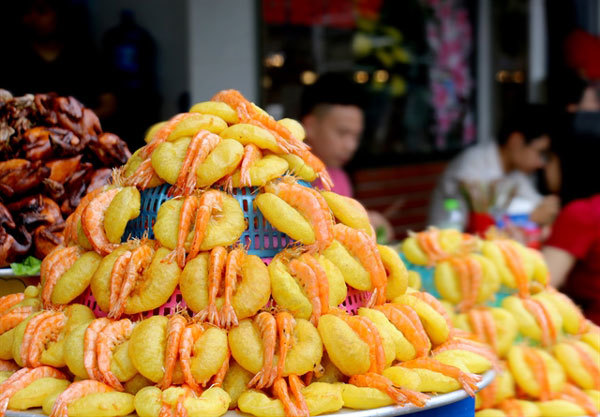 Hanoi delicacy: The best shrimp cakes come from West Lake neighbourhoods.

Sweet potatoes are julienned and mixed into the batter, and two fresh shrimp are placed on top before frying. The shrimp used to come from West Lake, but today it's illegal to fish in the lake, so the shrimp are sourced from other parts of Hanoi. They must be small and cooked with the heads and shells intact.
The cakes should be served hot with sweet sour dipping sauce and fresh vegetables.
I happened to have two little apples in my bag I'd bought from the market during the cooking show. Wanting to see the difference between the two types of apples, we peeled one and made a pancake with a Vietnamese apple.
The result was a more nuanced taste of sweet and sour in the Granny Smith pancakes. The Vietnamese apple pancakes mostly tasted sweet.
"This apple is very good: small, hard and flavourful," said Bojak holding the apple I gave him. "Not exactly like the Polish apples," added Ola, "but you could use them to make cakes." VNS
Nguyen My Ha

HCM City ranks 4th among the best cities for street food-obsessed travelers, according to a survey by CEOWORLD.

After Vietnam's legendary Pho Thin Lo Duc proved popular among customers in Tokyo, Japan, Banh Mi Phuong Hoi An (Ms Phuong Baguette in Hoi An) recently debuted in Seoul, South Korea.