However scary they may appear, a dish of oceanic tuna eyes (also known as "flashlights of the ocean") is one of the central province of Phu Yen's distinctive delicacies.
Phu Yen has gained a reputation as a tourism paradise with its unspoilt beaches where emerald-blue waves crash against the sandy shore relentlessly. Its cuisine is another irresistible attraction for travelers from every corner of the world. This lovely place is home to ocean tuna, with an export output of over 5,500 tons annually.
Tourists visiting Phu Yen will have the chance to try a diversity of delicacies made with this fish. One special dish that cannot be missed is tuna eyes stewed with herbs.
In lunar January every year, when the moon is full and shining bright in the clear sky of Phu Yen, fishermen set off on their fishing trips. But it is in April when the peak season of tuna comes, and the fishermen bring the fleshiest tuna to satisfy tourists' appetite for this specialty.
Along with the nutritious flesh, the eyes are also edible or especially tasty and desired by locals, who have turned this part of the fish into a dish called stewed tuna eyes with herbs, or "flashlights of the ocean".
To prepare, they pick very big tuna, about 40-50kg, and take out the eyes, which are large as well, about 100-200 grams. It is not uncommon that tourists are frightened when they first see how big and real the eyes are. After that, they are stored in negative temperature so their freshness can be maintained.
The eyes are then poached in salted boiling water, washed, and their blood veins removed. They are steamed with lemongrass, ginger and pineapples to minimize the fishy smell. Next, they are marinated in a mixture of seasonings and put in a ceramic cooking pot with herbs.
Tuna eye stew is best when served hot, with peppers, chilies, chopped purple onions and gingers. Mustard greens, chopped perilla leaves, crispy rice pancakes and a cup of spicy soya source also help ease the fattiness of the dish. The rich and fatty taste that melts in the mouth, combined with the spices, is expected to leave a lasting impression after diners' first try.
Once a dish of everyday life, tuna eye stew has become a well-known delicacy desired by the savviest tourists. Each serving of "flashlights of the ocean" costs a reasonable price of around VND40,000. Visitors to Phu Yen can easily enjoy it at either an upmarket restaurant or a small food stall.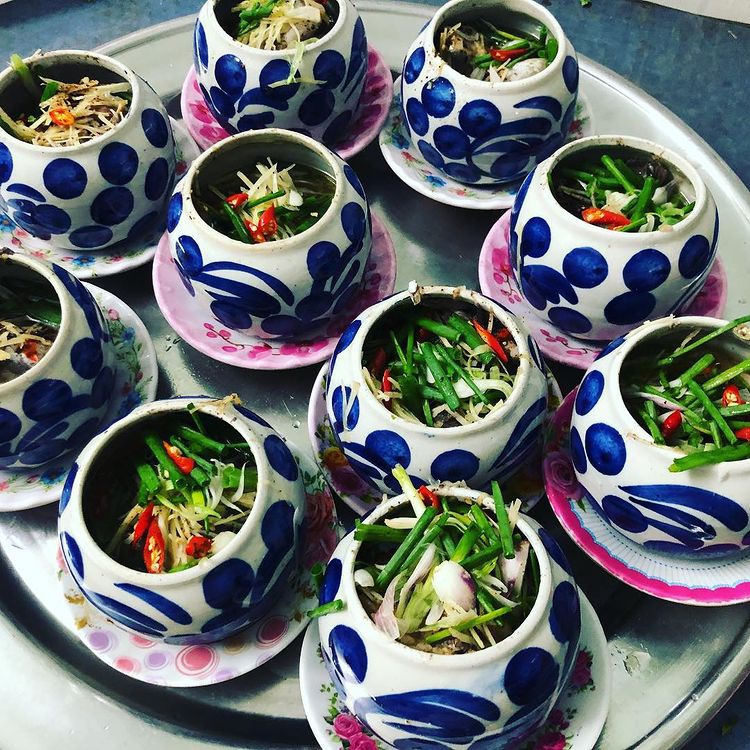 Phu Yen's special dish - tuna eyes stewed with herbs.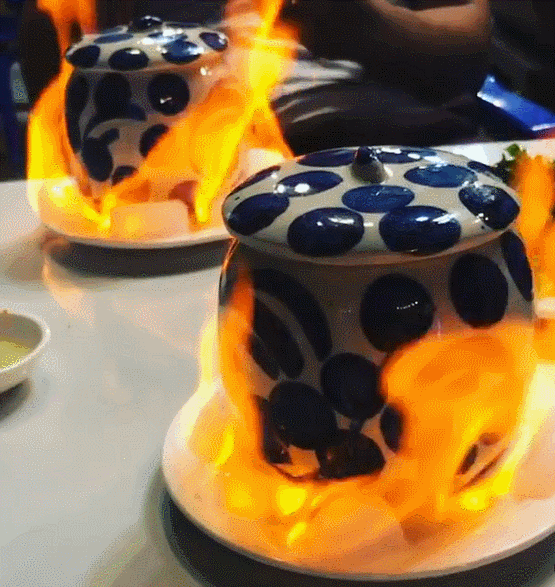 Photo: Dan Tri
Huong Quynh

Many people are rushing to see a sea dyke covered by green moss in the southern central province of Phu Yen.