When visiting Ta Su Choong Commune in the northern province of Ha Giang in summer, tourists can enjoy the pristine natural landscape when local farmers let water flow over their terraced rice fields
 and lose themselves in the traditional culture of local ethnic minority groups.
Located 21km to the south west of Hoàng Su Phì Centre, the commune has 355 households with over 1,700 people. They include five ethnic minority groups, who live mainly from agricultural work.
Ha Giang presents tourism credentials to central region
Ha Giang set to greet the world
Mong ethnic people cultivate on rocks
A unique fair in Ha Giang
Tourists enjoy the breath-taking scenery in Hoang Su Phi.
The commune enjoys cool weather all year round, clean air and little traffic, as well as the magnificent rice fields, forests and waterfalls. The area also covers acres of old Shan tuyet tea trees, which grow on top of high mountains. One side of the tea leaf is covered with white fur like snow, hence the name "tuyết", which means "snow" in Vietnamese. The leaves are used to brew a sweet-tasting tea.
The commune is also home to the Hoa Cheo Phin waterfall and many fields of tam giac mach (triangle buckwheat) flowers.
"Local authorities have said that tourism is an important focus for the commune," Giang Van Thang, chairman of the commune's People's Committee, told Hà Giang Newspaper. "We have completed a project to develop eco-tourism in local villages."
"In the next two years, the commune will focus on establishing an eco-tourism village in Hoa Cheo Phin and use this as a model for developing eco-tourism more widely."
Hoa Cheo Phin hosts dozens of "nhà trình tường" of the Mong ethnic minority, which are located in the middle of rice fields.
The houses are built with thick clay walls and no pillars, and are roofed with tiles or dry leaves.
The typical house always includes a main door, one smaller door and at least two windows. The house is warm in winter and cool in summer, and protects owners from wild animals the elements.
"Nature is so fresh here," said Ngo Vinh Phu, a visitor from Hanoi. "The landscape here is so peaceful and magnificent like in paintings."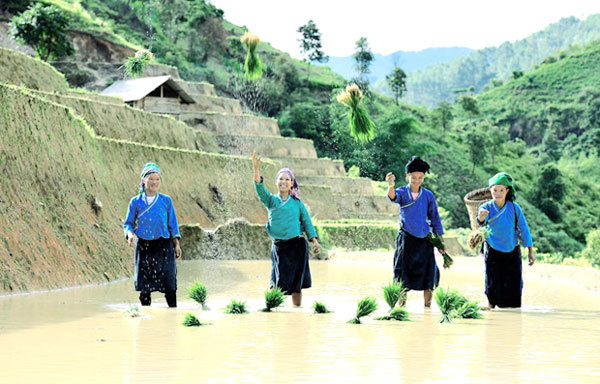 Photos: Le Huong


Tourists usually enjoy local delicacies like carp, black tender mountain chicken, salads made from wild banana flowers, and local pork.
According to Lu Vang Pao, a leader of the village, most of the 116 households in the village are of the Mong ethnic minority group.
"They are curious about the eco-tourism plan but most of them are still reluctant due to traditional customs. They rarely welcome strangers to stay in their homes," he said.
Now ten households have registered to join the project.
Most of the families are poor and have no experience in receiving guests.
"We will organise field trips for them to successful homestay models in other communes of Hoang Su Phi District," Pao said. "So that they can learn how to welcome tourists."
"The provincial authorities will also assist them financially to invest in ectra facilities," he said.
Vang A Su, a local farmer, could not hide his excitement with the project.
"My whole family will join the project," he told Việt Nam News. "My mother and wife can cook while my son and myself can take the guests around the village."
"We live simply but our hearts are warm towards tourists," he said with a broad smile.
By Dai Tam & Le Huong
VNS