There really is no better time to sleep than the final 10 minutes immediately after slapping that snooze button on your mobile phone.
Xoi Xeo - a popular sticky rice in Hanoi
Sticky rice with perch – Discover the secret of 'Xoi ca ro dong'
The charming steamed sticky rice in Phu Thuong
'Xoi vo' - a popular sticky rice in Vietnam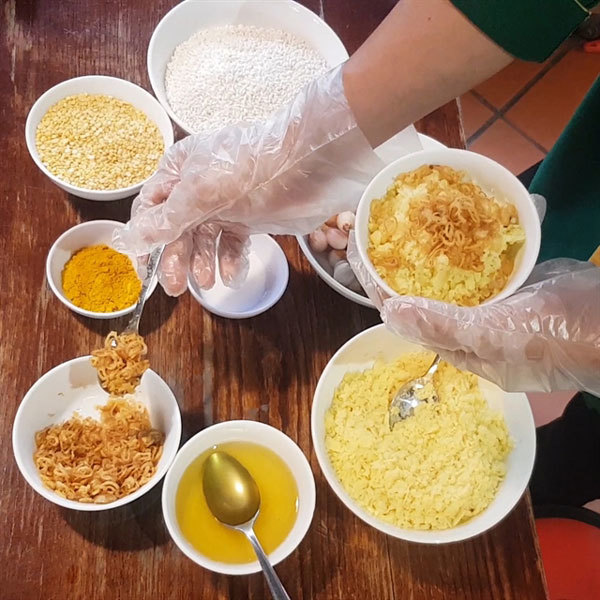 Fried Vietnamese onions are an indispensable ingredient of xôi xéo. Xôi xéo (sticky rice with smashed green beans) has been a popular rice dish in Vietnam for generations. — VNS Photo Mai Huong
Sure, you know it won't last, and before too long you'll have to drag yourself out of bed and get ready for the day ahead, but it's still extra special.
It feels like you are doing something you shouldn't be doing, something forbidden, something wrong. And that's why it feels so good.
Nguyen Thi Tuyen probably doesn't need an alarm to get up on a morning and her own personal body clock doesn't come with a snooze button. It really doesn't need one.
For four decades Tuyen has woken up at an hour that's not only ungodly to most, but unheard off.
At 3am every morning she gets up and starts work preparing a dish as synonymous with Vietnam as conical hats and a sea of motorbikes.
Tuyen is a producer of xôi xéo or sticky rice with smashed green beans.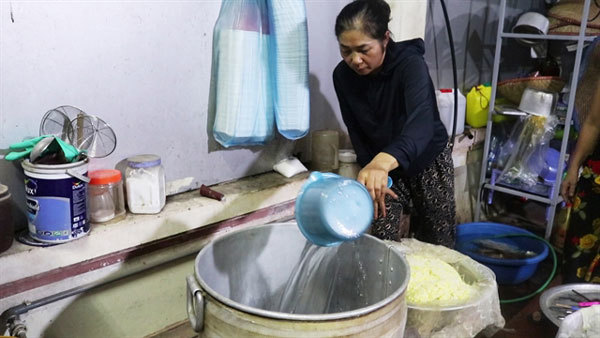 Nguyen Thi Tuyen, 59, prepares water to steam sticky rice on an early morning at her house in Phu Thuong Commune, Tay Ho District in Hanoi. — VNS Photo Hoang Ho
"I don't know when it started, but I can remember my grandmother and mother doing it," said 59-year-old Tuyen as she sat next to the piping hot yellow rice fresh from the pot.
"Ever since I was about seven or eight years old, I had already helped them remove non-sticky rice grains from wicker baskets of sticky rice.
"This job is not difficult but demanding, and requires getting up very early in the morning.
"There were days when it started to rain after we had finished cooking the rice, and we still travelled into town, in the rain, to sell it."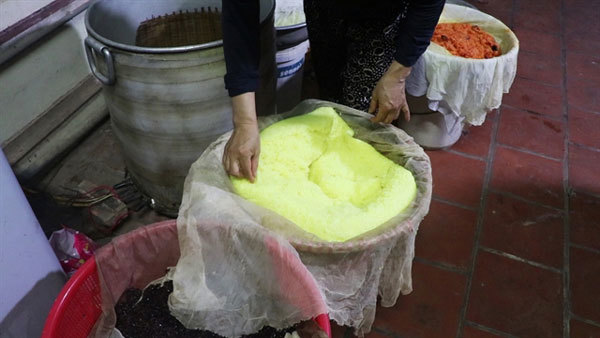 Sticky rice is soaked in tumeric water before steamed so it has a silky yellow colour, a signature colour of xoi xeo. — VNS Photo Hoang Ho
Rain or shine, she has to. This is her job, and her life.
Each day Tuyen produces about 30 kilograms and delivers it from her small factory in Phu Thuong Commune in Tay Ho District to all over the capital.
She sells one kilogram for around VND60,000 (US$2.6) and a little less to those who buy in bulk.
"It has been our favourite food for generations," said Hoang Ngoc Son, a chef at Quán Ăn Ngon restaurant.
"It should be cooked twice to bring out the best flavour. Leave it out to cool off after the first time, and then steam it again. That way it will be soft, chewy and smells really good.
"Green beans have to be soaked in water for two hours before steamed for 40 minutes. Then with those cooked beans, we use a bowl, or a mortar and pestle like the older generations did, to smash them until they are fine. And then roll them into balls.
"To add more flavour to the dish we put in some onions. Fried dried Vietnamese onions."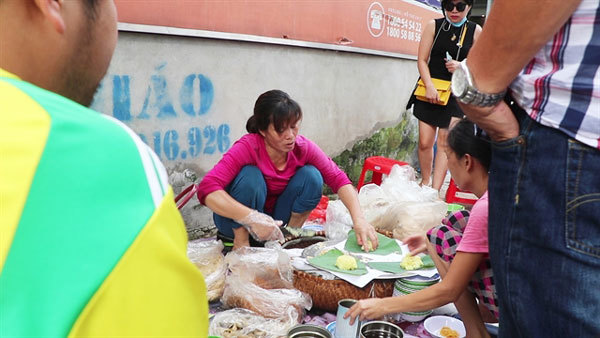 Dang Huong May, 53, has been selling sticky rice on a street in downtown Hanoi for 26 years. — VNS Photo Bao Hoa
Tasty, filling and flavourful are the three key ingredients to any meal which is why it shouldn't come as a surprise that you'll find xôi xéo being eaten at any time of the day.
But that said, it is considered a perfect breakfast to set you up for the day ahead.
Every morning hundreds of thousands of portions are served up on the sides of the roads to those who work in offices, construction sites or to children heading to school.
But remember this, next time your alarm goes off and you are considering hitting snooze, thousands of people have already been working for hours making sure the xôi xéo you will be tucking into in a few hours' time, is fresh, perfect, and will get you set for the day ahead.
Sticky rice facts:
1. Glutinous rice, or sticky rice, is widely grown in Bangladesh, China, Japan, the Korean peninsula, the Philippines, Thailand, Laos, Indonesia and Vietnam.
2. Sticky rice appeared in Laos some 1,100 years ago. An estimated 85 per cent of Laos' rice production is sticky rice.
3. More than 70 per cent of the rice area in the Mekong Delta is sticky rice.
4. In China, sticky rice was grown at least 2,000 years ago.
5. According to legend, sticky rice was used as glue when building the Great Wall of China.
6. There are more than 300 ways of making sticky rice.
7. Sticky rice can even be used with ice cream to make a sweet and savoury dessert.
Bao Hoa & Hoang Ho
VNS