After a five-year suspension of chartered flights due to the economic crisis in Russia, Pegas Touristik is planning to resume these flights, bringing Russian tourists to Phu Quoc Island from October 2020.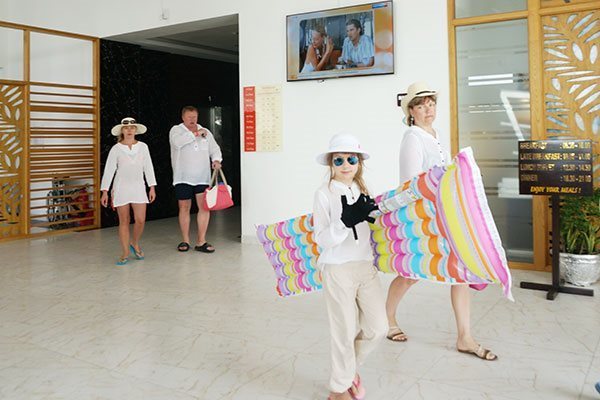 Russian tourists in Vietnam on tours organized by Pegas Touristik
Hoang Thi Phong Thu, chairwoman of Pegas Misr Vietnam Travel Co., a local partner of Pegas Touristik, noted that even though there was no detailed flight schedule available at present, the Russian travel giant had already created a flight plan.
"By the end of 2014, the exchange rate between the Russian ruble and the U.S. dollar amounted to 88 rubles per dollar, up from 33 rubles per dollar, making it difficult for businesses to attract customers. Currently, the Russian economy is recovering. The exchange rate is quite stable, at about 65-68 rubles per dollar, so Pegas plans to bring guests to Phu Quoc Island on chartered flights," Thu stated.
Thu added that Phu Quoc Island is home to beautiful beaches and luxury resorts that meet the needs of Russians who plan long trips, but the island needs to further enrich its tourism products. Visitors to Phu Quoc are exempt from needing a visa for up to 30 days, doubling the period offered by any other place in Vietnam. Thus, tourists will have more time to spend on the island, though tour programs here are poor.
There are only a few tourism options available on the island, such as fish sauce facilities, pearl farms and shopping centers, pepper gardens and the prison. Moreover, it is hard for tourists to leave Phu Quoc to visit other destinations, as they would have to apply for new visas.
"It would be good for visitors to Phu Quoc to be able to enjoy the same visa benefits when traveling to other destinations, allowing us to launch more connecting tours," she said.
Pegas Touristik now operates 40 chartered flights per month for Russian tourists. This year, the company brought 160,000 tourists to Vietnam, who stayed for some 12 nights each, on average. The figure is forecast to increase by some 10% in 2020. SGT
Dao Loan

The high-speed boat route linking the island district of Phu Quoc and Nam Du Archipelago of Kien Hai District, Kien Giang Province, officially opened on December 14.

The robust growth of hotels and resorts on Phu Quoc Island in the Cuu Long (Mekong) Delta Province of Kien Giang has resulted in a shortage of workers in the tourism industry.