In recent years, the sour and savory sausage salad featuring tré, a Central Vietnam sour sausage, has become popular among streetside-food fanatics.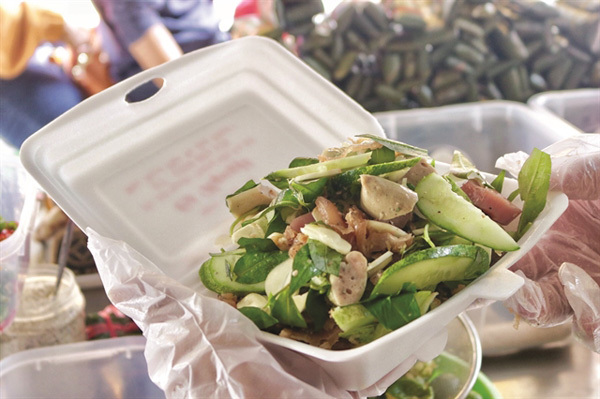 Sausage salad includes tré, sausage chunks, local herbs and other ingredients, giving it different flavours and textures. VNS Photo Diep Phan
This simple dish is a stunning array of tré, sausage chunks tossed with cucumber, Vietnamese coriander and garlic.
Depending on the vendor, boiled quail egg, ambarella or guava can be added to the jumble. Sausage choices also vary from beef paste to sour sausage to pork paste.
The salad is bound with a mixture of pepper, chili, sugar and salt or fish sauce and a squeeze of kumquat for a refreshing punch.
Le Thi Loan, owner of a vendor in District 1, adds a special homemade sauce made from fish sauce to her sausage salad, which keeps her customers coming back for more.
"Customers love the sour and savory taste of my sausage salad. I stir all the ingredients gently to make sure every bite is flavourful," she told Việt Nam News. 
A serving of sausage salad typically includes bread, prawn cracker or grilled rice paper, and a simple dipping sauce of salt, pepper and chili.
Sausage salad is a symphony of many different flavours and textures. The tangy tré, the soft and savory sausages, the freshness of local herbs and the crunchiness of crackers. 
Tré is the dish's defining ingredient, made by julienning boiled pork and pork ears, then flavouring with powdered grilled rice, galangal, ginger, sesame seed and other seasonings. The mixture is wrapped in layers of guava leaves and banana leaves and fermented for around 3-4 days.
Cao Duong Quynh Tho, a student in HCM City, said that her family in the central city of Da Nang always makes tré on Tet (Lunar New Year) so sausage salad is her comfort food every time homesickness hits.
"For many people, tré can taste rather strong, but when mixed with other ingredients, it becomes a delight for people of all ages. My friends from other regions now love it too," Tho added.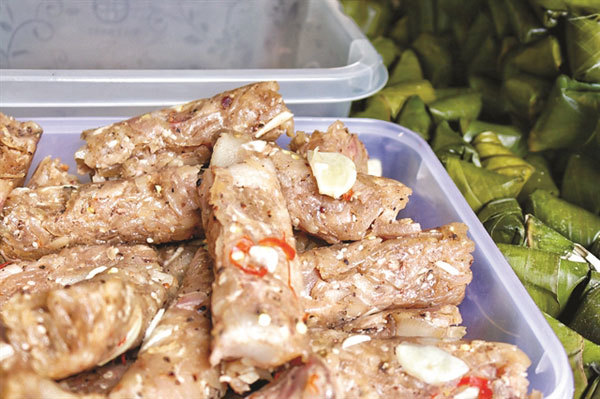 Tré, the soul of the sausage salad, is a Central Vietnam speciality made from pork ears. – VNS Photo Diep Phan
Popular with youth
Sausage salad attracts both the after-school and after-midnight crowd with its flavour and reasonable price, ranging from VND40,000-60,000 (US$1.74-2.60).
"Many young people enjoy this snack. We eat this while chatting with friends," Tran Vo Thao Nhi, a frequent customer of Loan's, said.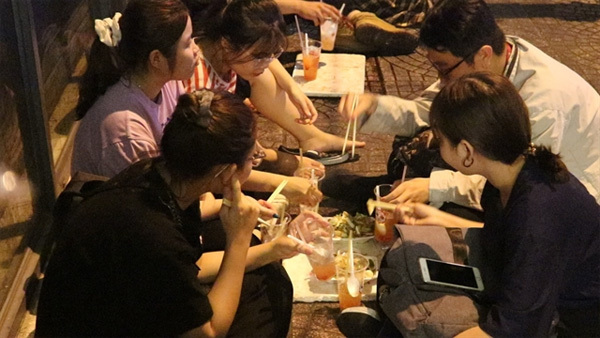 Many young people in HCM City love having sausage salad as an evening snack. VNS Photo Viet Dung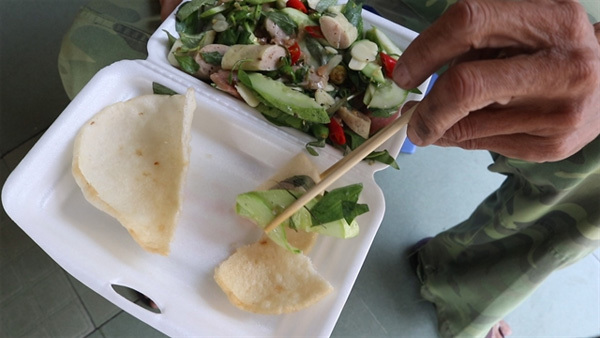 Sausage salad is best enjoyed with prawn cracker. VNS Photo Viet Dung
Customers can adjust the level of spiciness and even the choice of sausage. 
Le Thi Nguyet, who has been a street vendor in District 3 for 40 years, said that many foreign tourists visited her stall before the pandemic. Some even ordered tré to take with them as the Central Vietnam speciality can be kept refrigerated for a long time.
To those who have grown tired of greasy fast food or are just craving a sour and savory delight, sausage salad is a great street-side snack worth trying.
VNS

'Cha muc' (squid paste) is a delicious dish which has won the favour of both local residents in Ha Long City and tourists. It tops the list of must-try dishes for visitors to the northern province of Quang Ninh
In recent years, the local dish called "noodles with chili salt" has been getting a lot of love from street-food fanatics, thanks to its spicy and savoury taste.