The central city of Hoi An has been asked to work out a special system for investing in homestays that are appropriate for the ancient town.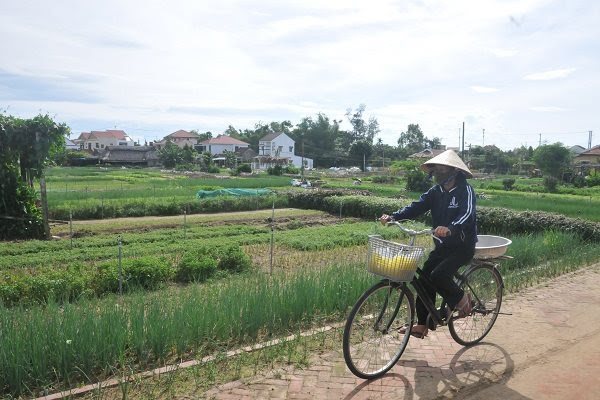 Many homestay services are available around Tra Que Vegetable Village in Hoi An City, Quang Nam Province. The central city needs a special system to develop homestays 
Nguyen Van Son, vice chairman of the city's government, asked the Department of Culture, Sports and Tourism in Quang Nam Province to suggest such a system for Hoi An tourism to achieve sustainable development, particularly for homestay investment.
The central city currently lacks a management tool for homestay services, he said at a conference on September 18 in the city, titled "How to make Hoi An tourism better?"
Homestay is a popular form of lodging where tourists share a residence with a local family. However, the concept appears to have been misinterpreted in the city.
Homestay owners, who are supposed to share their accommodations or introduce them to local culture and tourism products, are competing with each other by undercutting rentals, explained the vice chairman.
Phan Van Thuc, general manager of the Hoi An Central Hotel, suggested hotel managers and homestay operators share market information and work out appropriate and stable prices to avoid last-minute dumping.
Meanwhile, according to Phan Xuan Thanh, chairman of Quang Nam Travel Association, investors should focus on responsible investment before starting a homestay project. That means they should take into account environmental, social and governance factors when deciding to make an investment.
Earlier at the conference, many voiced concern that homestay operations would ruin Hoi An's tourism and the image of the ancient town.
Addressing the event, Le Ngoc Thuan, president of the Hoi An Homestay Association, said that many local households are rushing to build homestays, but in their own ways, resulting in a poor reputation for the city's tourist accommodations.
Besides this, "dumping" to attract more tourists is rampant in the city as a result of the homestay boom, said Thuan.
Thus, he suggested the city build a homestay ecosystem whose members have to comply with antidumping regulations. Homestays in Hoi An should be built based on the countryside and community culture, with a specific zoning plan.
Pham My, an architecture expert, said that most of the homestays in Hoi An are just like hotels, rather than places for tourists to experience the local culture with the locals, as they should be.
Data released at the event showed that there are about 645 tourist residences in Hoi An, with over 10,000 rooms, including 302 homestays with some 1,100 rooms.
There is no management agency responsible for supervising homestay services. The city can only encourage homestay owners to follow the true homestay concept to introduce the local culture to tourists, said Pham Thi Ngoc Dung, deputy head of the city's Culture-Information Agency. SGT
Nhan Tam

When Nguyen Van Long was 26 years old, he moved to Nam Bau Islet in the middle of a lake in the southern province of Dong Nai. Nothing unusual about that, but at the time he was the only person there. 

The May, S'Bungalow, and Sen Lodge Homestay Village are among the most popular destinations on the island paradise of Phu Quoc that simply cannot be missed by tourists who pay a visit to Kien Giang province over the summer.