Ngoc Chien Commune in Son La Province attracts tourists to its untouched picturesque beauty and generous local people.
The remote region has been developing a community-based tourism approach for one year now, and hopes to attract more nature-lovers.
A visit to Ngoc Chien commune in Son La
Ten must-visit destinations in Son La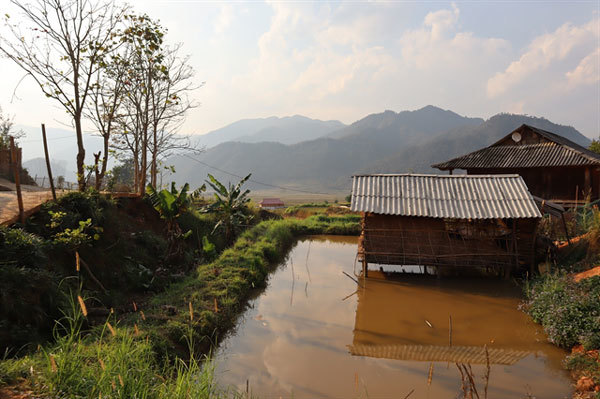 EASY LIFE: Ngoc Chien seduces tourists with its untouched and simple beauty. — VNS Photo Vuong Bach Lien
At 7am, Tong Thi Ngam cooks sticky rice in her small wooden kitchen.
The sunshine lights up the dark kitchen overlooking an endless green rice field. The smell of the sticky rice is overwhelming.
Seeing me stand in front of the kitchen with my camera, she joyfully invites me to come inside to taste the sticky rice.
"Do you like this? "the young woman of the Thai ethnic group asks me with a big smile on her face.
"Yes, I love it," I tell her.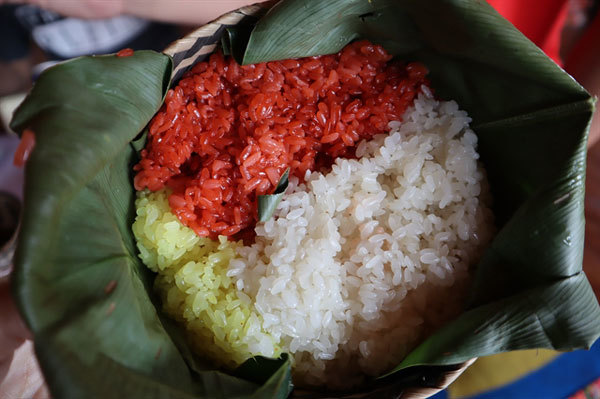 Sticky rice in Ngoc Chien is highly appreciated for its special taste. VNS Photo Bach Lien
I'd heard about the special sticky rice planted here, which is very soft and fragrant once it's cooked thanks to the fresh, cool air all year round and the fertile soil.
Today, Ngam has prepared a feast to celebrate her new house. It's a big day!
Around 300 people in her village are invited. They will enjoy good food, wine and dance all the day.
I'm surprisingly touched by the generosity of the young woman and the joyful life of the local people despite their life of hardship in this remote Luot Village. The commune, about 80km northeast of Son La City, and 300km from Hanoi, sits at an altitude 1,800m, and there is only one road to Ngoc Chien cutting through immense rice fields.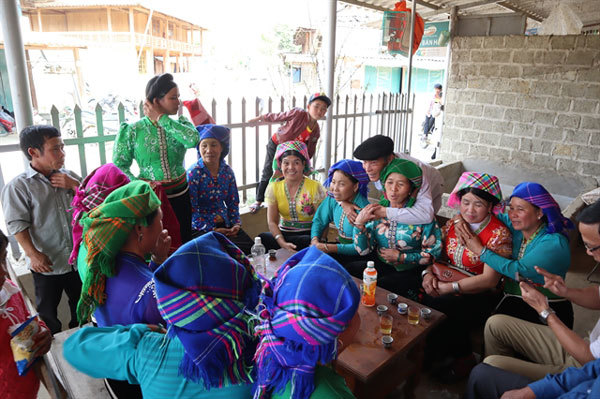 Local women take part in a feast welcoming the new house of Tong Thi Ngam's family. VNS Photo Bach Lien
Unique lifestyle
The beautiful and peaceful Ngoc Chien is the home of the three main ethnic groups: Thai, Hmong, and La Ha who are very keen on preserving their customs and traditional clothes.
A short walk between small villages helps me meet and talk with friendly and innocent local people. It's great to see barefoot chubby children following their mothers to the mountains to cultivate crops. Here, many shy children try to hide their faces behind the fences so that visitors from different cities cannot see them. Several picturesque villages are connected by bamboo suspension bridges crossing the singing streams. There are thousands of centuries-old Pơ mu wooden stilt houses of the Thai people hidden in the early morning mist. Peach and plum blossoms here bloom all year round.
Hot mineral springs
Luot Village has become a popular spot for tourists thanks to its natural hot mineral springs.
Hot mineral springs flow through the village and are believed to make the skin of the local girls become a pinky-white, reduce stress and restore health.
The whole village takes a bath in the early morning before going to work to give them energy for whole day, and again in the late afternoon after work.
The people here always bathe in the nude, and the springs here are hotter than in other places with temperatures of 45-60 degrees C.
Community-based tourism
When you visit Ngoc Chien, do not hesitate to choose a homestay. You can take a rest in centuries-old Po mu wooden houses and be treated to many local specialties such as tỉnh tộp (grilled fish), grilled forest chicken, grilled goat and perfumed sticky rice.
The community-based tourism here only officially began last year. Until now, only six households have joined the project which was initiated by Vu Giang Bien, director of Pattours tourism company, with the support of local authorities and Australia's non-profit Action on Poverty (AOP) association.
Two years ago, Bien visited Ngoc Chien Commune during the New Rice Season Festival and was seduced by its picturesque, untouched beauty and the kindness of its people. She wanted to contribute to improving the lives of the people and help more visitors discover this region.
"The local people co-operate with each other to offer the best services to tourists and profit together. Each household is in charge of one task: one provides accommodation, one cooks, one cultivates, one develops traditional handicrafts," says Bien.
Lo Van Phan, chairman of the Ngoc Chien Commune People's Committee, is happy about the project.
"I hope the lives of local people will improve thanks to tourism, and meanwhile we can continue to preserve our traditions," he says.
Lo Thi Lai, the owner of a homestay, said happily:
'We have welcomed five groups of tourists so far. We are happy to meet them and share with them our traditions and lifestyles. I am glad to see they are very happy with their stay and our services," she says.
By Vuong Bach Lien
VNS