Tourist companies are rolling out tours for summer, the busiest season of the year for outbound and domestic travel, with the expectation of sales and prices improvement against last year.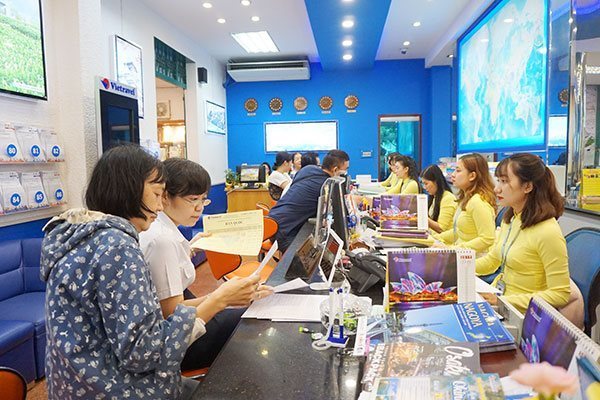 Customers are seen booking summer tours at Vietravel Company
Some tour operators told the Saigon Times that they expect tour sales to increase by 10-15% and package tour prices also to slightly improve around 10% compared to normal.
This year, the market continues to see the trend of booking tours and services via the internet. Many travelers visit websites to search for tour information before picking up their destinations for holiday.
Tran The Duy, deputy director of Vietravel Company, said his company recorded up to 80% customers surfing the internet for tours and services information before going to the company to book tours.
However, the proportion of paying online remains low, Duy said.
"Travelers like searching information, even booking online but prefer making payment at our company. The proportion of paying online accounts for 20-30%," Duy told the Saigon Times at an event by Vietravel to launch summer tour 2019 program on May 10.
Duy said Vietravel encouraged online payment by shaking hands with some banks to facilitate the mode of payment.
Meanwhile, Saigontourist Travel Service Company has seen the increasing trend of booking online through websites and social networks, recording online payment on the rise.
For the summer tour 2019, Saigontourist has launched two promotion programs for both traditional and online bookings.
"For package tours, our customers booking online account for 30%, while three years ago it was posted at 10%, Doan Thi Thanh Tra, director of marketing and communications department of Saigontourist, said.
Tour operators said this year, tours having a price from VND7 to VND12 million attract more customers.
Duy of Vietravel said the number of Vietravel's customers buying tours at such a price frame accounts for 60%. This summer, Vietravel set aside VND12.5 billion for promotion programs and look to attract some 285.000 tour buyers.
Ta Thi Cam Vinh, deputy general director of Ben Thanh Tourist, said for local travelers, prices are the crucial factor for them in making a buy decision.
For instant, when the company lowered the price of the Japan tour from VND35 million to VND29 million, many customers rushed to book the tour.
"This summer tours, we have witnessed some 75% of our outbound customers choosing tours at the price ranging from VND7 million to VND12 million," Vinh said. SGT
Dao Loan