The Old Quarter of Hanoi has many interesting surprises hidden down narrow lanes and in tiny houses where you can find a fresh taste of tranquility away from the busy streets.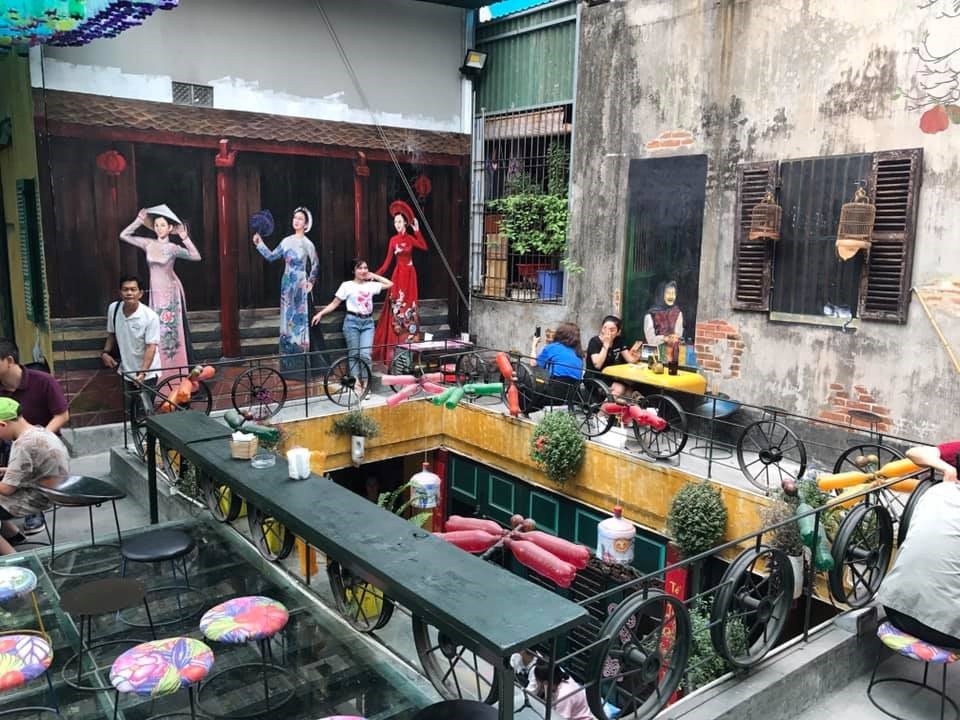 A cosy corner of Hidden Gem Cafe on Hang Tre Street, Hanoi. — VNS Photo Thanh Hai

Delicious food made from family recipes handed down for several generations that cannot be found anywhere else in the country, a charming room for rent or a quaint cafe are all there to be discovered, if you know where to look!
Hidden Gem Cafe on Hang Tre Street is one such destination.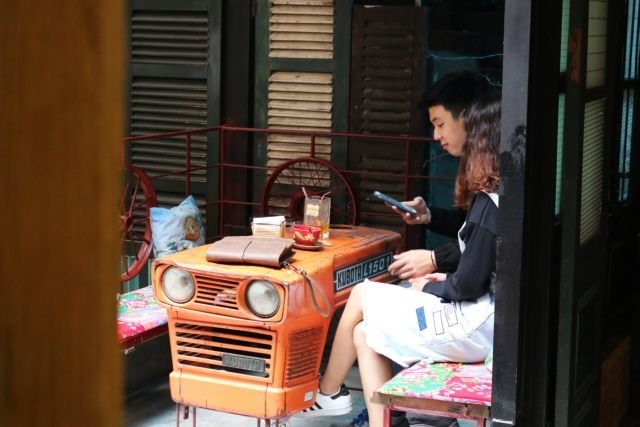 COSY CORNER: A couple at Hidden Gem cafe, which is decorated with recycled materials.VNS Photo Hoa Van
Opened just three months ago, the cafe is luring more and more people, mostly youngsters, who want to relax in an unique space.
Located down a deep lane, the four-storey cafe may not serve anything different to any of the hundreds of others that can be found in the area, but the décor and recycled materials used to kit out this haunt are what makes it stand.
Many old objects including metal, plastic, glass, paper and ceramics have been used. Parts of an old tractor, wheels, buckets and motorcycles have all been converted into furniture.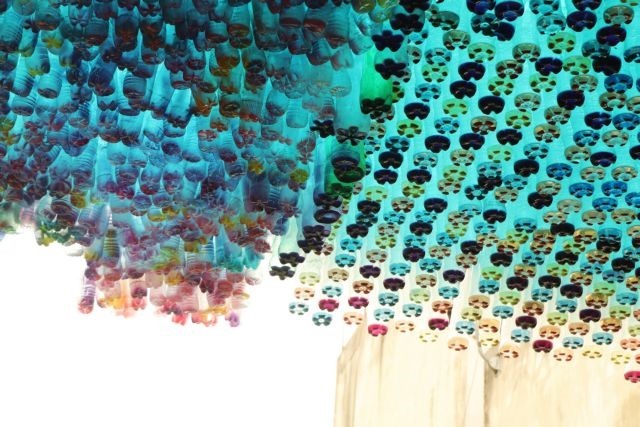 LIGHT UP: Plastic bottles create the image of colourful flowers under the sunlight at Hidden Gem. VNS Photo Hoa Van

Impressive frescos add to the reasons why the cafe has become a popular check-in address.
"Every corner contains a secret that needs to be explored," student Pham Khanh Linh told Việt Nam News.
Linh prefers to sit on the top floor of the cafe to enjoy the fresh air and tranquil atmosphere while watching the vehicles buzzing about on the streets below.
"I've found a place to slow down from the hustle and bustle," she said.
Owner Nguyen Anh Tho said he had started the cafe due to his concerns about the environment. Many of his family members and relatives have passed away due to cancer as a result of pollution in his homeland, Van Mon Commune, Yen Phong District, Bac Ninh Province.


A cosy corner of Hidden Gem Cafe on Hang Tre Street, Hanoi. — VNS Photo Thanh Hai

"I remember when I was small, everything was quite different," he said. "People could drink water from the river in my hometown. We threw very little rubbish away, and old furniture was recycled or reused for other purposes.
"A piece of wood from my grandma's coffin was used to build a shed for the buffalo when her corpse was dug up to be reburied three years after her death [a traditional custom not often practised anymore]."
"I think anything can be recycled," he said. "It depends on the way we think. If we consider something rubbish, it's rubbish. But if we can re-use it for another purpose, it is useful again. I want to use recycled materials here to raise people's awareness of protecting the environment for our own health and for future generations."
Tho, who has been working as a tour guide for 13 years now, revealed that he was embarrassed many times when he took foreign tourists to the beaches. No one dared to swim in the sea.
"Many foreigners told me: Your country is beautiful. But there is too much rubbish everywhere. You should do something," Tho said.
Tho said he travelled to the outskirts of the city to gather special old things to be used as furniture or decorations for the cafe.
"Thousands of plastic bottles and kilos of glass have been used here," he said. "I reassemble things, cut glass bottles to use as drinks containers and bend metal pipes to use as drinking straws."
Thơ said he spent much of his time making "hanging flowers" from old bottles.
"The idea is so simple; hang bottles on the glass ceiling and add a little water mixed with dye and they turn into colourful flowers under the sunlight," he said. "But at first I didn't know what I was doing and they all turned out black. So I had to do everything again. It's simple but time-consuming."
"Now I like the "hanging flowers" the most in my cafe," he said. "I can watch them for ages to relax. It's real art created from rubbish."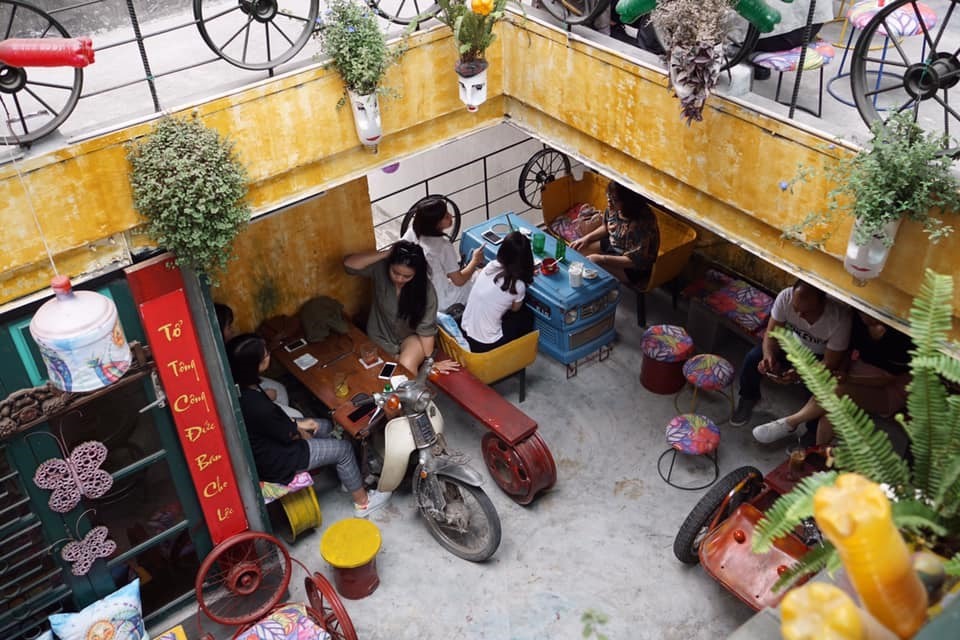 A cosy corner of Hidden Gem Cafe on Hang Tre Street, Hanoi. — VNS Photo Thanh Hai
Tho has also been an active environmentalist. He has taken part in clean-up work on the Hong (Red) River and is planning to collect plastic bottles and fill them with sand to make "eco bricks" and then build a public toilet for needy people residing on the island under Nhat Tan Bridge next month.
He encourages his customers to gather things to recycle like plastic and glass bottles and give them to him in return for a discount on drinks.
"I want people to understand that we can turn rubbish into a natural resource by recycling," he said.
He is also willing to share his experience of making things from recycled materials with others.
"I'm happy to help more people open cafes or restaurants with the same theme," he said. "The environmental message needs to be spread more widely. If more people join hands to protect the environment, we will have a cleaner living place."
"I'm interested in the recycled things here," said Nguyen Ngoc Quynh, 20. "I'm also curious about how they made them. I think I can do the same in my house."
by Huong Hoa Van
VNS