Vietnam Airlines has just launched its flights between Hanoi and China's Macau, with flight VN456 departing from Hanoi at 19:45 on December 16, and VN459 leaving Macau at 8:35 on December 17 (local time).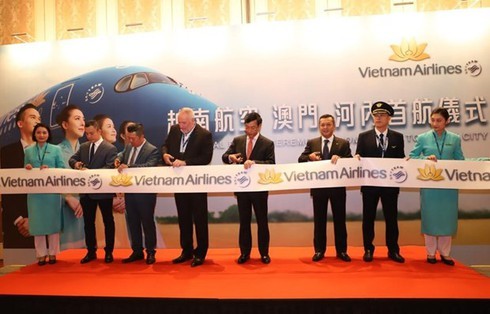 At the launching ceremony for the Hanoi - Macau route

The new route has one return flight daily between the two destinations, with flights from Hanoi departing at 19:45 on Mondays, Wednesdays, Fridays and Sundays, and at 4:00 on Tuesdays, Thursdays and Saturdays. Meanwhile, flights from Macau depart at 23:50 every Monday, Wednesday, Friday and Sunday and at 8:35 on the three other days of the week.
According to Vietnamese Consul General in Hong Kong and Macau Tran Thanh Huan, the new service will help meet the increasing travel demand between the two destinations and promote trade connectivity, cooperation and exchange between the Greater Bay Area (including Guangdong, Hong Kong and Macau) and Vietnam.
"With this new air route, I believe that more people in Macau and the Greater Bay Area as a whole will have chances to explore Hanoi, and seek investment opportunities in Vietnam," he said.
Huan noted remarkable progress in Vietnam-Macau ties in recent years. Two-way trade reached 82.4 million USD in 2018, up 40.2 percent from the same time last year. The trade value was estimated at 73.2 million USD during January-October, a year-on-year increase of 2.4 percent.
Currently, Macau is running 15 investment projects in Vietnam with total registered capital of 151.6 million USD.
The newly launched route helps Vietnam Airlines increase its total services to China to 18, and facilitate travel to areas in vicinity of Macau like Hong Kong, Guangzhou and Shenzhen.
Korean airline opens air route to Nha Trang
Asiana Airlines Inc – the second biggest carrier by revenue of the Republic of Korea (RoK) – has opened a new route to the popular resort city of Nha Trang in Vietnam's central coastal province of Khanh Hoa.
In a December 17 announcement, Asiana Airlines said the first flight departed from Incheon airport located west of Seoul on December 16.
The airline said it will serve daily evening flights by A320 aircraft with 159 seats when increasing services in Vietnam.
With this new air route, Asiana Airlines now has five routes to Vietnam, including the capital city of Hanoi and the southern economic hub of Ho Chi Minh City.
Air Seoul Inc., a low-cost branch wholly owned by Asiana Airlines, is expected to launch a new route to Nha Trang on December 18.
Currently, Korean Air Lines Co., the biggest airline of the RoK, along with three low-cost carriers namely T'way Air Co., Eastar Jet Co. and Jeju Air Co., is operating flights to the Vietnamese coastal city./.
Asiana Airlines poised to expand into Vietnamese market
Asiana Airlines, the Republic of Korea's second largest airline in terms of revenue, announced on December 17 that it opened a direct air route from the East Asian country to Nha Trang city in the south-central province of Khanh Hoa.
By expanding into the Vietnamese market, the move is expected to increase competition among airlines from the Republic of Korea (RoK).
Asiana Airlines stated that its first flight to the new destination departed from Incheon on December 16, the RoK's main airport and located to the west of Seoul.
The airline is set to put daily flights into operation each evening via Airbus A320 aircraft, which is able to accommodate a total of 159 seats.
This new route will boost the total number of air routes that Asiana Airlines operates to Vietnam to five, including to Hanoi and Ho Chi Minh City.
Elsewhere, low-cost carrier Air Seoul, a subsidiary of Asiana Airlines, also plans to launch flights to Nha Trang city, starting from December 18.
At present, the Korean Air Lines Co. Ltd is the RoK's largest airline, while budget airlines T'way Air Co., Eastar Jet Co., and Jeju Air Co, have already operated flights to the country's coastal city. VOV/VNA