National flag carrier Vietnam Airlines has put the Boeing 787-10 Dreamliner into service on the route between Vietnam and the Republic of Korea (RoK).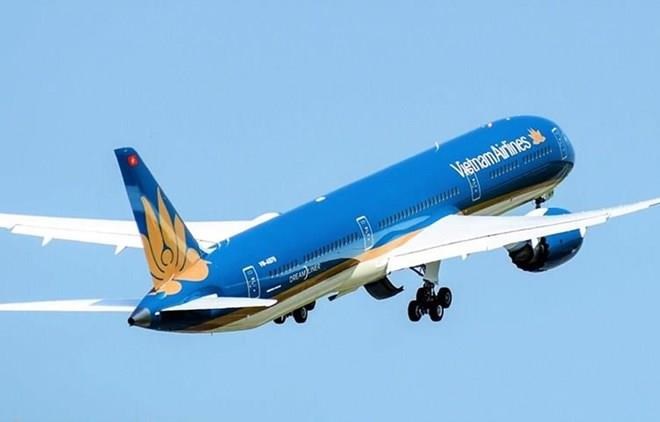 Boeing 787-10 Dreamliner 

The new 787-10 is thelargest-body long-haul aircraft in Vietnam at present. It features theDreamliner's ultra-efficient technology and passenger-pleasing comforts.

It is longer than787-9 jets, providing the space to carry 15 percent more passengers and morecargo and helping it offer the lowest operating costs per seat of anytwin-aisle jet in service today.

Director of VietnamAirlines branch in the RoK Pham Thanh Son said the use of the Boeing 787-10 onthe Vietnam-RoK air route will help the carrier meet the increasing demand of thepeople of the two countries and raise its services quality.

Half a million ofVietnamese tourists visited the RoK in 2018, a rise of about 41 percent over2017.

Meanwhile, Vietnamwelcomed nearly 3.5 million RoK tourists, a surge of 44.3 percent year-on-year.

In the first fivemonths of this year, Vietnam welcomed nearly 1.8 million visitors from the RoK,up 22.4 percent over the same period last year. The RoK has become the secondbiggest tourist market of Vietnam.
Vietnam Airlines launches new payment
Passengers can pay for Vietnam Airlines flights with a combination of cash and Lotusmiles when buying tickets from September 2.
This scheme - the first of its kind in Vietnam - is exclusively for Lotusmiles members purchasing tickets on the website or at its ticket offices, the airline said, adding that it is working to extend this payment method to its mobile app.
Starting from 2,000 Lotusmiles miles per passenger per flight, members can use miles to pay for a part of a flight's cost or the whole value of a flight operated by the carrier (not including payment of taxes, fees, and additional costs). The value of the miles used for the payment depends on the time of purchase, departure date, itinerary and booking class.
In addition, Lotusmiles members can use cash and miles to buy a ticket for an accompanying passenger if they share a reservation code, select the seat in advance and purchase checked baggage during the payment process.
To mark the 20th anniversary of the Lotusmiles programme, Vietnam Airlines is offering 2,000 bonus miles for new members registered by September 2019 and on the 20th day of each month until December 31, 2019.
The cash and miles payment method has been implemented by many major airlines in the world including Emirates (UAE), Lufthansa (Germany), Delta Air Lines (US), Thai Airways (Thailand) and EVA Air (Taiwan).
The launch of this payment method allows Vietnam Airlines' passengers to enjoy its 4-star services at attractive prices, the carrier said in a statement.