While domestic travel has kept tourism buoyant amid the pandemic, the industry has barely survived without foreign tourists. Experts have recommended that it reinvent itself while waiting for global travel to resume.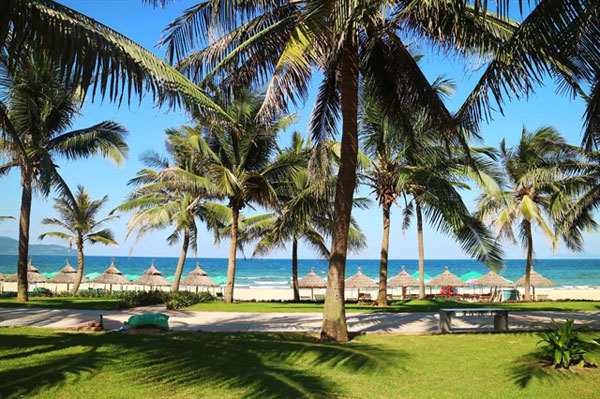 My Khe beach in Da Nang, a popular beach hotspot in central Vietnam. VNS Photo Bo Xuan Hiep
For Thien Nguyen, a travel blogger who has visited more than 70 countries across five continents, the memory of lounging on a beach in Phuket, Thailand or trekking on the Zanskar mountain range in the Indian union territory of Ladakh seems a distant memory. 
"I was born to travel," he said. "I will travel anywhere whenever I can, because life is short and time flies." 
Thien, 40, a native of Da Nang, a popular beach hotspot in central Vietnam, said that due to travel restrictions, he had not been able to travel overseas since March last year when the country closed its borders. Instead, he had opted to travel domestically.
Since Vietnam has been able to contain the coronavirus well, local holidaymakers are now looking to explore the country's scenic landscapes and healthy cuisine, and take advantage of its hospitality and affordability.
Henri Hubert, ambassador for Global Wellness Day Vietnam, said that people in Vietnam are fortunate as they can travel domestically at a time when COVID-19 is still active in many countries.
"I think the pandemic has given us an opportunity to reinvent what a vacation or travel really means," he said. "It's a good idea, for example, to look for a healing holiday at a resort that offers wellness activities." 
"With more than 3,000 kilometres of coastline, white sandy beaches, dynamic growing cities, mountainous regions and various cultural and historical sites, Vietnam continues to be among the fastest-growing tourist destinations in the world," Hubert noted. 
Vietnam is also well positioned to leverage the adventure-travel trend, according to Hubert. 
"Today we are talking about micro-adventure, and it is really an opportunity to test it for real, with the idea that there is no need to go far nor have the enormous skills of an adventurer to live extraordinary moments with relatively few means," Hubert said.
"Going on vacation for me was first of all changing the routine to travel far away. Then it was about going and discovering something new," he said. "Today we must consider close to home, so we have to be creative. This is a good opportunity to rethink our idea of 'elsewhere'."
With the pandemic under control, the country would continue to attract more tourists.
"Vietnam can pride itself on having everything you need for dreamy and captivating destinations such as Con Dao, Mekong Delta, Ba Be Lake, Ha Giang Province, and others." 
As for ecotourism, which started about 40 years ago when environmental protection was at the heart of all debates, it would be important to raise awareness about social and environmental issues among all stakeholders, he said.
For example, hiking in a park accompanied by a local guide would be a kind of ecotourism because it generates significant income for the host community, he added.
According to the report "Reimagining Tourism: How Vietnam can Accelerate Travel Recovery" by McKinsey & Company, a US global management consulting firm, demand for domestic travel in Vietnam will continue to grow and recover relatively quickly, thanks to increased domestic spending. 
Nguyen Trung Khanh, general director of the Vietnam National Administration of Tourism, said: "The local tourism market is shifting from international tours to domestic tours. Tourism service firms should focus on emerging destinations and ensure high-quality products and experiences at reasonable prices."
Philippe Le Bourhis, general manager of the Movenpick Resort Waverly Phu Quoc, said the resort would focus on the domestic market this year.
"Tourist businesses targeting foreigners will be in trouble for a long time," he said. "This challenge can be turned into an opportunity if we seek ways to focus on the local market." 
Recovery by 2024 
With the implementation of a "zero-case first approach" and Vietnam's extensive government campaigns, the tourism sector could fully recover to pre-pandemic levels by 2024, according to the McKinsey & Company report.
The country's international tourists are mostly from Asia, especially mainland China, Japan, South Korea, and Taiwan, which account for around 80 per cent of Vietnam's foreign tourism spending. 
Vietnam's close economic connections with those countries could speed up the recovery, compared with other major tourist destinations in Europe and North America.
To optimise these ties, Vietnam has been implementing a so-called zero-case first strategy since the pandemic broke out last year. 
The strategy is associated with markets in which transmission rates are low and traveller confidence, at least on a domestic level, is relatively high.
Shifts in tourism behaviour could result in high-end domestic trips. With borders remaining closed for outbound travel, a rise in domestic luxury trips could occur as travelers reallocate their budgets, the report says.
Experts have recommended that Vietnam invest in domestic tourism, new tourism products, high-quality human  resources, infrastructure, and digital transformation efforts to boost the sector both locally and internationally.
Le  Truong Hien  Hoa, director of the HCM City Tourism Promotion Centre, said that promoting domestic tourism and building smart tourism were the major objectives this year. 
"Joint programmes with key economic zones and provinces, as well as the travel industry, are a main focus this year. The aim is to create new products and services to promote domestic tourism." 
"Our tourism database is playing a key role in ensuring successful smart travel projects that involve many industries and fields in standardising data collection systems and digitising travel services," he said.
Tran Thi Thuy Trang, deputy manager of Vietravel  Inbound Department, said that Vietnam should continue to promote itself as a safe and attractive destination during and after the pandemic.
According to the McKinsey & Company report, rebuilding demand and volume through discounts and presales are key tactics during the early stages of recovery, especially for high-end operators unable to tap into international demand for some time.
The government can also experiment with new and sustainable financing options, such as hotel revenue pooling in which a subset of hotels with higher occupancy rates would share revenue with others.
This would allow hotels to optimise variable costs and reduce the need for government stimulus plans, the report says.
In the mid-term, government-backed digital and analytic transformation is necessary, especially to level the playing field for small and medium-sized enterprises, which made up more than 50 per cent of travel suppliers in 2018. 
Helping local operators adjust to demand for online travel services is also critical to staying competitive, according to the report.
The Government can also play a vital role as a matchmaker by connecting suppliers to distributors and intermediaries, thereby creating packages attractive to a specific segment of tourists, and then use tourist engagement to provide analytical insights to travel intermediaries.
Mai Thi Thom, owner of a three-star hotel in Hanoi's Old Quarter, said: "Actually, the hotel industry in Hanoi 'died' last year when the country began shutting its borders. We ended up focusing on domestic tourists to keep the business afloat." 
However, the spending power of domestic tourists was weaker than that of foreign visitors, so this type of travel could not completely fill the gap created by the lack of international travellers, she said. 
"We cut prices by up to 70 per cent in order to maintain operations, such as paying for electricity and salaries for staff. The situation is even worse for those who rent property for running a hotel, because rent can be as high as US$40,000 a month." 
Many travel firms have offered discounts over the last year, resulting in lower hotel and resort prices, which may not be a sustainable strategy for the long term, according to Thom.
In 2019, a year in which the tourism industry accounted for 12 per cent of the national GDP, international travellers made up only 17 per cent of overall tourists in Vietnam but accounted for more than half of all tourism spending, averaging $673 per traveller compared with $61 spent on average by Vietnamese travellers, the McKinsey & Company report said. 
'Vaccine passport'
Vietnam is also considering a COVID-19 "vaccine passport", which is now under discussion in many countries.
Truong Quoc Cuong, deputy health minister, said the ministry was working with agencies to research the issue and would report to the Government.
"It is important to devise suitable quarantine procedures for entrants who have received the full doses of the vaccine," he said. "Related options must be considered thoroughly, so as to balance the benefits and risks. The benefits here are economic development from the reopening, but there is still the risk of spreading the virus in the community."
In general, experts have recommended that international "travel bubbles" be explored with great caution. 
A vaccine passport is a certificate that shows the holder has received two vaccine doses, eliminating the need for the holder to be under centralised quarantine upon arrival.
Luong Hoai Nam, a member of the Vietnam Tourism Advisory Council, said that vaccinations would be the only way for the world to overcome the pandemic. The number of vaccinated people was growing fairly quickly, especially in developed countries.
Many foreigners who had been fully vaccinated were beginning to think about tourism destinations, which would present opportunities for Vietnam's tourism and aviation sectors, he said, adding that the country should prepare to re-open its tourism market for foreign visitors.
Vu The Binh, vice president of the Vietnam Tourism Association, said the opening of the tourism market for foreigners might face opposition from many people, but the plan should be ready by the third or fourth quarter of the year. 
In Southeast Asia, Thailand has announced it will reopen its tourism market for foreign visitors in July, while Singapore is welcoming international visitors who have certificates showing negative tests, and Indonesia is expected to open its doors to Bali in July. 
The European Union is considering a vaccine passport, but plans have not been finalised.
Nguyen Ngoc Toan, director of Images Travel Company, which specialises in European visitors to Vietnam, said that initially Vietnam could open up to business travellers from countries and territories in the region where it has close trade relations such as Japan, South Korea or Singapore.
"People who have been vaccinated should be allowed to enter Vietnam without being quarantined," Toan said. 
However, many Vietnamese health experts have expressed opposition to this idea, saying foreign passengers holding vaccine passports should still be under a 14-day quarantine in the absence of information on the potential risk of infection following a two-dose inoculation.
Last year, most countries experienced a drop of between 35 and 48 per cent in tourism expenditures compared with 2019. Vietnam, with its 10-month international border closure, was no exception, according to the McKinsey & Company report.  
Last year, Vietnam saw a 79 per cent decline year-on-year in the number of foreign visitors due to travel restrictions amid the pandemic, as the country received 3.83 million foreign tourists against a record 18 million in 2019.
The tourism sector, which depends greatly on international travel, suffered significantly as international flights fell by 80 per cent in October 2020 compared to the same time period in 2019. Hotels and resorts were able to fill only 30 per cent of their room capacity last year.
Thien, the blogger who loves to travel and write about his experiences, said it would be difficult for the country's tourism sector to recover until international tourism resumes. "Foreign tourists bring foreign currencies to Vietnam. And domestic spending is far lower than foreign spending." 
"For now, I'm not that crazy about travelling abroad. I feel blessed to live and travel within Vietnam. We shouldn't travel abroad until the world achieves sufficient herd immunity." 
VNS 

Domestic tourism places high hopes on the upcoming holidays of the Reunification Day (April 30) and Labor Day (May 1) will be bustling with travel activities.

The Ministry of Health (MoH) suggested that Vietnam first accept three groups of people with proof of vaccination against the SARS-CoV-2 virus.