A five-year visa waiver program for tourists from Russia, Japan, South Korea, Denmark, Norway, Finland and Sweden is set to last until late this year, leaving many Vietnamese tour operators anxious about whether the Government will extend it.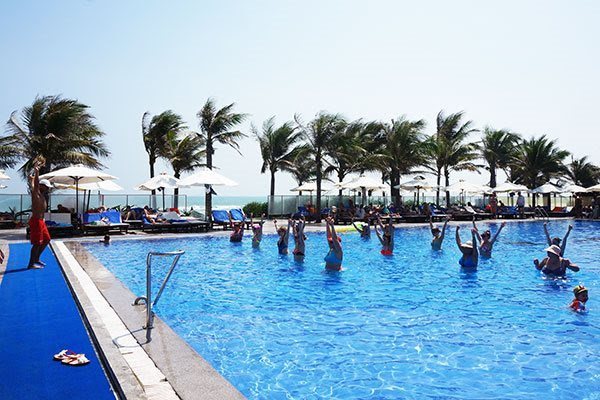 A group of Russian tourists at a resort in the south-central coastal province of Khanh Hoa. A five-year visa waiver program for tourists from Russia and six other countries is set to last until late this year

A number of local tourism firms told the Saigon Times that their foreign peers have repeatedly asked them about the possible extension of the program so that they can create appropriate promotion policies and set prices for tours to Vietnam.
Vice Chairwoman of the HCMC Tourism Association Nguyen Thi Khanh said the expiry of the program is fast approaching, leading to an increasing number of questions from many member businesses. However, she noted, "We also do not have any information on the new policy."
Khanh added that the association is still gathering feedback from its members. In the next few days, the association will send a formal written request to the Vietnam Tourism Association; the Vietnam National Administration of Tourism (VNAT); and the Ministry of Culture, Sports and Tourism.
The move is meant to call for the Government to issue a similar visa waiver policy as soon as possible.
"We not only want customers from these important markets to remain visa-exempt but also expect other potential markets, such as India, Australia and New Zealand, to enjoy a similar policy so as to attract more tourists," she remarked.
The visa waiver program for tourists from Russia, Japan, South Korea, Denmark, Norway, Finland and Sweden is scheduled to last from early January 2015 to late December this year.
Russia, Japan and South Korea are among Vietnam's top 10 tourism source markets.
Data from VNAT's Vietnam Tourism Annual Report 2018 revealed that a staggering 3.5 million South Korean tourist arrivals in Vietnam last year spent some VND92 trillion (US$3.9 billion), while tourist arrivals from Japan and Russia totaled more than 826,600 and 606,600, spending some VND17.9 trillion (US$773 million) and VND20.6 trillion (US$889 million), respectively.
The World Bank stated in its biannual economic report on Vietnam, called "Taking Stock," released in July this year that in the area of international openness, Vietnam's visa regime, which has been liberalized somewhat in recent years, still lags behind compared with the relatively more open visa policies of its key regional competitors.
In early 2017, Vietnam extended its visa exemption policy to five additional European countries and introduced an electronic visa system for citizens of 46 countries.
Vietnam currently grants visa-free travel to the nationals of 26 countries. This compares to visa-free travel for 57 nationalities by Thailand, 168 nationalities by Indonesia, 162 nationalities by Malaysia and 132 nationalities by the Philippines, the bank pointed out. VIR
Dao Loan 

The number of foreign travellers to Vietnam may fall in 2020 if the country does not extend visa exemption for citizens of many countries, according to tourist officials.

Vietnam's tourism has continuously experienced impressive growth in recent years thanks to many improvements, especially more flexible and clearer visa-related policies.