The Vietnam National Administration of Tourism will host a tourism promotion programme in China's Chengdu, Chongqing, and Shenzhen cities from May 15 to 24.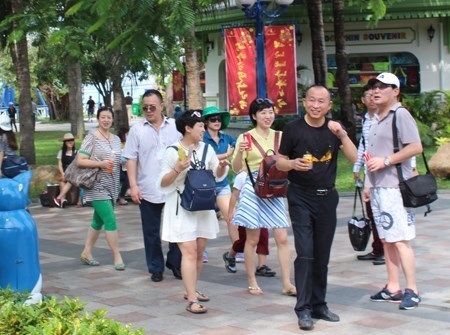 A group of Chinese tourists visit Nha Trang resort city in central Khanh Hoa province. (Photo: baokhanhhoa.com.vn)
The information was released at a regular press conference by the Ministry of Culture, Sports, and Tourism in Hanoi on April 17.
The programme is expected to attract the participation of 300 travel companies, airlines, and Chinese tourism agencies and associations. It will feature business matching events, the introduction of Vietnamese destinations and tourism products, and art performances.
According to the Institute for Tourism Development Research, the number of Chinese tourists accounts for 28-30 percent of the total number of foreigners to Vietnam. The group's favorite destinations include Khanh Hoa province and Da Nang city in the central region, Quang Ninh province and Hanoi in the north, and Ho Chi Minh City in the south. Notably, 60 percent of foreigners visiting Khanh Hoa are from China; while the figures for Da Nang and Quang Ninh are 30 and 20 percent, respectively.
It is forecast that the number of Chinese tourists to Vietnam will rise thanks to the low travel costs, short travel duration, and increased flight frequency between the two nations. Currently, there are over 10 Vietnamese and Chinese airlines operating more than 500 flights per week on 30 routes that connect 20 Chinese and Vietnamese cities.
According to the World Tourism Organization, Vietnam was among the top five destinations of Chinese tourists in 2017.-VNA