Cash is the preferred payment vehicle among Vietnamese traveling abroad as up to 60.4% of them last year used the greenback or exchanged their money for foreign cash from the destination country rather than using payment cards.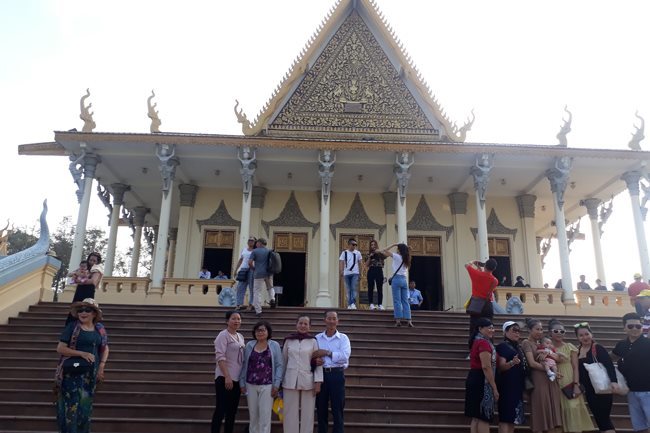 Vietnamese travelers pose for photos at the Royal Palace in Phnom Penh, Cambodia – PHOTO: THANH THOM
The research and consultancy company, in its report "Vietnam Outbound Travel Trends 2019" released today, July 29, noted that while the trend of using cards for payments is growing, some 50.3% of the surveyed tourists said they pay by cash while shopping abroad.
While travelers born in the '80s and '90s prefer to pay in cash (49.9%), those born in the '70s and earlier (58%) see card payments are a preferred option.
Citing data from the ASEAN Tourism Forum 2018, Outbox Consulting claimed that from 4.8 million overseas trips in 2012, Vietnam's total outbound departures doubled to some 8.6 million last year, marking a yearly average increase of 9.5%.
The growth is forecast to maintain its momentum, and by 2021, Vietnamese travelers heading overseas will mainly come from households with annual income ranging from US$10,000 to US$30,000.
According to the report, free, independent Vietnamese travelers are likely to spend VND5-10 million on each overseas trip, while a traveler on a tour pays VND10-20 million.
Their expenditure covers various items, with the highest expense being food (19.9%), followed by accommodation (13.8%) and shopping (13%).
However, their spending levels also differ greatly among destinations, stated the report.
Vietnamese visitors spend less than VND10 million (US$430) on each trip in regional countries. However, the figure amounts to VND60-100 million (US$2,585-4,308) in far-off destinations, such as the United States and Europe. SGT
Dao Loan