Vietnam remains one of the most popular destinations for holidaymakers, with 12.9 million international arrivals in the year-to-date, up 10.8 per cent year-on-year, according to the General Statistics Office.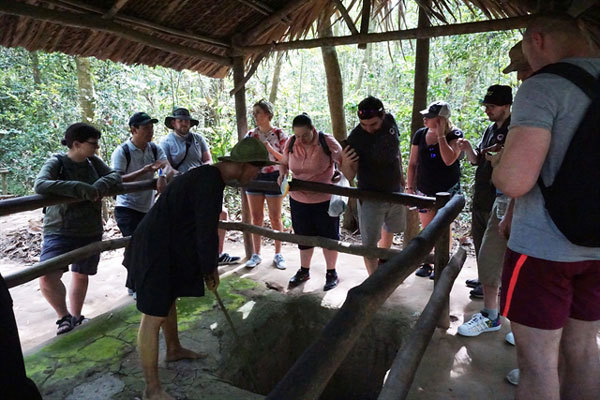 Foreign visitors at the Cu Chi Tunnels in HCM City. VNS Photo Thu Hang
Asia remained the largest source market, with more than 10.1 million visitors, or 78.9 per cent of the total number.
Asia also accounted for the highest growth, 12.5 per cent, followed by Africa (10.8), the Americas (6.8 per cent), and Europe (5.3 per cent).
The number of Chinese tourists, who accounted for 30.9 per cent of the total number of visitors, rose by 4.4 per cent to nearly four million, followed by South Koreans (3.14 million, up 22.5 per cent) and Japanese (712,500, up 14.2 per cent).
The number of foreign tourists visiting HCM City has been 6.22 million, an increase of 14.3 per cent year-on-year, according to the city Department of Tourism.
The city's tourism revenues were estimated at VND108.3 trillion (US$4.66 billion), up 7.4 per cent.
The upward trend in tourist numbers is expected to continue over the next three months of this year, the peak travel time.
The country hopes to welcome 18 million international visitors this year.
Robust outlook
The first half of 2019 has been tough for hotels in the Asia Pacific, with the majority reporting negative results, according to the latest report from Savills Hotels Asia Pacific.
Overall, the region witnessed a decrease of nearly 1.3 per cent in occupancy rates and 5 per cent in average room rates from the same period last year.
RevPAR (revenue per available room) went down by around 6 per cent.
One of the key reasons was arguably the decline in the number of Chinese tourists, the largest source market in the Asia Pacific.
Chinese tourists are now travelling less than before as their currency, economy and consumer confidence are declining.
However, according to recent data released by Ctrip, China's online travel agency, only a very small proportion (less than 10 per cent) of Chinese have passports, and this number is expected to double by 2020.
This possibly means many Chinese will travel abroad soon, and to neighbouring countries such as Vietnam and Thailand first.
As one of the most popular destinations for Chinese tourists, Vietnam still has space to grow.
In 2019 and 2020, with more than 30,000 rooms expected to come online, Vietnam is set to take the leading position in the region in terms of future keys, followed by Indonesia, Thailand, Malaysia, the Philippines and South Korea.
Based on its 10-year compounded annual growth rate analysis, Savills Hotels forecast that the number of international visitors to Vietnam is expected to reach 30 million by 2023. VNS