Thousands of pilgrims visit Tam Chuc Pagoda Complex in northern Ha Nam Province, the country's largest to pray for peace and luck.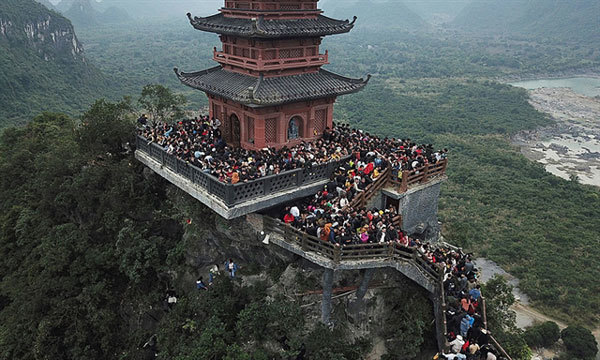 Last year, Tam Chuc Pagoda hosted the UN Day of Vesak, which commemorates the birth and enlightenment of Buddha. — VNA/VNS Photo
The Tam Chuc complex covers 5,100 hectares, of which the pagoda takes up 144ha.
Visitors reach the pagoda via electric car or boat, with round trip tickets costing VND200,000 (US$8.7) per person.
Vietnamese, especially Buddhists, have a long tradition of visiting pagodas and temples in the first lunar month to pray for peace and luck in the new year.
It is estimated that over 70 per cent of Vietnam's population are either Buddhists or follow Buddhist practices.
The 13 metre-high Ngoc (Pearl) Pagoda is considered a local masterpiece of stone architecture. The entire structure is made of red granite weighing over 2,000 tonnes, with no cement used in its joints.
From Ngoc Pagoda, visitors can enjoy an aerial view of the entire complex. — VNS
As the nation's largest temple, Tam Chuc pagoda in Ha Nam has seen hordes of people flock to the site during the opening days of the Lunar New Year.

Tam Chuc Pagoda in Kim Bang district in the northern province of Ha Nam is now ready for the 16th United Nations Day of Vesak.